HARTFORD, Conn. — Some would have called it way too interesting.
After leading by 22 points at halftime, No. 12 SMU ran back onto the floor of the XL Center looking to close out an opponent it had pummeled twice during the regular season by a combined 71 point margin.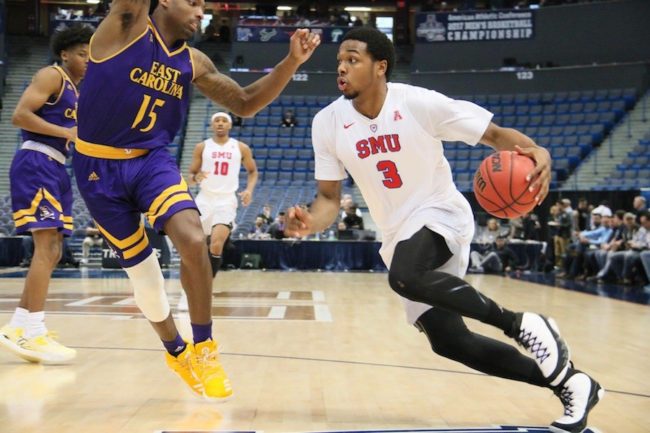 In the minds of many, winning should have been simple. It should have been easy.
Then things went wrong. In fact, lots of things went wrong.
It started with East Carolina's Kentrell Barkley, who started to get hot after scoring only two points in the first frame. Barkley's drives to the basket gradually chipped away at the lead of a Mustangs squad who seemed totally unconcerned. Barkley scored 22 points in the second half, shrinking SMU's lead to only 12 with 4:27 to go.
But the Mustangs remained calm and slightly casual in their pursuit of rebounds, leading them to eventually be outrebounded 32-31. Once Barkley got East Carolina within striking distance, Caleb White and the Pirates began raining three-pointers.
Two threes and two layups off of stolen inbounds passes shrank SMU's lead to three with 1:20 remaining. A three by East Carolina's Elijah Hughes tied the game with 57 seconds left.
If not for a tip-in by the Mustangs' Semi Ojeleye and a turnover by Barkley on the other end, the game could have gone differently.
Ojeleye, recently named American Athletic Conference Player of the Year, scored a game-high 36 points. Even with that performance, Ojeleye pointed to the heavens in thanks following the buzzer. East Carolina had come that close.
"Especially this time of year, you can't take teams for granted," Ojeleye said in the postgame press conference. "Can't let teams come back on you like we did today. I think we just need to stick to our principles and help us continue to advance."
What happened to the Mustangs in this AAC quarterfinal was similar to what happened in their last, against the same opponent on the same floor.
In 2015, SMU weathered 15 East Carolina three-pointers to advance in the conference tournament, many of which came late in the second half. The Mustangs once again found themselves backed up against the wall by a Pirates team that would not go away.
"I do not know what it is about this building or playing us that makes them just become one of the great shooting teams in the country," SMU head coach Tim Jankovich said postgame. "But, you know, I give them so much credit."
SMU's win over the Pirates in the quarterfinal was only the Mustangs' third win this season by a margin of six points or less.
"I could get negative, but I actually think this was a complete positive for our team," Jankovich said. "We haven't been in a scramble situation for quite some time, and this is tournament time. You need to feel this."
"We got a little loose," SMU senior guard Sterling Brown said. "Thankfully we come out with a win, but tomorrow we got to come out and bring it."
"Loose" is a good word, but "de-energized" might be a better one. The Mustangs seemed a step behind for a large portion of the game. Jankovich said he did not think his team's body language was great given an early start time and a crowd of hostile fans that did not get loud until SMU's lead began slipping away.
"I've seen grittier looks on these guys' faces than we did there," Jankovich said. "I mean it sincerely, this is the best thing that could have happened. We needed this."
Jankovich said he will be speaking with his team about that showing, but that he is not concerned knowing the team he has.
"I have a lot of faith in this group," Jankovich said. "They're bright, they're mature, and they're competitive, and when you're that, you want to hear those things. You want to learn from a performance like that. I'm just glad it's something that I think we can draw from."