TULSA, Okla. — It was possibly the lowest point of SMU's season.
With less than four minutes to play at the Galen Center in Los Angeles, the Mustangs looked up at the scoreboard and found themselves behind 12. The Southern California team across from them was burying threes left and right, 12 to be exact. SMU had no answer.
Though the Mustangs had led earlier in the half, SMU's largest lead never extended beyond five.
The 78-73 loss was the Mustangs' second in a week's time, having fallen to Michigan in the 2K Classic finals days prior. The misery did not stop on the west coast as SMU went on to drop another at Boise State to complete its western swing.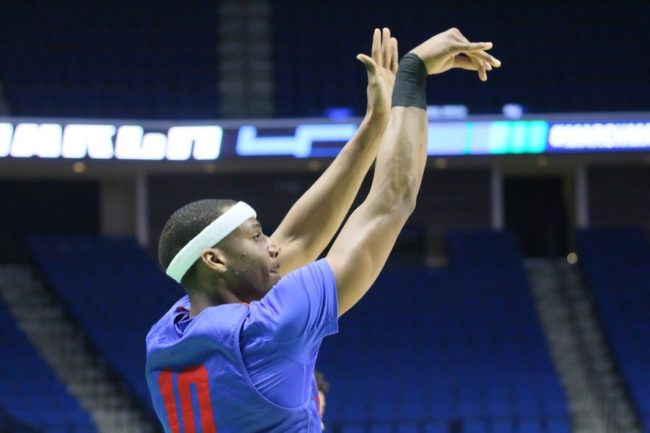 A young Mustangs squad was still in the feeling out process, unsure of the team it wanted to be. Hard road challenges early on did not go so well. Only the few in Dallas fortunate enough to have access to the Pac 12 and Mountain West Networks were able to see the mess unfold.
These performances matched expectations: SMU was going to have a down year.
Coming off a postseason ban and the loss of three top players, the Mustangs would not succeed. They would be good enough to defeat some decent opponents at home, but would not contend on the road and would not win a championship. They would be questionable for the NCAA Tournament at best. Few basketball analysts thought SMU could remain relevant, with three of CBS Sports' writers picking the Mustangs to finish in 5th place or worse.
But things have a way of working themselves out.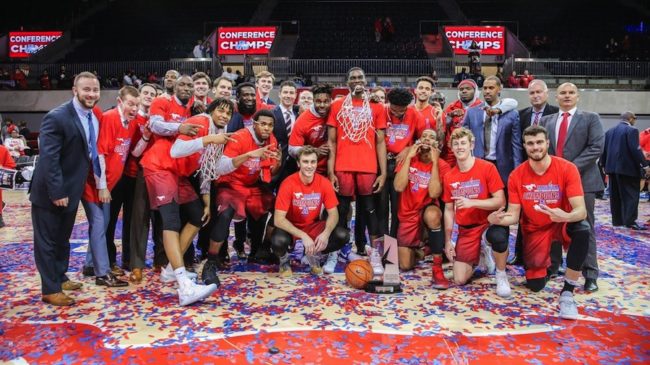 Following the losses to Southern Cal and Boise State, SMU would lose only one more regular season game. That loss came at the hands of Cincinnati, a team the Mustangs would defeat twice on the year. One of those wins was for the conference title.
Adjustments made by head coach Tim Jankovich in December quickly turned a misfiring SMU offense into a five-wing scoring machine that demolished everything in its path, including conference opponents. The Mustangs averaged a winning margin of 16.8 points in all of its American Athletic Conference wins.
SMU sat at No. 39 in the KenPom ratings when it played the Trojans in November. The Mustangs currently sit among the best in the nation at No. 11. SMU also ranked 11th in the final Associated Press Top 25 Poll.
In a rare NCAA Tournament first round rematch from the regular season, the 6 seeded Mustangs drew Southern California again after the Trojans defeated Providence in the play-in First Four. Given SMU's new style of play and smaller line up, Southern Cal might only be familiar with the Mustangs' jerseys.
"I know we are a completely different team than we were then," Jankovich said before the Mustangs' open practice at the BOK Center on Thursday.
Jankovich believes that SMU's unique composition might be its greatest asset, not only against the Trojans, but in the tournament overall.
"This has been the most unique team I've ever coached in all my years, either as an assistant or head coach," Jankovich said. "This team is so fun because we don't have positions. We've just got five guards on the floor, and it allows us to try to get out of the box and not play traditionally and make them play out of their box."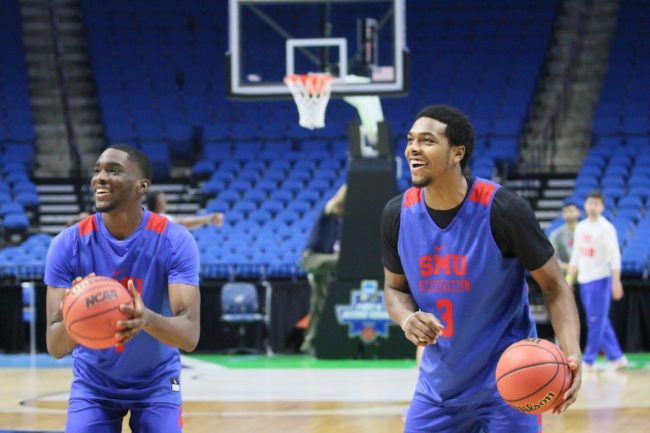 Some Mustangs were open about their excitement when Southern Cal's name got called on Selection Sunday, anticipating the possible rematch that has come to pass.
"Getting a chance to play them again, that's something special, especially in this tournament," SMU senior Sterling Brown said.
"We're excited to play them again," senior Ben Moore said. "We feel like we owe them one."
For Jankovich, the excitement of playing in his first NCAA Tournament as a head coach is greater than his excitement about the rematch. He thinks his players should feel the same, with some playing in their first tournament and others getting back for just a second time.
"I doubt that something that happened in November is probably the biggest deal," Jankovich said. "This is the NCAA Tournament, and that alone – that's enough motivation, no matter who you play."
The motivation might be especially strong for Moore and Brown, who were members of the program for both the selection committee's snub of the Mustangs in 2014 and last year's postseason ban. Brown said he is not taking anything for granted.
"Pretty much just take every possession, and cherish it," Brown said. "We're going to be ready for the game tomorrow."