UPDATE: April 19, 4:20 p.m.
Roderick Woodruff, the student who discovered the vandalism on Kathy Crow Commons, commented on the incident.

"I think SMU often over looks heinous crimes. This isn't the first time that certain minority groups have been victimized by these acts," Woodruff said in an email. "Yet, through previous experiences, we've learned the school does nothing. As a gay man, I am offended. I am hurt. I do not feel safe living on this campus."
Woodruff said that he believes these acts of vandalism may turn into acts of physical crimes.
"If someone has the courage to write hate crimes, then they have the ability to commit physical hate crimes," he said. "The disregard for respect within our community is deteriorating what is thought to be one of the most prestigious universities in the country."
Woodruff is fed up with hate-crime incidents such as this one.
"This ugliness and hatred for those other than the privileged white males is over looked way too often. I am tired. When will there be measures taken for these hurtful actions?," he said. "Yeah this school is pretty, but this inside is filled with homophobia, racism, sexism, etc. I'm disgusted with this university, my administration, my community (or lack there of). Unless you're of privilege, your feelings don't matter, your presence doesn't matter, your life doesn't matter."
ORIGINAL: April 19 11:36 a.m.
Vandalism was found on a wall outside Kathy Crow Commons around 7 p.m. on April 18. A resident of the commons, Roderick Woodruff, discovered the anti-gay slur scrawled on the wall and filed a report.
https://www.instagram.com/p/BTDEu6Yl_BS/
Woodruff posted a photo of the vandalism on his Instagram.
The vandalism has since been covered with paper, and SMU police are investigating.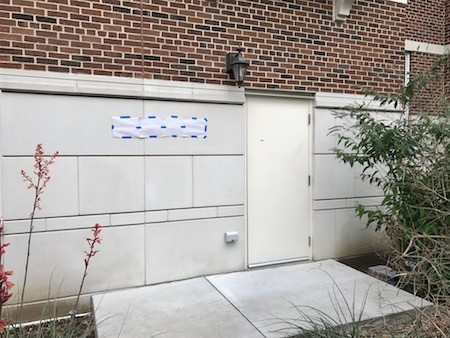 "This is unacceptable and does not represent SMU values," said Executive Director of Public Affairs at SMU, Kent Best in an email interview.
If anyone has information about the incident, Best encourages calling SMU police at 214-768-3333.
The Daily Campus will update this article as more information becomes available.