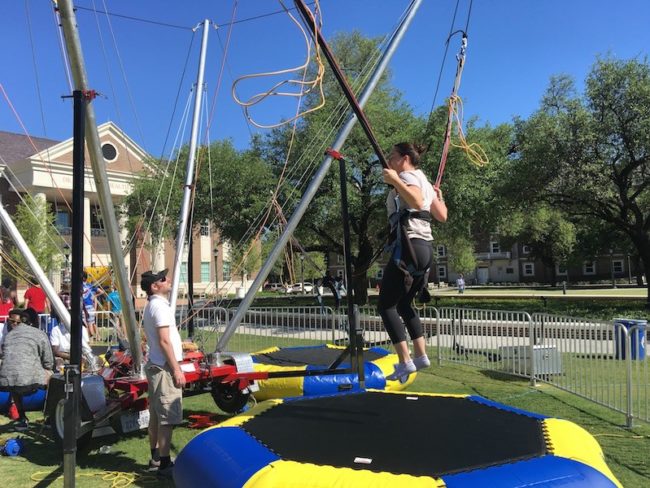 The Residential Commons at SMU always come up with fun events for students to participate in during the school year.
On April 23, Virginia Snider hosted their annual VieSta event in the New Quad from 3 to 6 p.m, with fun games, great food, loud music, a dunking booth, and many different blow up options to choose from.
"I like that Viesta is outside because it is so nice out," freshman Sallie Cook said. "I have a paper I have to write so this event for sure relieved some of that stress, and got me out of my room from typing away."
This spring event takes place at the end of the semester, right before finals begin, not only to celebrate the end of a great year, but for students to have a little fun before hitting the books.
"We always have inflatables and food for the students, this year we have barbecue from Pecan Lodge, and we have different games and music, all sorts of stuff going on," junior Residential Assistant Mary Parker Johnstone said.
Clark Holt has been a Residential Assistant for Virginia Snider for two years. After living in Virginia Snider for four years, his time is coming to an end as he is approaching senior graduation.
"My favorite thing about being an RA was having so many events like Viesta, where we get to come outside and hang out with all the residents that you don't always get to see every second of every day," Holt said. "Its great to have some good quality time with everybody you live with."
The first 75 students who arrived at the event got a free Virginia Snider comfort colors tank top. Several students put them on immediately and took pictures with their friends enjoying the event.
"The blow up elephant was a major plus at the event," freshman Kayla Medile said. "I wasn't allowed to get on it but I stood next to it and had my friend take several pictures."
Virginia Snider houses some strong competitors as some friend groups challenged each other during the wrecking ball event. This event serves as a way for people to get to know each other in an inviting and relaxed setting.
"Virgina Snider has so many events where we can all hang out and just get to know each other," Cook said.
"My favorite things about being an RA is definitely getting to know the students," Johnstone said. "Virginia Snider is a super fun community and everybody is so cool and involved in so many different things."
"I love the community in this dorm," Medile said. "Everybody is so friendly to one another and I enjoy living in this community."