The 104th Student Senate senators, officers and chairs for the 2017-2018 school year were inaugurated Tuesday, April 25.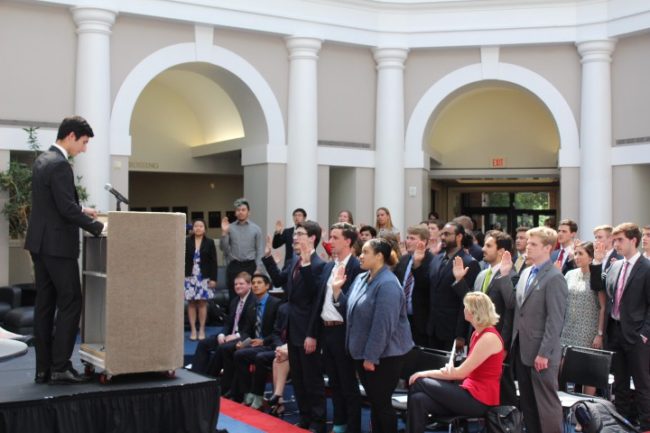 Special guests included Associate Chaplain to the University Judy Henneberger, SMU President Gerald Turner and Student Life Executive Director and Student Senate advisor Jennifer "J.J." Jones.
Henneberger delivered the invocation. "We gather here today as a community to celebrate the inauguration of the 104th Student Senate," Henneberger said.
Before the new members were inaugurated, speakers took a moment to acknowledge this year's Senate.
"So those of you that were a part of that, thank you very much for your service and work to the university," Turner said.
"That needs to be a lifelong effort, so I look forward to you continuing to be involved in the university over the years," Turner said. "We're glad to have your service to the university."
Jones addressed the new Senate members.
"Take just a moment and think about why you are here. Why are you serving?" Jones said. "My hope is that you are here because you want to give back to the community that you love. My hope is that you are here because you have decided to partner with university administrators to make SMU greater than when you came. My hope is that you are here because you believe in yourself and what you are capable of doing. My hope is that you are here because you want to live out a purpose here at this place. With purpose comes movement, movement from what is to what could be."
Tuesday marked the beginning path of purpose for the 104th Senate, "a special day," former Student Body President Blake Rainey said.
"I wish you the best of luck on tackling all of these issues, but I also ask of you to build on the initiatives that we have worked on in the past year and in many senates prior," Rainey said to new president David Shirzad.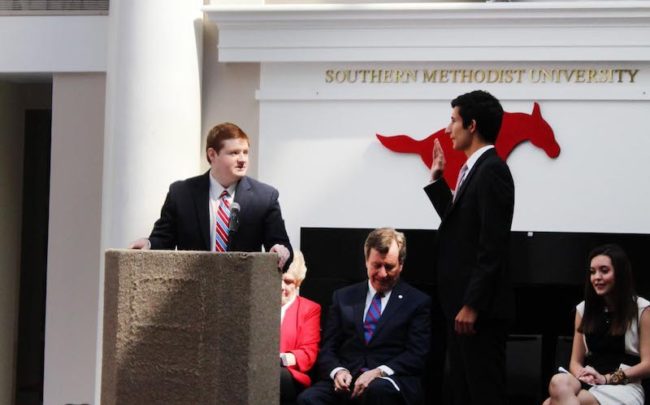 Shirzad echoed the promise: "Moving forward, it's important to remember the progress that we've made, not just in the past year but throughout our time here, because it's so important to see where we come from."
"We've done some really amazing things in Senate," Shirzad said. "But it's also important to remember who we are, who the Student Senate is."
"We're not an organization, as J.J. will remind you. We actually charter organizations. We fund organizations. We hand out thousands of dollars every year to deserving students for projects and to use as scholarships."
"We are the 104th Student Senate. That's a big number."
"So how can we different? How are we going to stand out as the 104th?" Shirzad said.
"I'd like to think that we're going to be a chamber of firsts, many firsts. We're actually a chamber of some firsts already. For example, we are the first Senate to actually have specific seats representing our queer community, our student athletes and our military veterans."
Shirzad also summarized his initiatives and projects he plans to work on.
"They include working with athletics to foster school spirit, working with our Health Center to improve counseling services, working to better access our research opportunities on campus, working to provide better dialogue between our administration and all students on campus," Shirzad said.
It is important to remember the gravity of this event and of Student Senate as they represent the student body.
"Your peers, your classmates, your friends, are relying on you to represent them," Shirzad said. "They're relying on you to make this a better school. And we can do that and we will do that. "
"I too will never forget that you trusted me to represent you, and that you're counting on me to make SMU the best school as possible," Shirzad said.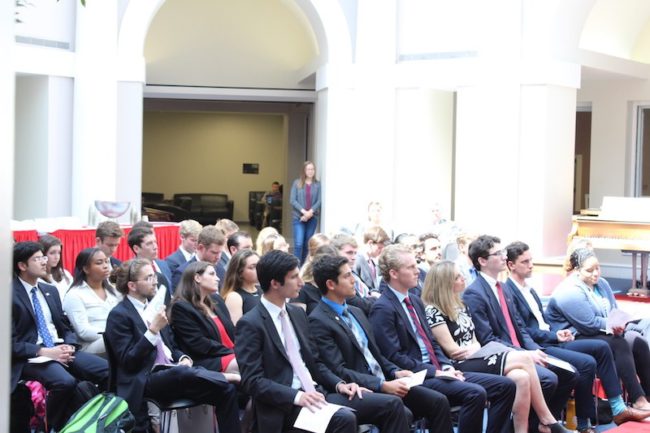 Congratulations to the 104th Student Senate.