The SMU Simmons School of Education and Human Development welcomed Stephanie L. Knight as the school's new dean April 25.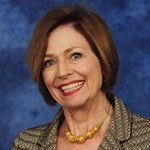 Knight replaces current Dean ad interim Paige Ware, who was appointed in April 2016 after Dean David J. Chard left to become president of Wheelock College in Boston.
Currently the associate dean and a professor of education at Pennsylvania State University, Knight will assume her new role at SMU Aug. 1.
"Dr. Knight is joining a dynamic school, which will continue its trajectory as an innovative leader in education research and practice under her leadership," President R. Gerald Turner said in a press release. "She understands that education is key to change, from lifting individuals from poverty to opening minds to new understanding, and that will strengthen SMU's impact on individuals, schools and the world."
Knight's background began in languages, after majoring in Spanish as an undergraduate at University of Kentucky. For her master's degree, Knight moved on to secondary education at Lehigh University and ultimately received her doctorate from University of Houston in 1987.
As a professional, Knight has taught education at University of Houston and Texas A&M University before joining Pennsylvania State University.
Beyond the classroom, Knight has experience directing university and national research centers, including the National Center for Science and Civic Engagement in Washington, D.C. She has previously co-edited the Journal of Teacher Education and a section of the American Educational Research Journal.
According to Marc Christensen, chair of the search committee, Knight's experience combined with her research made her stand out as a candidate. Along with the Council of Deans, Knight is expected to "advance the University's academic and research missions," Christensen said.