"Any reward or any moment of gratification, it comes and goes," Alan Alda said in his Tate Lecture Tuesday, May 2. The quote comes from a man who is well-versed in gratification.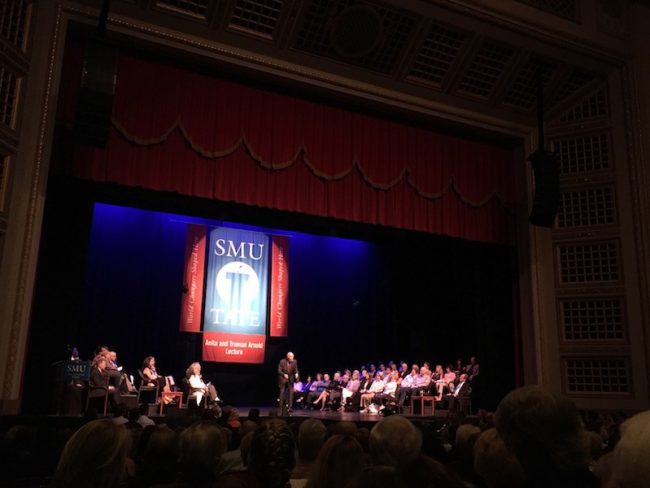 Alda's career began in acting and spanned more than 40 years with seven Emmy awards and six Golden Globes. Alda is most famous for his role as Hawkeye Pierce in M*A*S*H—a show whose series finale remains the single most-watched TV episode in U.S. history.
It wasn't until the last episode of the show that Alda had his most amazing memory.
"We knew the show was successful, but we didn't know how successful," Alda said.
"[Alda and the rest of the cast] got in a car to go to a restaurant and celebrate, but that was the time the rest of the country was watching [the last show] on television."
"I had this amazing realization that the streets were empty…they were all home watching the show," Alda said.
Alda's success has continued since M*A*S*H and his retirement from acting. He has since worked as a director, writer and philanthropist, advocating for scientific research and founding Stony Brook University's Alan Alda Center for Communicating Science.
His work in the scientific field—educating scientists on how to communicate—can be explained by "the night that changed my life," Alda said.
"It was in Chile, and it was 14 years ago," Alda said. "I was sitting on this blue vinyl bench and I felt this tingle in my gut. And after about 15 or 20 minutes, it wasn't a tingle—it was the worst pain I had ever felt in my life… They had a medic up there and I saw him looking at me across the lobby. I don't think he had ever done anything medical before. They take me to this not very big town called La Serena. And here at this little dingy hospital is this wonderful surgeon and he knew almost immediately what was wrong with me."
"But this was amazing, he was such a good communicator. I remember it so clearly," Alda said. "The interesting thing to me about that, I wasn't scared… In a few hours, I was going to be dead along with my intestine… And I had never liked the idea of dying. And when he put the mask on me, I thought, 'this might be the last time I'm going to be awake ever.' But I wasn't frightened."
Through this experience, Alda learned the power of communication in the realm of science.
"I spent the last 20 years helping scientists communicate their science better to the public," Alda said. "I teach them to tell stories because we all think in stories. We all want to hear stories. And we all want to hear something personal."
"I had learned in those talks, the only thing that saved me was telling personal stories," Alda said. He was referring to the numerous speeches he has given in various areas of the world.
"You know, when you're pretty well known, people ask you to speak places that you have no business being. They figure you're famous, you must have something someone wants to hear," Alda said.
Alda gave the commencement address to the Columbia College of Physicians and Surgeons in 1979.
"I'm not a doctor," Alda said as a jest on his role as a doctor in M*A*S*H.
While he was not trained as a professional in medicine, Alda offered his advice from a patient perspective.
"I hope you're going to be the kind of doctor who cares about the person and not just the disease. Pay attention to them as people," he said.
"They really liked it," Alda said. "I realized there was something good about that personal approach, I actually did have something to offer, as meager as that experience was."
"But the weirdest one was when I was asked to speak…at a psychiatric hospital," Alden said. "By this point I had the idea, I had something personal in almost every case, that I know that they may not know. And in this case it was I knew something about being famous."
"it was clear that if I was going to find the meaning of life after Chile, it wasn't going to be fame. Fame is not it. It can be nice, but it's certainly not the meaning," Alda said.
"A lot of people think that fame and fortune go together…they're synonymous. They're not. If you can be rich without being famous, take it. And even rich, once you have the basics, it's good to have more but it doesn't give more meaning."
Alda learned that lesson from Marcus Aurelius. "When he was alive he was the richest man in the world. He was the emperor of Rome," Alda said.
"He said, 'Don't worry about what happened in the past. Don't live in the past. And don't worry about what's going to happen and what people will think of you when you're dead. When you're dead, you're going to be dead, you won't know.' So, what we have is the present moment," Alda said.
"That really struck me because I was talking to neuroscientists who would tell me that our experience of now, our experience of the present moment, only lasts for about five seconds. So, that five second window is moving along…You've got to keep up with the present moment, wherever it goes."
That rule held steadfast in Alda's time in improvisation. "I only really did it for six months but it changed my life," Alda said.
"You'd be out on stage and you wouldn't know what was coming next. And we all used to tell each other, don't worry if you don't know what's coming, just reach into the dark and pull out an answer…And there are no mistakes, it's just the next thing you go to."
"Life is like that. You can't do anything, you can't accomplish anything without failures. A failure is just a stepping stone to the next thing. You got to step on a lot of them before you get somewhere."
"I started to really love uncertainty. You don't know what's coming next and you find yourself in these new situations and you relish in the new experience. That's what I finally found as the meaning of my life after Chile," Alda said.
"I welcome uncertainty now. You can't avoid uncertainty. Just like Marcus I don't live in the past, I don't think about the future. Because if all this uncertainty is coming at you, you can't control it, but you can surf uncertainty."
"You can find things that you think are the meaning of life," Alda said. "Life has a million meanings I think." But the most important part is to "notice the life while it's happening…it's not success so much, it's the effort."