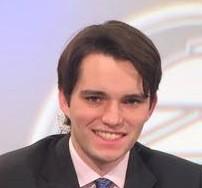 It's here. This is the final story I'll file to The Daily Campus.
A quick check on our publishing software shows I've filed 205 stories to this website. I submitted my first in August 2014. Nearly three years later, it's time to write my last. My time at The Daily Campus and SMU's journalism department has been educating, rewarding, adventure-filled and, at times, sleep-deprived. I could spend this entire column thanking the fellow students and faculty who have made these last three years not only possible, but also enjoyable and unforgettable.
I've had so many great classmates in my SMU journalism classes, many of whom I consider good friends. I've been so fortunate to work with you, learn with you and get to know you. I've enjoyed building relationships with every journalism faculty member. I owe an equally big thank you to all readers who have followed along with me and with our other student journalists.
I don't know how I'd find the sufficient words to thank everyone that needs thanking. I do know that I'd run out of space. So instead, here are five thoughts on my time working at The Daily Campus and covering SMU sports.
1. I had pretty dang good timing.
I couldn't have asked for a better time to cover SMU sports. In my time here, news – on and off the field – was as common as a craving for a late-night Mac's Place run. The first coach I covered was Larry Brown, the same guy I grew up watching coach the Detroit Pistons to an NBA title. I was around for SMU's first NCAA tournament berth in 22 years. I saw SMU football beat a top-11 team for the first time since 1982. I covered NCAA sanctions, Brown's surprise resignation and a football coaching hire. I think I can safely say that few Daily Campus sports writers before me had an SMU sports news cycle this lively.
2. I also had some great adventures.
Covering SMU has taken me to Ann Arbor, Cincinnati, Denton, Fort Worth, Hartford, Houston, Louisville, New York, Tulsa and Waco. It took plenty of potentially sleep-filled nights and turned them into sleep-lacking nights that, in some rare scenarios, required a dose of that nasty-tasting 5-hour Energy. But I'd do it all again.
I went to New York in November to cover SMU men's basketball in the 2K Classic. The tournament fell on the weekend right before Thanksgiving; right at the time professors love to cram in assignments and exams. Predictably, the three-plus days between returning from New York and going home to the Chicago area for Thanksgiving contained little sleep or fun. But during those late nights spent finishing a class assignment, I remember thinking of the walk to Madison Square Garden and stepping onto the floor of World's Most Famous Arena. Yeah, that was worth it. So were all the other trips. This year's trip to Tulsa for the NCAA Tournament was worth getting my first career speeding ticket.
If I had to pick a favorite trip, though, I'm going with the 2015 NCAA Tournament in Louisville. It was my first NCAA Tournament. Everything about it was an adventure. The 13-hour drive each way. The night after the game that included 5 a.m. Divorce Court reruns at the hotel (my former colleagues and friends Andrew Hattersley and Demetrio Teniente will remember it well). Watching the Kentucky team that would start 38-0.
Oh, and the game.
I was just beyond half-court, directly in line with Bryce Alford's back when he shot the 3-pointer that some SMU fans still won't talk about. That was obviously unreal. I watched Yanick Moreira, slumped over at a dais in the press conference, tearfully utter, "It's all my fault." I sat in the press conference room, stunned he took all the blame for SMU blowing a seven-point lead in the final 1:26. You couldn't help but feel terrible for him. That entire game contained everything great and agonizing about March Madness. It's an experience I'll still be describing 40 years from now.
3. Athletes are actually often pleasant.
I'm sure there are some athletes who fulfill the standoffish and egotistical stereotype. But I never met anyone like that while covering SMU. If any athlete I met at SMU actually was standoffish and ego-driven, he or she disguised it perfectly.
I'd guess a minority of athletes actually like being interviewed. It's often uncomfortable. They sometimes field dumb questions. After a loss, I doubt any of them are eager to answer questions about why they were not as good at their job as someone else. Yet I'd have to dig deep to remember an SMU athlete who was rude or dismissive. I can remember plenty of times where I left impressed by an athlete's politeness, wit, humor or engaging nature.
Courtland Sutton stands out. He oozes passion in every single interview. He also talks for longer than anyone, which I don't mind. He's the opposite of complacency, and that's evident in his answers. Whenever he's asked about himself, he's quick to mention someone else who has helped him. He speaks with natural self-assuredness. He answers every question without an "are you serious?" look on his face, even when a question may have merited it. He's honest, descriptive and doesn't sugar-coat anything. That's all I can ask for in an interview.
4. SMU is an advantageous beat for student reporters.
When someone asks me what I've found most valuable as a student reporter covering SMU sports, I have the same answer every time: the opportunity. No, I don't mean the chance just to do it. I'm talking about the opportunity to cover a Division I athletic program that needs coverage despite residing in a big media market. I started on the SMU beat as freshman with no journalism experience. Yet there I was, trying to cover a program in the nation's No. 5 media market.
A big reason for why that opportunity exists: no one covers SMU. Sure, that's not the case in the NCAA tournament. But for the weekly football media luncheon or a weekday basketball practice, the number of non-student print or website reporters present is usually one and rarely exceeds two. Sometimes, it's zero. I could probably count on my hands every non-student print reporter I met at a media session this year.
I remember a few times where I was the only one to come to pre-practice availability and had Larry Brown or Tim Jankovich all to myself to interview. I was one of three people (two were students) at Chad Morris' postgame press conference after last season's season opener at North Texas and one of three (two were also students) at Tim Jankovich's postgame presser at Houston in February.
I'm not trying to say SMU gives students more access than other universities or that the school always views student reporters as important as the professionals. I'd have to be a student at every other university to know that. But if myself or another student reporter needed to talk to a coach or a player, he or she was almost always available to talk. I've chatted one-on-one with Jankovich for 30 minutes after his postgame presser and had Morris in our SMU-TV studio for an exclusive on-camera interview. When there aren't a lot of other outlets that demand access, students have an easier time getting it. I don't remember ever feeling like I was slighted for access because I was a student. SMU's media relations staff always treated me and other reporters well.
That opportunity is a blessing and a curse for student reporters, but way more of the former. If you create original, insightful content on the SMU beat, you have a chance to get noticed in the DFW area because you're competing with few others to produce that content. If you break stories, you'll get noticed even more for the same reasons. SMU's journalism department is pretty small, so there is little competition among students to get the chance to work the beat for The Daily Campus or another student-reliant outlet. SMU is a small school with a small fan base, but nonetheless resides in a big market and is still a Division I program. The American Athletic Conference is trying to convince us it's a Power 6 program. So while the audience isn't huge like it would be for a Power 5 program or state school, it exists and it's large enough to get noticed. The whole combination is a rare opportunity for student reporters.
The downside of that entire scenario is that it places a lot of pressure on college students who don't have a lot of experience. There is pressure to not make mistakes and to create quality, consistent content. It's a responsibility created by scarcity, and it certainly exists at SMU. To a student reporter without much experience, that's a little scary. The ability to learn on the job is valuable and unique, but it also lends itself to more mistakes. This also isn't a field that quickly reveals all its secrets and keys to success. But if you're willing to listen, learn, commit yourself to improving constantly and hold your work to a high standard, that downside is a great problem to have.
5. This is an uncertain industry, and that's OK with me.
In late April, I finalized my post-graduation plans: I will be going to Northwestern University to pursue a Masters degree in Journalism with a sports media focus. A few days later, ESPN laid off more than 100 of its employees, some of them writers whom I respect and admire. Naturally, I had a brief "what did I just sign myself up for" moment. If some of the most skilled reporters around lost their jobs, how am I going to do anything in this industry?
It's no secret that journalism, especially sports media, is an inconvenient industry. The biggest games are often at night or on the weekend. When your friends are out, you're sometimes working. As the layoffs demonstrated, a reporter can do great work and still lose a job. But layoffs happen in a lot of businesses. This is not a unique trend to sports journalism, but it's still unfortunate and unforgiving.
Any uncertainty I had was short-lived. I'm not jarred. I don't believe the industry is dying. Changing, absolutely. The demand for sports content is as high as ever. More sports media outlets exist than ever. The content creators, though, don't have the value they once did. I think there is a business model for sustainability and I think real reporting will always have value. I think people will pay for good content, though I find it funny that some people get mad at that thought. How many other industries provide a service and don't ask for compensation?
I'm going to keep doing what I tried to do for The Daily Campus: produce captivating, original content and be multi-faceted. A big reason I wanted to do a Masters was to keep improving in those areas. I hope to work in sports journalism for a long time. I certainly can't predict the outcome, but I have the desire to keep putting in the effort and time. I don't think that desire is going away soon.