Most students think going to the book store for textbooks is a tribulation. Battling long lines and cramped shelves is not a fun to start a semester, especially to find out the book you bought was $200 more from the store than it was online. For Evan Webb, a sophomore finance major, this was not only time consuming, but frustrating.
"Hopefully, the bookstore will lower its prices or find a way to truly 'price-match' its competitors," Webb said.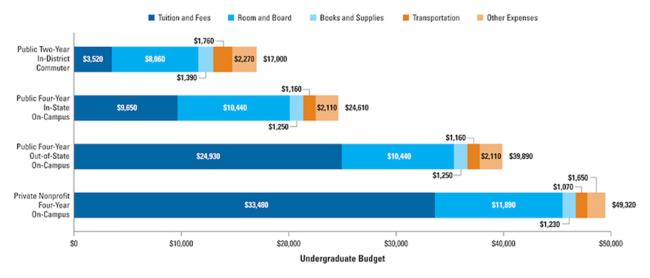 For the 2016-2017 school year, College Board predicted students at private, four-year institutions, like SMU, would end up spending close to $1,230 on books and supplies. At SMU, this holds true. Webb and other students have said they spend close to, if not more than $1,000 a year on textbooks.
"I spent a total of around $1,000 on books both semesters combined," Lauren Philpott, a freshman said.
While textbooks are necessary and required for most courses, they can add up very quickly. The traditional college bookstores typically charge higher prices for books than online outlets such as Amazon.com Inc. As a result, some students have turned to Amazon.com instead of the SMU bookstore for their textbooks.
"Amazon is where the books are the cheapest, and it only takes a day or two for delivery," Webb said.
Mary Mebus, the general manager from the SMU bookstore, said although the competition is tough, they do everything possible to stay relevant to the student body.
"When we first started here we used to sell books as the campus bookstore and within the past 5 to 7 years, the online competition has made it tough," Mebus said.

Barnes and Noble College, a subsidiary of Barnes and Noble Education, is incorporating online learning initiatives, as well as social aspects into their college bookstores to combat the current Amazon trend. Michelle DeMaio, the Barnes and Noble Education senior corporate communications specialist, said that through open educational resources (OER) they are able to introduce online BNED courseware.
"Our courseware helps drive affordability and easier OER adoption for the schools we serve, and provides dynamic digital content such as self-assessments and videos to improve learnings for students," DeMaio said.
At SMU specifically, they have incorporated the price match program, the rental program and a new platform for EBooks for students. Clayton McKinley, the assistant manager at the SMU bookstore, said their EBook platform is an affordable resource for textbooks.
"Yuzu is a software platform for EBooks that is free for students. It's one of the better resources for EBooks," McKinley said.
As an undecided major, Philpott took courses for the usual freshman, and was required to have about eight books each semester.
"I bought most of my books from the bookstore online out of convenience, however I did buy my English books from either Half Price Books or Amazon," Philpott said.
However, the initiatives by Barnes and Noble do not affect textbook pricing, which is what effects students the most. Below are three textbooks for courses taken by the usual freshman at SMU. When compared to Amazon.com, the price difference is extensive.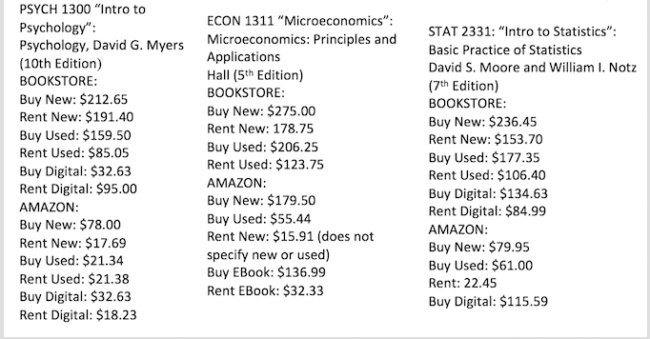 Beth Newman, a literature professor in Dedman, said that while it's true that Amazon can sell books cheaper than the bookstore, it isn't comparable to the amount the bookstore would spend to compete with those prices. Amazon's third-party seller program allows them to simply facilitate the buyer/seller process, instead of paying for the books like the bookstore does.
"If a student wants to go to Amazon and buy from a third-party seller a cheap copy of a book, I get that, I do it all the time. But don't hold the bookstore responsible for the fact that they can't meet that price, it makes no sense for them to do so," Newman said.
While the prices speak for themselves, the bookstore implements many initiatives and a sell-back program in order to keep prices fair and to help students in any way they can. McKinley said they will take back books that the SMU store doesn't specifically need for 25 to 30 percent of the sale price.
"We buy back used texts from students. If it's a book we need, we pay back 50% of purchase price," McKinley said.
Some teachers require students to get their books directly from the SMU bookstore. Others understand that buying online can sometimes save students money. For most teachers, they just want their students to get the correct edition of the text.
"I've taken classes and I understand how expensive this can all get," Lee Gleiser, a sports law professor in the applied physiology and sports management program, said. "The only thing I ask is that they get the right edition."
It's a common concern among teachers in different disciplines. Newman said the correct edition is important for students to have in order to actively participate in class.
"If the page numbers are wrong, it's hard to follow along in a discussion," Newman said. "So I really want students to have the same text I do, and sometimes it has explanatory materials I think are useful."
Buying textbooks from the bookstore cuts out the risk of getting the wrong edition, but can cause other concerns. In some cases, books are back ordered, which causes students to fall behind in class.
"When I get frustrated is when they run out of the book because then students have no local resource to pick it out," Gleiser said. "Then there's no reason why they shouldn't get it online, because they can't get it here."
However, the back order issue is sometimes on the students themselves. Mebus said that students oftentimes don't return their rental books, which are necessary for students to use in the following school year.
The bookstore is aware that the students choose cheaper outlets for their textbook needs. DeMaio said college bookstores offer more than textbooks for purchase. It can offer a social environment for students.
"It is our mission to enhance that experience by providing not only the most affordable, quality course materials, but also a vibrant social hub where students can gather to study, eat at our cafés, chat with friends or enjoy the events we host," DeMaio said.
As part of the initiative to make the SMU bookstore a better resource for students, they are expecting a remodel that will allow for more study areas, apparel, trends and a revamped textbook and supply section.
"There's a big push every day to bring in new merchandise to keep it current," Mebus said. "We included the Nike shop which increased Nike sales 25 percent. We want to make this a place where people and students keep coming."