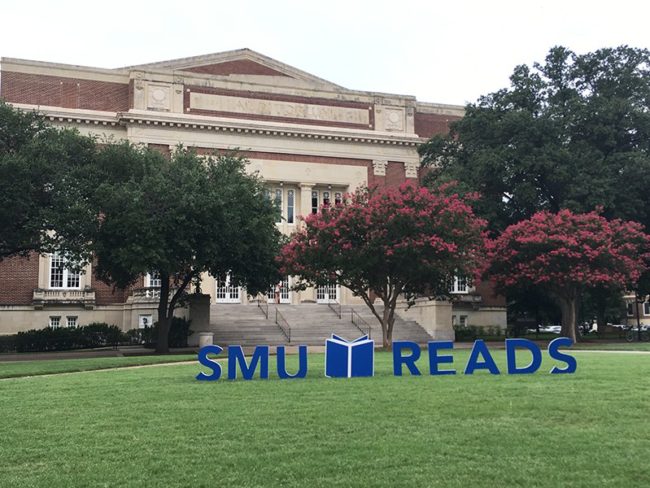 The author of Evicted, this year's common reading and SMU Reads selection, discussed his novel at McFarlin Auditorium Aug. 24. The lecture gathered over 500 community members, students and faculty to hear Matthew Desmond's experiences and his observations of home evictions in America.
Dallas! See you tonight! https://t.co/5tRoHXPpru

— Matthew Desmond (@just_shelter) August 24, 2017
In his Pulitzer Prize-winning novel, Desmond shares the story of eight families facing the effects of poverty; in his lecture, he focused on sharing the story of Arlene.
Desmond spoke with authority, reflecting on his time living in various impoverished areas of Milwaukee, where his novel was based.
According to Desmond, Milwaukee evicts around 40 residents a day, a number not uncommon among major American cities. This cycle of eviction moves poor families deeper into poverty. The cycle proves harder to break as some public housing use eviction as a mark against a family; some families then lose their jobs due to poor performance with the stress of losing their home, according to Desmond.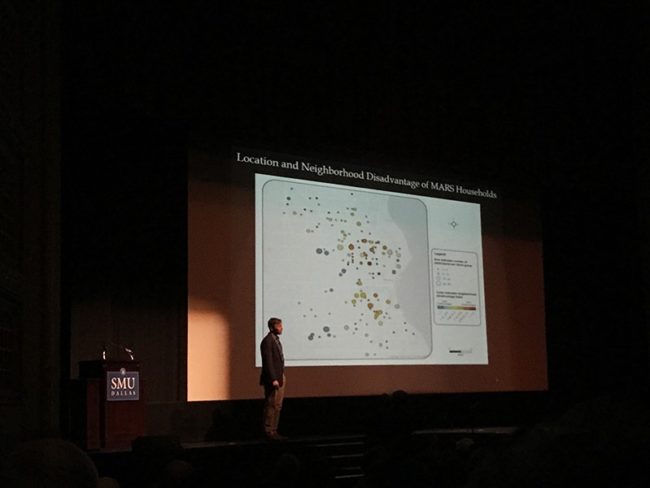 "Think of all the talent, beauty and brain power we squander because these families face eviction," Desmond said.
Desmond argued that with the current rate of evictions, the poverty cycle in America will continue.
"Whatever issues you care about," Desmond said, "housing is at the bottom of it."
He advocated expanding the affordable housing legislation to provide aid to everyone below the poverty level, as opposed to only 25 percent of renters receiving aid who are below the poverty level. This expansion would give vouchers that allow homeowners below the level to pay only 30 percent of their income on housing, while the voucher covers the rest.
Desmond was no stranger to evictions before his research. His family faced a bank foreclosure on his house when he studied at college, forcing him to learn the reality of losing a home.
Following the lecture, over a dozen community members, faculty and students participated in the conversation through a Q&A session. Questions ranged from criticizing Desmond's solution to prevent evictions to inquiring about the civil commitment to address the topic.
"Most people at SMU haven't experienced this problem," first-year SMU student Nicholas Crothers said. "These lectures are needed just to inform and help us be more educated citizens."
For many years, the SMU Reads program has encouraged the Dallas community to read a chosen novel over the summer and attend a lecture on campus discussing the issues raised in the book. Students also hold discussions about the book with faculty and staff in their residential commons. Past books include Just Mercy, Station Eleven and We Need New Names.