Last weekend, the SMU men's soccer team welcomed Cornell, Oakland and Incarnate Word to Westcott Field for the SMU Tournament.
On Friday night, SMU beat Oakland, 2-1. Junior Christian Boorom initially got the Mustangs on the scoreboard with his goal within the first 10 minutes of play.
Sophomore Garrett McLaughlin, the 2016 American Athletic Conference Rookie of the Year, secured the win with another goal in the 64th minute of play. It was both Boorom's and McLaughlin's first goals of the season.
The Mustangs continued their win streak when they blanked Cornell, 3-0, on Sunday night. In the 23rd minute, senior Mauro Cichero scored his fourth goal of the season, raising the score 1-0. After halftime, the Mustangs scored twice within the first five minutes to take a 3-0 lead over Cornell. McLaughlin scored the second goal for the Mustangs from a cross from Eddie Munjoma. Less than three minutes later, Garrett Welch scored his first career goal and secured the win for SMU.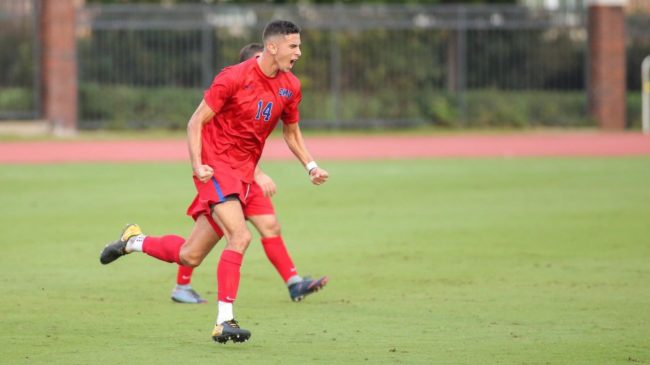 Overall, the Mustangs won the SMU Tournament with a total of six points against the other teams. Cichero was named the Most Outstanding Player of the tournament, an honored elected by participating coaches. McLaughlin, Jordan Cano, Caleb Smith and Michael Nelson were also selected to the all-tournament roster.
The Mustangs will be on the road for the first time this season travelling to California to play No. 1 Stanford at 10 p.m. on Thursday night and Santa Clara on Saturday at 9 p.m.