By Shannon Hale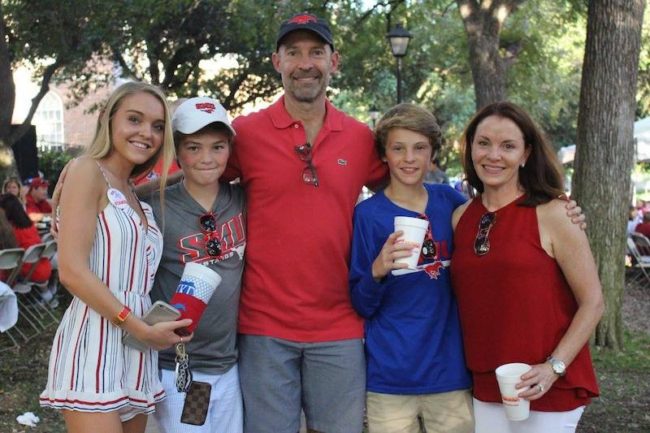 With family weekend quickly approaching, SMU students should begin preparing for their parents' and siblings' arrivals. It's a busy time of year with settling into dorms and apartments, football season with boulevards and course loads picking up. However, it is important to plan a nice weekend for your family. Here are a few ways to give your family a great impression of life on the hilltop.
Where to take your parents to dine:
Dallas has so many restaurants to choose from, so it's important to make the most of them for family weekend. Although it is impossible to hit every incredible Dallas restaurant, here are a few great spots for a nice dinner with your family.
Town Hearth
Lindsey Miller, of the Mothers' and Fathers' Club, names this spot "a must see even if just for cocktails." Town Hearth definitely is just that with a dining room including 64 crystal chandeliers, a yellow submarine aquarium and a silver 1961 MG parked in front of the kitchen. This restaurant offers a truly incredible dining ambiance. The menu offers exceptional steak options along with fresh seafood.
Stampede 66
Stampede 66 provides a unique, modern twist on classic Texas dining. The ambiance of the restaurant includes a shed pavilion, big screen with Texas quotes, cows, horses and tumbleweeds. The menu offers a mix of classic Southern and Mexican dishes. Stampede 66 is a special way to show your family how classic southern traditions are constantly evolving.
Y.O. Ranch
For more of a classic Texas dining experience, head downtown to Y.O. Steakhouse. The restaurant has brought true Texas heritage food since 1880. The menu offers a large selection of in-house hand-cut beef seasoned with Y.O.'s own brand of herbs and spices, grilled meats, wild game from their own 48,000-acre ranch, and an array of fresh seafood. The atmosphere of this quintessential Texas haunt is inviting and relaxing with a touch of elegance.
Javier's
Javier's is a necessity if you're looking for a great Mexican meal. It's conveniently located near campus, right off the Katy Trail. A reservation is highly recommended as this restaurant is always packed. Javier's has been around since 1977 and has been named one of the 10 Best Mexican Cuisine Restaurants by USA Today. And hey–you may even catch a glimpse of Tony Romo.
Rise
Rise is not your typical dining experience. Originating from the Southwest of France, this restaurant serves authentic savory and sweet soufflés. The menu offers a large array of soufflé flavors to share around the table. Aside from soufflés, customers can also enjoy other traditional French cuisine dishes. The ambiance is one of a kind with scrabble game pieces adorning the tables and unique French napkins.
What to Do on Boulevard Day:
Brunch
As the saying goes, "everything is bigger in Texas", and this can easily be applied to brunching in Dallas. A great way to kick off a game day is with a delicious brunch. Whether you're looking for a hearty meal to sustain you through the boulevard or a boozy brunch to get you rallied up, Dallas has plenty of brunch spots to choose from. Lindsey Miller recommends Boulevardier for the "the best brunch in the world."
The Bush Library and the Meadows Museum
Debby Baker of the SMU Mothers' and Dads' Club says, "don't forget to visit the two treasures within walking distance of SMU: The Bush Library and the Meadows Museum." The Meadow's Museum currently displays works by Picasso and Rivera, including some pieces that have never been presented together. The Bush Library includes unique displays such as the Portraits of Courage, with original oil paintings by President George W. Bush himself along with the stories of the veterans honored in the paintings.
Get some BBQ with Student Foundation
The Student Foundation Barbecue begins on the boulevard at 3:30 P.M. outside of Clements Hall. This is great way to get some good food before the game and meet more people in the SMU community. After you get some grub, be sure to head across the boulevard to the Mothers' and Dads' Club tent on Maguire Lawn. "We will have the Button Man taking family photos on commemorative buttons, refreshment, a place to gather as well as a green screen for more family photos," explains Debby Baker.
Whether you have the weekend planned to the minute or no plans at all, family weekend is all about spending time with your loved ones and meeting the families of your friends.
Debby Baker shares, "Some of the best times I have had with my Mustang involve just walking around campus and seeing classrooms, cafeterias, the bench she has found as a peaceful spot."
At the end of the day, it doesn't matter what plans you have as long as you are surrounded by the ones you love. Enjoy your Family Weekend, Mustangs!