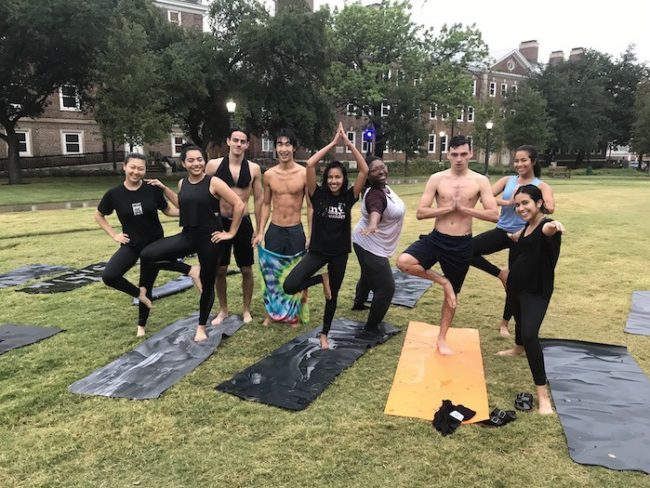 by Sayed Gilani
With midterm season bogging students down with copious amounts of studying time and homework, many undergo a lot of stress and could use a break to recuperate.
Shuttles residential advisor Cristina Dondiego, along with the help of Peyton Commons residential advisor Gabriella Smith, hosted an activity intended to alleviate any stress bearing on students and form a sense of community among MHPS residents. This event was hosted Sept. 27 in the quad, and set to the tune of world-famous American rapper Kanye West.
According to the American Psychological Association, the past seven years have seen an increase in the percentage of students experiencing mental health problems and extreme stress and anxiety. This staggering increase has brought to light the dangers students face with poor mental health on campus. In response, many student-led organizations have hosted events to promote mental health awareness and to reduce stress levels across campus.
Yeezy Yoga gave students a chance to lower their stress levels and reinvigorate their mid-term studying stamina with energetic yoga exercises. The addition of Kanye West's discography only strengthened the intention of the event, both attracting participants with West's mass appeal and also adding an exciting and engaging soundtrack to the event as a whole.
When asked what led her and Gabriella Smith to organize Yeezy Yoga, Dondiego said that "MHPS RA's wanted to provide a fun activity that would [take care of resident's personal wellness]."
She added, "I think Yeezy Yoga was a great way to unite the commons as a whole… If given more advertising, we could use it as a way to unite our community and make it a regular activity."
What ties this event together embodies the man behind the music himself, Kanye West. West has incredible crossover appeal to the current college demographic, which piques interest in almost any event that might involve him or his music.
Marge Ebinger, a student who attended Yeezy Yoga, recalls her presence at the event merely because "I like Kanye and I like yoga!" she said. West's fast-paced, energetic performances can help drive the pace of the event to a stuttering high and also bring participants whom never thought of themselves as doing yoga, but adore West's music.
With everything considered, you'd think Yeezy Yoga would go off without a hitch, however, Mother Nature had other plans come the day of the event. Intense rain showered on Dallas. Instead of lackluster attendance, participants powered through the weather, adding to the mood of the energetic yoga exercises with Kanye West's catalog leading the way in pace.
You just can't help but believe West when he says "My music isn't just music, it's medicine."