by Alexandria Haggar
The Meadows School of Arts immerses you into a world of theater, art and music upon entrance. As you walk through the halls you can hear the faint sounds of the students practicing music, mixed with the light chatter of learners passing between class.
It creates a unique environment and feeling not found anywhere else on campus. As you round the corner on the first floor to the right, you find yourself at the door of Will Power's office.
When arriving at this simple, well-organized and faintly lit office, you wouldn't realize just how involved Power is.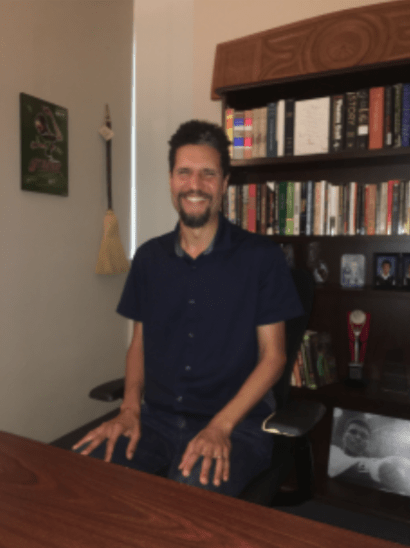 Power, a causal, laid-back and charismatic person, makes himself approachable to all students with his will to share his knowledge and experiences. Without research, one would never know that Will Power seems to do it all. He manages being father, artist in residence, faculty in residence, playwright and actor.
The Faculty in Residence (FiR) position, a relatively new concept at SMU, creates a wide range of new opportunity for both students and faculty. For the past six years, Power has served as the FiR for the Kathy Crow Commons. His decision to become a FiR arose from two domains; "to become more involved in the school and for his family," he said.
As a professor in Meadows, Power says he only "got to see a fraction of the students." He felt as if he was only getting a limited portion of the available university experience, as he only saw a certain type of student.
After reflecting upon this, Power said he wanted to have a "bigger and a different kind of impact on to the students."
As a FiR, Power said he believes he can impact more students than before, and create relationships on a more personal level.
Power also chose to become a FiR to enhance his family's experience, especially his children's, he said. He believes living in a college dorm is unique experience for his kids that will allow them to grow and expand their horizons in ways they would not have been able to otherwise.
His kids love to go to the soccer games, he said, because they know the players off the field due to their living on the first floor of Kathy Crow Commons. Just as Power gets to develop relationships with students, so does his family. In addition, many of the Kathy Crow Commons residents enjoy socializing with the kids and treating them like siblings of their own.
Since his time as FiR in Kathy Crow Commons, Power tries to make a unique and positive environment for the residents. He and his family actively try to create relationships with the students and get to know them on a more personal level. Every Sunday, Kathy Crow hosts "Smoothie Sunday." On Sundays, all the residents of the commons are invited to come into Power's apartment to make smoothies.
On campus, Power serves as an artist in residence for the Meadows Theatre department, advising students through their independent study rather than teaching an actual class.
Unlike the others in his department, Power's way into academia came through the experience of playwriting. Power has written many award-winning plays and performed around the globe. Stepping aside from his work, he began to teach workshops and realized his passion for sharing his knowledge with others, which led to his decision to teach at universities.
Power's passion for theatre started at a young age. He remembers the starting point of his journey at 10 years old, when he went to watch a show at the local children's theater with his mother.
He was intrigued by the stage lights, and his mom caught onto his interest and made him join the theater against his will.
At a young age, he learned how theater can have a positive impact on the local community. Many of the plays he performed in dealt with the economic and social issues present in his surrounding neighborhood, which shaped his perspectives. Power continues the idea of theater helping at a local level through his work in various outreach programs.
Power's done outreach work in many European countries, four African countries, and two Asian countries. In his outreach work with the State Department, he implemented theater as a tool for self-expression through hip-hop, movement and playwriting.
There were different goal sets for various countries depending on their needs. In the mountainous region of Lesotho, he worked on helping the residents find their own voice through theater, while in the developed area of South Africa he worked on further his actors' performance skills. Not only did these outreach programs help those in need, but Power says they also allowed him to see more of the world to grow personally.
On top of everything else, Power receives acclaim for his plays and performances.
Bobbie Lay, a coordinator in the theater department, said Power has a laid-back personality but when he steps onto the stage, he becomes a "complete powerhouse," leaving her pinned her to her seat.
Power says this feeling "comes naturally" to him, because he "is in the moment, not thinking, but highly aware of what is going on."
To this day, Power says he still has much more to learn. The experience as a FiR allows him and his family to grow throughout the SMU community. His experiences in theater will continue to teach him, and the theater will always be his sacred place.