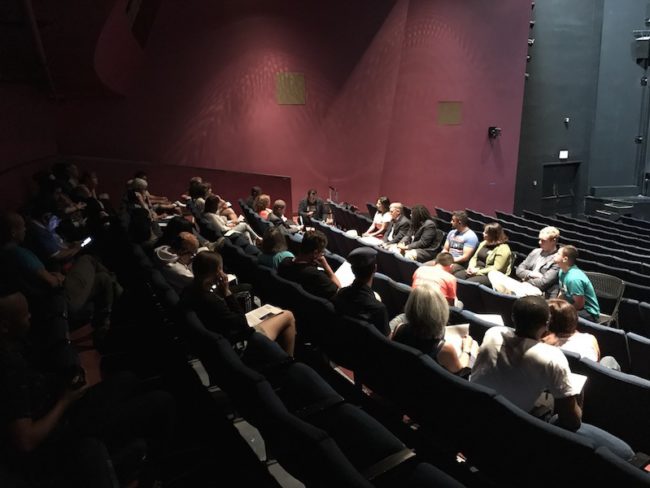 ​*Editor's Note: 10:35 a.m. Oct. 17 – This story has been edited throughout.
Citizens and 'Dreamers' alike joined a panel of human rights specialists and activists on Saturday to discuss immigration reform and the young people affected by it in SMU'S Bob Hope Theatre.
About 40 people attended "Call to Action: A Fight for Immigrants' Rights Community Conversation" hosted by Cara Mía Theatre Co. before attending Cara Mía's play "Deferred Action."
The background stories of the diverse panel, many of them Deferred Action for Childhood Arrivals (DACA) recipients, prompted strong and emotional dialogue among the attendees.
DACA is an American immigration policy that allows immigrants who entered the country as minors to receive deferred action from deportation as well as a work permit. The policy was put forth by the Obama administration, but earlier this month President Donald J. Trump announced he would phase out the program.
DACA recipients are also referred to as Dreamers, who take their name from the 2001 legislation known as the DREAM Act. The law, which would give children protective status, was never passed.
Panelist Diana Ramirez of Workers Defense Project is a DACA recipient who works in Dallas to prevent wage theft. Ramirez said that several moments changed her life growing up, but there is one that stands out. It was the moment when she crossed the border with family.
"For me in particular, it was being nine years old and crossing the river with little brother who was three," she said.
Audience members laughed as Ramirez recalled her mother struggling to keep her toddler brother under control.
"If you know a three-year-old, you kinda know how loud they can be, how much they can talk," she said.
Yale graduate and panelist Juan Carlos Cerda addressed the crowd by apologizing for being late. He was late because he was protesting outside of the Texas attorney general's house.
"I was protesting outside of Ken Paxton's house," Cerda said. "He's the guy responsible for threatening DACA recipients and being behind the SB4 law."
SB4 is a Texas law that forces local government and law enforcement to do the work of federal immigration workers.
Cerda said that resistance to DACA affects more than its recipients. He shared one of his key reasons for getting into activist work: He was not allowed to teach his kindergarten students in Pleasant Grove after his DACA status expired due to delays in the system.  
"My school district did not allow me to continue working in my classrooms," he said. "I left that normal day knowing that tomorrow for my kids and students would not be a normal day."
Cerda said he came into his teaching job not anticipating a DACA suspension because he did everything he was supposed to do in a timely manner. He explained that his students were affected by being without a teacher for a month. It was this experience that Cerda said pushed him into activism.
"It really affected my children's families," he said. "This is something that I fear will happen to many more people."
The attendees had an opportunity to participate in the discussion and include some of their own thoughts. Faith in Texas volunteer Julio Acosta was an attendee who gave his opinion regarding the reality of America.
"When America was founded there was a difference between the American dream and American reality," Acosta said.
He said that difference still exists today.
He explained the ideal image of America was the place one goes to pursue his or her dreams, but there were limitations on those dreams. He said women and black people did not have simple rights for years and said there has been a constant push toward the desirable American dream since America was born. 
Acosta who is an activist in his community also commended the rest of the attendees at the conversation and said that they are already becoming activists by being a part of the dialogue. He offered advice to his peers on how to continue on the path of activism.
"You took your time to learn about something, and that is the first step," he said. "Then it's about 'how can I help."
Attendees were able to talk with panelists and other attendees at the reception following the conversation.
After the reception, attendees filed into the Bob Hope Theater to see Cara Mía Theatre Co.'s play "Deferred Action". The play will continue its tour in Texas with appearances at University of North Texas in Denton, the Latino Cultural Center of Dallas, and Talento Bilingüe de Houston.