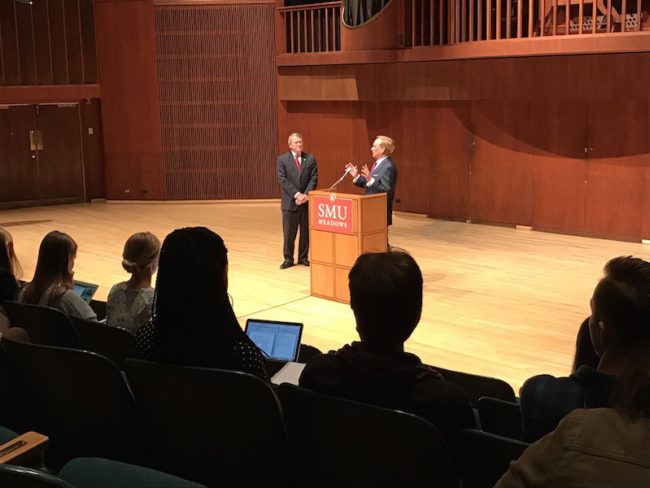 A leading media lawyer and author brought attention to the decline of public confidence in the media at SMU's Rosine Smith Sammons Lecture in Media Ethics on Tuesday, Oct. 17. Bruce W. Sanford, who is listed as one of the nation's 100 most influential lawyers, discussed fairness in political news coverage in his lecture: "Trusting the Media in the Age of Trump."
Sanford said that that the public's mistrust of the media could have contributed to the election of President Donald J. Trump.
He called media coverage of the presidential election negligent, because reporters didn't go often enough to cover stories in smaller towns and rural areas, and sometimes got the facts wrong.
"The media's failure to report the 2016 election has had the consequence of eroding public confidence in the press," he said.
More than 300 people attended the lecture.
Public trust in the media has fallen to an all-time low, Sanford said. Public trust in the media has hovered below 50 percent for the last decade, but just before the election last year only 32 percent of Americans said they trusted the media.
Many Americans blame President Trump for the fall. Sanford argued that although President Trump has been critical of media coverage of his administration, public distrust of the media is not directly linked to those criticisms.
"The truth is that the public's distrust of the media was growing to historically high numbers before President Trump was elected into office," he said.
However, a recent Reuters poll found that 48 percent of participants had "a great deal of" or "some" trust in the media — up from 39 percent in November 2016.
Sanford believes there are two principle reasons for the public's lack of trust. The first is that many people view the media as elitist.
"People see them as part of a ruling class, snobbish, over-educated, and disconnected from the concerns of everyday people," he said.
Sanford also said that journalism is becoming a bicoastal profession that neglects to cover a vast majority of the United States. He explained that in 2004, 1 in 8 journalists lived in New York, Washington, or Los Angeles. Ten years later, 1 in 5 journalists lived in those three areas and the trend continues.
Junior Joanne Hershon attended the lecture. She agreed with Sanford, and said that journalism as a profession should represent the American population more completely.
"You see journalists covering major topics relative to more populated, big-money locations, which is excluding a large portion of the population's interests," she said.
Journalists Keri Mitchell and Emily Charrier, who work for Advocate Magazine in Dallas, attended the lecture. Afterward, they discussed the importance of journalists attending lectures like Sanford's.
Mitchell, who serves as editor at large, said it was important that she attend Sanford's lecture because she believes everyone, including journalists, should keep learning. She agreed that the media itself has contributed to the public's lack of trust.
"When the media make mistakes we need to own up to it," she said. "It does erode trust when you kinda take a hard line and don't fess up."
Mitchell said she took that as a reminder to herself to not get too defensive as a journalist.
Charrier, the publisher of the Advocate, said that when she was a young reporter she thought she had to show that she knew everything, that she had done her research, and that she knew what she was talking about.
"That's absolutely incorrect," she said. "You have to come from a place of openness."
Mitchell said that while she doesn't think completely unbiased reporting is possible, she does believe that it is the awareness of bias that helps reporters get better at their jobs.
"I think that everyone comes at everything with bias, but objectivity is the goal," she said.
The Rosine Smith Sammons Lecture Series in Media Ethics is funded by an endowment from the Rosine Foundation Fund of the Communities Foundation of Texas at the recommendation of Mary Anne Sammons Cree of Dallas. SMU'S Division of Journalism, under Belo Foundation Distinguished Chair Tony Pederson, hosts the lecture series.