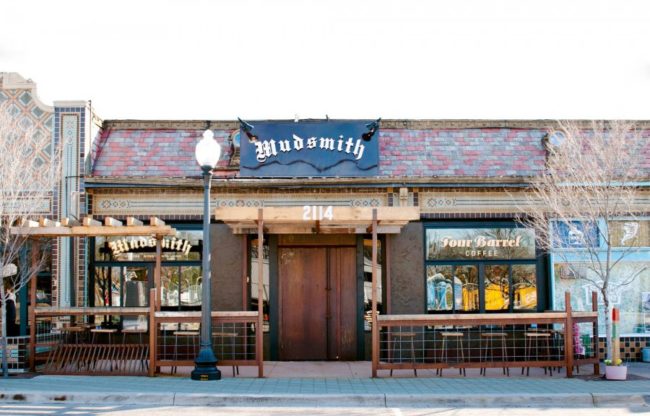 The whirring of the espresso machines, chattering voices and blaring indie music create a cacophonous symphony as customers open the heavy, metal door of Mudsmith coffee house and walk to the bar. A chalkboard menu highlights their array of espressos and kombucha. Regulars have already claimed their turf for the day in favorite spots.
Jim Fitzgerald sticks out from the rest of the twenty-somethings chatting at their tables. He writes furiously in an unlined notebook surrounded by piles of sketchbooks and a canvas bag filled to the brim with paints. He stops to look out the window, lost in thought, stroking his wiry beard.
This army veteran-turned-rock 'n' roll crewman-turned-father has a sense of belonging in the little coffee shop on Lower Greenville. For some, coffee bars like Mudsmith are places to hang out and chat; for others, they are places to do homework. For Fitzgerald, it's a little bit more than that.
"It took me a while to understand that what I was doing here was recreating the family—I had a very dysfunctional family as a little boy," Fitzgerald said. "I was still recreating the need for a group."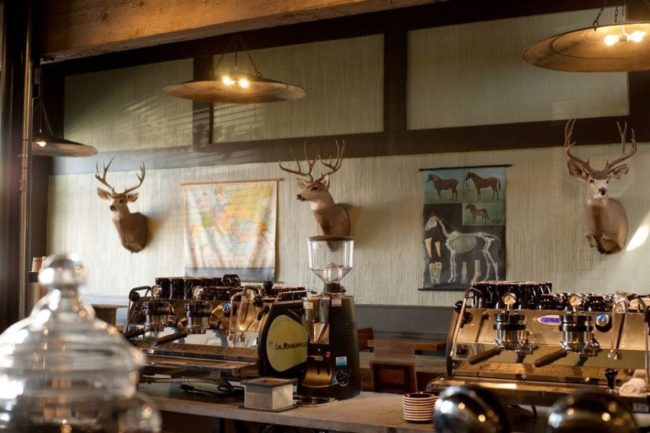 Coffee shops are synonymous with free Wi-Fi and a good atmosphere to socialize. People tend to find their preference — from Starbucks to independent stores — and stick with it. For many individuals like Fitzgerald, a coffee shop is more than just free Wi-Fi and a drink. It's a place where community and creativity can flourish.
One might think that Starbucks kills the small business, but the truth, according to CFO Scott Maw, is quite the opposite. The chain that once ruled over small coffee shops is now paying closer attention to their appeal and popularity.
In her 2015 thesis titled "Coffee Shops: Exploring Urban Sociability and Social Class in the Intersection of Public and Private Space," Bryn Mawr sociology student Rose L. Pozos suggested that people come to these shops for the sole purpose of potential social interaction.
"It is not so much about the verbal conversations that happen in [coffee shops] but rather the potential to have social interaction, whether that be through in-person conversations or via online media," Pozos said.
As a self-proclaimed people watcher, Fitzgerald believes that this need for social interaction among peers stems from fear.
"We are terrified of being exiled, cut out of the herd. We don't want to be identified as someone who is outside of the circle," Fitzgerald said.
For SMU sophomore Micah Oxner, the experience at her hometown coffee shop in Memphis kept her coming back for more day after day. The spot, named Otherlands, serves as a social gathering spot where people comfortably sit and transform the table tops into painting studios or public workspaces: just like Mudsmith.
RELATED: Looking for a new coffee shop? Here's The Daily Campus' picks.
"There's that vibe that people are there because they wanted to meet other people. You didn't really go there if you wanted to sit by yourself," Oxner said.
When drawing at his usual table at Mudsmith, Fitzgerald is often reminded of the popular "Fern Bars" of the 1960s in San Francisco.
"Most of the places had larger tables. And people were, not that they minded, but they were invited or forced to sit together," Fitzgerald said. "It was really hard to isolate yourself in this place."
Think of the typical Starbucks. Black floor, hard metal tables, equally hard chairs. The international coffee chain has standardized the traditional coffee shop, leaving room for more independent shops to offer a cozy, unique experience.
"It's kind of this feeling of coziness and collaboration that feels almost like a home that people are in and out of, but we always come back to," Oxner said. "It's like a home away from home basically. Where I can go and say 'hey, a cup of joe and some artist's inspiration please.'"
Recently, Starbucks has been trying to change its own image by implementing reserve bars and serving more high-end coffee at a high-end price. Uptown is home to the first reserve bar in Dallas. The result is an uptick in the community feel that independent coffee shops have mastered.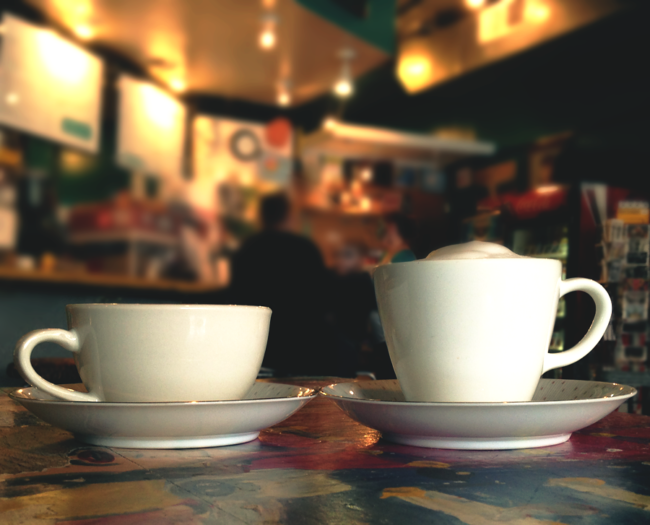 "We see a lot more people coming in to sit down and enjoy their coffee there," Starbucks reserve barista Justin Musgrove said. "People will sit down for a couple of hours, do homework or whatever, try different coffee, try different drinks and actually enjoy their drink. It's not about a caffeine fix."
But there is less pressure to sit for a long time. Musgrove believes that the success of coffee shops lies in its casual, come-and-go nature.
"It can be a very brief interaction or it could be a very extended interaction, there's no commitment to it," Musgrove said.
Whether you're there for hours or mere minutes, the sense of community is there. These coffee shops serve as homes to the artists, the writers and the misfits. Oxner noted that she is eager to find a new coffee shop in Dallas to call "home," a lack of a car being her only barrier.
"Whenever you're there, you just feel like you're a part of this whole group," Oxner said. "Like you feel kind of a part of something."