Twelve little students sat crisscross applesauce on a train-covered rug in the basement of Hawk Hall one morning recently, holding maracas and singing songs in Spanish. The toddlers stood up one at a time to introduce themselves and to dance and sing with the class.
"Mi nombre es David," one boy nervously sang to the class. His classmates quickly joined in, "David fue a escula hoy, a escula hoy, a escula hoy." Another boy, wearing a navy and white striped shirt and a huge smile, wiggled excitedly as he waited his turn.
The SMU Child Care and Preschool Center is home to 27 children, ranging from infants to 5-year-olds. They are all children of SMU students, facility and staff. The center started about 40 years ago as a parent co-op, explained Liz Harper, the director of the SMU Child Care and Preschool Center, and the demand became so great that it became a licensed childcare center in 1978.
On-campus child care is crucial to parents, both nationally and on the SMU campus – and big things are coming for the university's center. It's moving from the little basement in Hawk Hall to an 80,000 square foot lot on sorority row next year. Construction is expected to be completed by Aug. 1.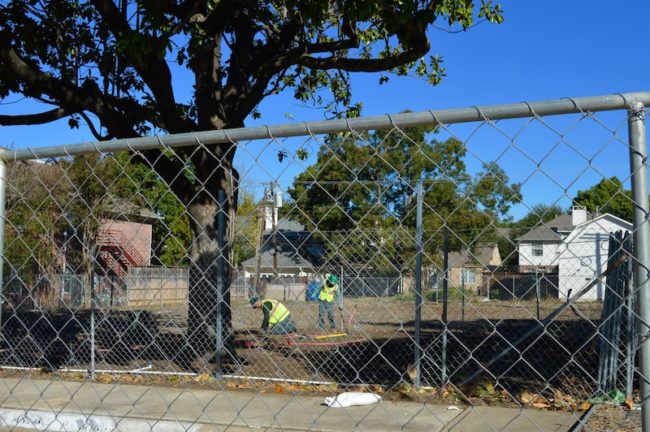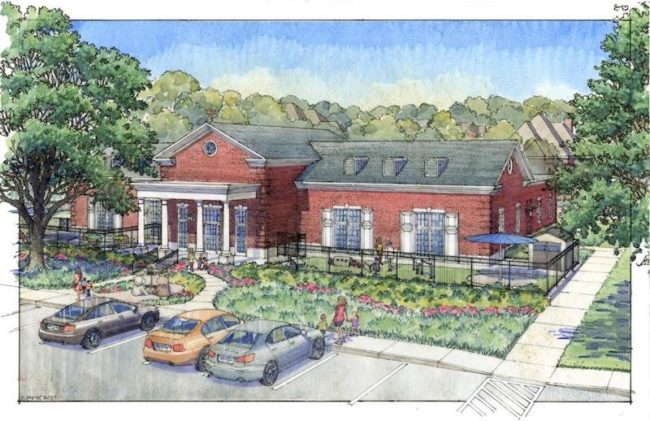 Although many people are excited about the upgrade, it's controversial. Some sorority women are upset that they're losing parking spots. Teachers and parents are worried that the current daycare staff won't be hired next year when the center is outsourced.
But overall, the center is seen as vital to the SMU community. Parents say it's also critical for their success as families. Chelsea Alvarado's 2-year-old son Henry is currently enrolled at the center. Alvarado is the Crisis Intervention Counselor at Mesquite High School. Her husband, Chris Alvarado, works for SMU's Office of Information Technology.
Alvarado was initially drawn to the center so her son would be close to dad. She now keeps him enrolled for its amazing staff, who she credits for helping the couple navigate as first-time parents.
"I love how attentive and loving they are to Henry," Alvarado said. "They have been really supportive of us as a family."
Nationally: The importance of on-campus child care
Child care is crucial on college campuses. One of the leading competitive issues in higher education is the retention of women facility. The challenge, say educators, is that the tenure clock coincides with the biological clock, forcing many female teachers to choose between their career and their children. The same ultimatum applies to students with children. Only one-third of student parents attain a degree or certificate within six years of enrollment, according to the Institute For Women's Policy Research.
Despite the need for on-campus child care, its presence is declining. According to IWPR, in 2015, less than half of four-year public colleges provided campus child care, down from 55 percent in 2003-05. It declined more sharply at community colleges – from 53 percent in 2003-04, to 44 percent in 2015.
The availability of on-campus child care also varies by state – and Texas is lacking. In 2014, Texas had the second most community colleges by state, yet only 37 percent of these community colleges offered on-campus child care, according to the American Association of University Women.
Locally: The importance for SMU parents
The SMU parents who send their children to the daycare center are grateful for the facility and say the center's tuition is relatively lower than nearby daycare providers.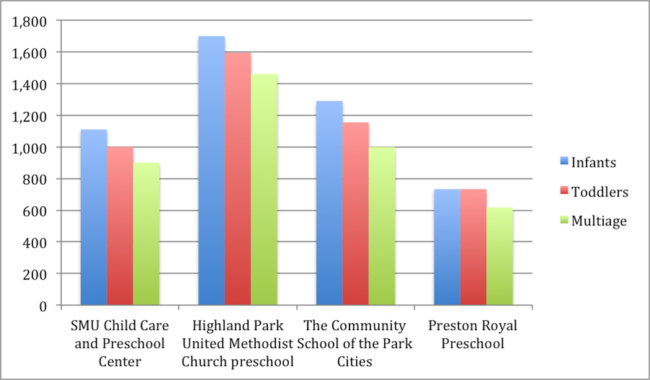 Heather DeShon, an associate professor of geophysics, sent both of her children to the center. She moved to Dallas when her oldest son was three years old.
"Having him accepted into the childcare center while we still lived in Memphis and were planning our move was a huge help during the transition process," DeShon said. "Dependable childcare is hard enough to arrange when you are local."
Elizabeth Russ, an associate professor of Spanish, also sent both of her children to the center and loves its convenience. Before her oldest daughter started at SMU, she was enrolled at a daycare located farther away from campus. It added an extra 40 to 60 minutes of commute every day, Russ said.
The Center's Future
There is a high demand for the SMU daycare center. The infant room currently has a waitlist of over 25 children.
"We've been limited because we have been housed here in Hawk, so we just couldn't grow," Harper said. "This is what we have: the three rooms, and the infant room and toddler rooms have been full.
The waitlist will be alleviated next year when the new center is built. Having a larger building with additional classrooms will increase student capacity from 30 to 80, Harper said.
"I am excited about the expansion," Russ said. "I am excited about more families being able to have the opportunity to take advantage of having daycare on campus because it does make life a lot easier."
The new daycare center will receive many much-needed upgrades. Each room will have it's own playground specialized for its age group and capabilities. The new building will also have its own kitchen, and the meals will be prepared on site. The daycare currently has lunch catered from the Umphrey-Lee Center. However, sometimes the children get hungry before the food arrives, said Harper. Having an in-house kitchen will give the staff more control over meal times.
The location of the new daycare is controversial among some sorority women. Students are complaining about the 40 parking spots that have been blocked off for the construction now underway.
"We pay hundreds of dollars for a parking pass, yet our parking just got cut in half. I wouldn't have gotten a parking pass if I knew my parking was going to have to be UP regulated," said Anna Pops, a senior finance student at SMU. "I know there are parking garages, but the nearest one to my house is a far walk. As a young woman, when I drive home at night, I don't feel comfortable walking alone."
The 40 student-parking spots won't be coming back. Those slots will be reserved for the parents and staff of the child care center. By law, buildings must have a certain number of parking spots, explained Mary Pennington-Hoyt, the senior project manager for the new daycare.
It is also uncertain if the current employees will be hired next year when the daycare is outsourced by Bright Horizons Family Solutions, a third party child care provider. Since the daycare will be much bigger next year, SMU hired this company to run the center. However, the outsourcing is upsetting to some.
"I want the women who work there to be treated well, and to be honored, and I don't know yet if that's going to happen," Russ said.