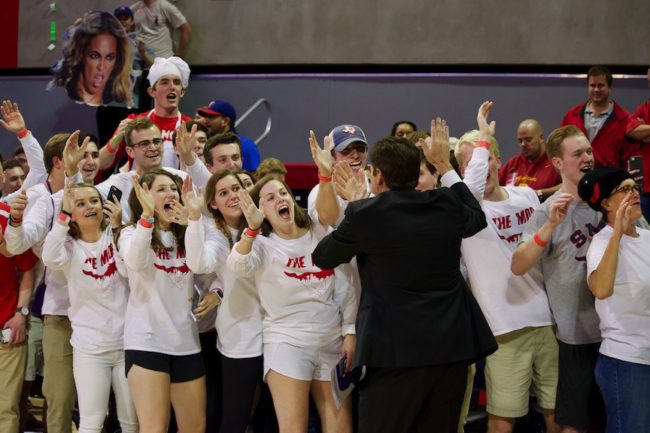 In the months following SMU's one-point loss to USC in the 2017 NCAA Tournament, Mustangs' head coach Tim Jankovich could not get himself to watch the game film. The wound was just too raw.
Going into the tournament, his team was pegged as a dark horse — a squad that could go far in the tournament despite its seed. But the Mustangs could not get out of the first round.
USC's Elijah Stewart hit a three-pointer with 36 seconds to give the Trojans a lead. SMU had blown a nine-point lead.
In the final seconds, the Mustangs had a chance to win the game. They took three shots after Stewart's three, including a free-throw by Ben Moore. All of them missed. The Mustangs' season came crashing to a halt, and the USC was to blame.
"Unfortunately, I had to turn that one on," Jankovich said. "Honestly, it was the first time I've watched it since March."
The SMU players circled Saturday night on their calendars. The team would finally have a shot at redemption — a chance to right old wrongs. USC was on the schedule, and the Trojans were coming to the Hilltop. The Mustangs were out for blood.
"We knew they were coming into Moody, and we weren't going to lose this game no matter what," guard Shake Milton said.
The Mustangs got their revenge Saturday night. Facing a Trojan team featuring many of the players on the floor in March, SMU routed No. 14 USC 72-55.
The game had plenty of emotion and fireworks. As the Mustangs' lead grew, so did their swagger. Milton made seemingly impossible shots. Jimmy Whitt soared above the rim and threw down two ferocious dunks. Ben Emelogu, who missed all four of his shots in the tournament matchup, hit four three-pointers. Most notably, the SMU offense figured out USC's zone that gave the Mustangs fits in the tournament.
"Early in the game, we were a little slow getting into offense," Jankovich said. "We solved that pretty quickly and that's what turned the game around."
Stewart, the star of last March's contest, only had nine points.
As the shots fell and the defensive stops mounted up, the Moody Coliseum crowd grew louder. It was the Mustangs' 28th-straight win on their home court, good for the second-longest active streak in the country.
Winning at home is something the team has taken pride in, making this game even more meaningful.
"In Moody, we don't lose," guard Jarrey Foster said.
The normally stoic Jankovich finally let out a grin in the final minutes of the game, underscoring how well his team performed Saturday night.
"If they were all that fun, I'd want to coach forever," Jankovich said.
Maybe this time, Jankovich will watch the game film.