At least 30 members of the SMU Staff Association gathered around tables Tuesday morning in the Ernst and Young Gallery to create and decorate hundreds of greeting cards for hospitalized kids, as part of the organization's ongoing community outreach.
The president of SMUSA, Marjorie Rush, explained that the cards are sent to Cards For Hospitalized Kids, a nationally recognized charity organization. Through homemade greeting cards, CFHK spreads joy to hospitalized children.

"It's a great pick-me-up for the kids," Rush said.

It also fulfills the mission of SMUSA, an organization comprised of SMU staff that values the community with the goal of giving back. Events such as this one give the members of SMUSA the chance to come together to enjoy each other's company and discuss a common issue.

SMUSA has just entered its 75th year, but this charity event is a new addition to the organization's community outreach efforts. Raina A. Watts, who is in her first year of being Vice President of SMUSA, said events like this are a natural fit.

"If it goes well, I don't see why it can't become an annual event," Watts said.

The Cards For Hospitalized Kids website offers volunteer opportunities for those who are not involved with the organization. While there is an option to send in cards, there is also an option to request cards by filling out a short application. Many of the patients that receive the greeting cards are enduring cancer treatments, but there are also patients who are awaiting various surgeries, including heart transplants.

People hear about CFHK and share their message primarily through social media. Another source of their publicity is through famous athletes and celebrities such as Lauren Conrad, Lucy Hale, Cody Simpson, and many more.

Cards For Hospitalized Kids stands by the slogan, "Doctors provide medicine and we provide hope, joy, and magic."

As Valentine's Day is approaching, a little extra love can make a big difference in a child's hospital experience.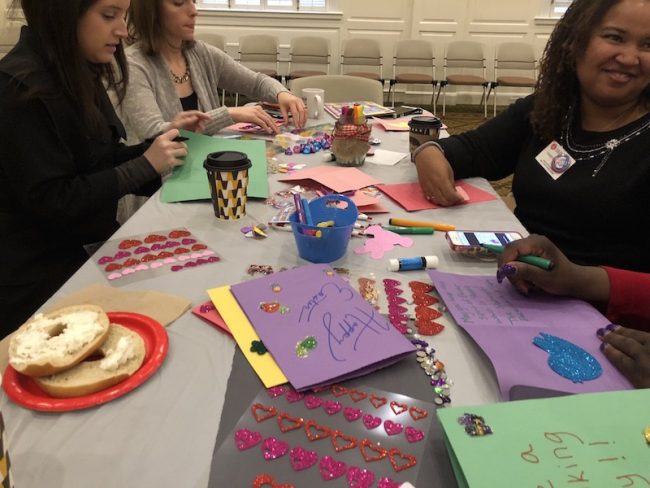 As the SMUSA members sipped on coffee and snacked on bagels, they put various stickers such as hearts, bunnies, and four-leaf clovers on their custom cards. Lisa Montes, Chair of Staff of the Advocacy Council, was happy to spend her Tuesday morning creating cards alongside the other SMUSA members.

"We are hoping to get these cards to the kids for Valentine's Day," Montes said.

SMUSA reaches out by offering the opportunity for anyone in the community to voice their ideas, issues, or concerns. The form can be found on the SMU Staff Association official page.
For more information on the SMU Staff Association and its role in campus life, visit www.smu.edu/Orgs/StaffAssociation. If you want to get involved in CFHK, visit its website at www.CardsForHospitalizedKids.com.