Happy 85th Birthday, Peruna!
Student Foundation hosted a celebration in honor of SMU's beloved mascot on Friday, April 20 on Dallas Hall Lawn.
Perunapalooza is an annual event with food, games and lots of fun. If you were on campus on Friday, you may have seen students soaring across Dallas Hall Lawn on a zip line, or high in the air on the trampoline bungee jump.
Related: Peruna profiled: the history of SMU's mighty mascot
Another game that students loved was Meltdown, with a double-sided boom spinning in the middle, daring the players to either duck or jump over, but usually knocking them off their feet.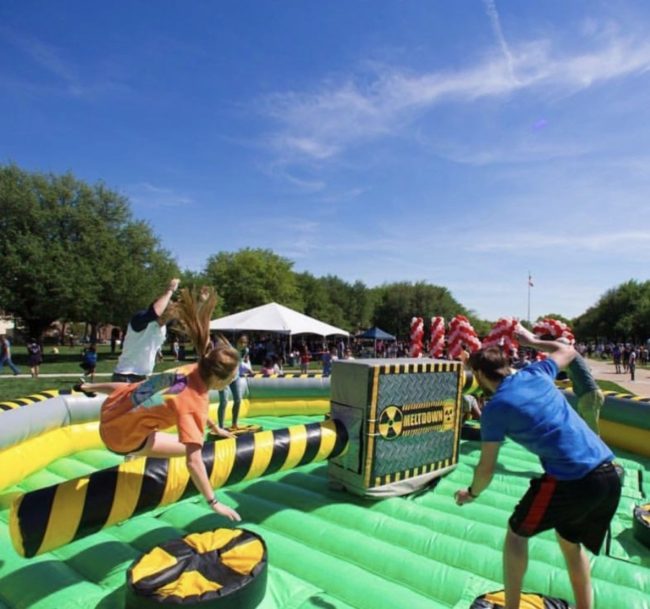 "My favorite part is seeing my committees hard work in play and seeing everything come together," said Student Foundation Event Coordinator, Ashley Mai, "I love seeing how well we work together to make the event as smooth and as fun for the SMU students."
Students celebrated by getting their faces painted with images of Peruna, tigers or flowers. Free food was available at the event and students munched on burgers, cupcakes, cookies, popcorn, pizza and shaved ice provided by Carnival Catering. This year, food was donated by vendors such as Sprinkles Cupcakes – who topped their delicious treats with SMU Mustangs. Halaal Guys offered up a vegetarian-friendly option.
This year, Perunapalooza supported the Ronald McDonald House of Dallas. Students were encouraged to bring cash and buy special treats and t-shirts in order to raise money for the organization.
"Perunapalooza hasn't been a philanthropy based event, like Celebration of Lights, but we look at it in a smaller aspect," said Mai. This year Student Foundation sold edible cookie dough to students and donated $150 to the Ronald McDonald House. In the future, Mai says that they hope to find more ways to make Perunapalooza a philanthropy-focused event.