It is no secret that dating app Bumble is one of the most successful and used social media platforms among young people today. But since the launch of the app, the signature yellow "honey bee" brand has expanded exponentially, creating an overall recognizable brand image.
Bumble Bizz is one of the newest features of the Bumble company. After downloading the app, you can switch to "Bizz mode" which allows users to expand their network with local professionals.
Bumble is for personal use, while Bumble Bizz is all about careers. Switching to Bumble Bizz allows swiping in the same way as the dating app to connect with industry professionals, career mentors and even potential employers and business partners.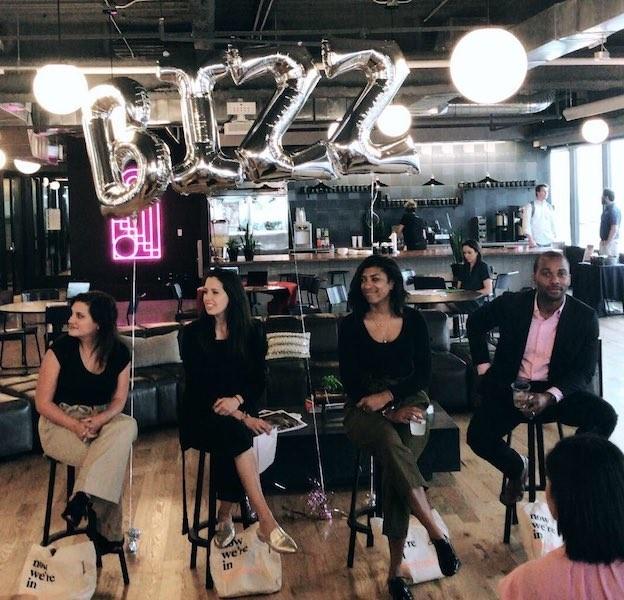 But it doesn't just happen on the app. Bumble has created a community that is represented across the country through its representatives and staff, including through events.
This past Monday, April 30, Bumble Bizz organized a "Graduate & Dominate: BumbleBizz College Career Fair" event for college students and upcoming graduates to connect and network with some of Dallas' most noteworthy companies.
"I focus on getting a diverse group of experienced professionals to speak," community marketing and events lead Kelsey Lemons said. "The aim of the events is to both educate and engage attendees with our app as well as empower them through the connections they make."
The event included a panel discussion with Gillea Allison, marketing director at D Magazine; Chelsee Adams, director of global marketing at rewardStyle; Philip Witcher, career development expert at McAfee; and Rebekah Ferguson, recruiting manager at The Marketing Arm. The event was held at WeWork Thanksgiving Tower where WeWork was scouting for potential hires.
After the panelists answered questions, attendees could mingle, network and even have their résumés reviewed and revamped. Bumble reps also gave students advice on how to use the Bumble Bizz mode and some useful tips on what to say when reaching out to potential employers.
The panelists encouraged the 30 attendees to take advantage of the free resource Bumble Bizz offers. More "Graduate & Dominate" events are coming to Dallas soon.