For the third straight year, Dallas Mavericks legend Dirk Nowitzki teamed up with some serious star power at the SMU Tennis Complex for his third annual Pro Celebrity Tennis Classic. All proceeds from the event are to benefit the Dirk Nowitzki Foundation. The event has taken place at SMU since its inception in 2016 and most recently benefited relief for Hurricane Harvey.
Anyone up for some tennis????? pic.twitter.com/moRIzCggqd

— Dirk Nowitzki (@swish41) September 10, 2018
Previous events have included actors Ben Stiller and Dallas native Owen Wilson. Nowitzki once again had no trouble assembling a star-studded cast for the event, which included tennis legends Andy Roddick, Tommy Haas, and Mark Knowles. Nowitzki was also joined by current Mavericks teammates Devin Harris and Dwight Powell, as well as by former teammate Monta Ellis. Many were surprised to see Ellis, whose Mavericks tenure unceremoniously ended in 2015. Nowitzki humorously expressed his skepticism of Ellis's tennis skills.
"I've never really seen him play, but he claims he was an All-American in high school or something," said Nowitzki.
Nowitzki's lighthearted jab at his former teammate set the mood for the rest of the event, with Roddick, who retired in 2012, even poking fun at himself.
"I suck now, man!" joked Ruddick.
Roddick's modest assessment of his tennis skill drew a lot of laughs from the media congregation, but it was far from the truth, as he proceeded to dominate the competition. Nowitzki, 40, who played tennis growing up before taking up basketball, looked surprisingly agile, even defeating Powell in a nail-biter of a match. This should be a good sign for Mavericks fans, as the NBA's sixth all-time leading scorer underwent ankle surgery following the conclusion of the 2017-2018 season in April.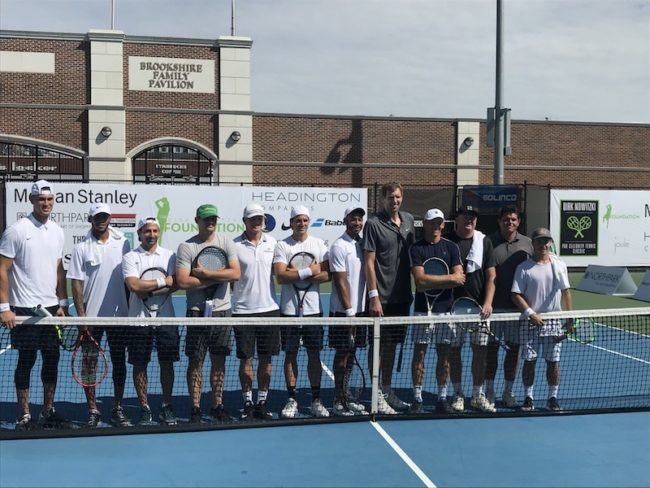 Nowitzki, who is entering his 21st season his hall-of-fame NBA career, has now played professional basketball longer than most SMU freshman and sophomores have been alive. While life after playing is a common topic of discussion with Nowitzki these days, he reiterated that his current focus is on playing this season.
"Hopefully I'll play another year or so and see how it goes. I love traveling, and I love watching tennis, but I'll be around the sport a lot more later, since I don't have much time right now," said Nowitzki.
Overall, the event was a celebration of Nowitzki's contributions to the Dallas community over the years. Nowitzki, who also hosts a celebrity baseball tournament in the summer, has become a larger-than-life figure in the Dallas. Members of the tournament commented on his inspiring stature derived from his decorated NBA career and community efforts. Powell, who has been Nowitzki's teammate for the last four seasons summed it up best.
"It's very motivating, I think for all of us, I think in the Dallas community," said Powell. "He's left such a tremendous footprint in a positive way on this city and in this state. So any time he calls any of us, you can ask any of our teammates who have played, if he calls them to come out, they'll be there because they know how big of a deal it is in Dallas and in Texas [to] be involved in one of his events."
Nowitzki, known for his humility, repeatedly expressed his gratitude for the celebrities and fans alike who made the trip to SMU for the event.
"This is our third time [organizing the tournament], so it's getting more established," said Nowitzki. "It's always fun to have the celebrities and amateurs play and support the event, so we're definitely thankful and fortunate."
After three straight years of hosting the event, the feeling is certainly mutual on the part of the SMU and Dallas communities.