Miriam and Taylor Pierce, mother and daughter respectively, work to the sound of children laughing, adults talking, passing cars and the ever so faint music of bass heavy music outside West Village's Starbucks. They are Flower Gals Co.
Think: ice cream truck. But instead of ice cream there are uncommonly beautiful flowers.
The truck is a vintage Volkswagen van, black and white in color, with a custom license plate that reads THEGALS. The sides of the VW are open to reveal rows of buckets holding rare tropical flowers. A customer can pick a focal flower, and the Gals will create a bouquet around that accent flower.
The VW is parked under the sheltering branches of a tree, and it gleams with the few ribbons of sunlight perforating the tree's shade.
"Summer's kind of tricky, because it's super hot. But it's always nice. We switched our hours to the morning, so the temps are a little bit cooler. Parked in front of a coffee shop. So it's been going good," Taylor says.
A man approaches the truck and admires the colorful display.
"Whose idea was it?" he asks after complimenting the truck.
Miriam explains she was inspired by a flower truck operating in Tennessee.
"Amelia's Flower Truck. She's got three trucks," Miriam specifies. "I wish it were my own original idea."
Noticing there wasn't a flower truck in Dallas, Miriam asked Taylor if she wanted to start operating a flower truck in Dallas.
Miriam isn't sure what compelled her to think starting a flower truck was a feasible avenue for business. After all, who would look at a mobile flower truck, the logistics for which are undoubtedly a challenge, and think they could do it too?
"Insanity I guess," Miriam jokes. "Because I was literally sitting there, having a coffee, flipping through a magazine."
Miriam and Taylor were already working together. They had a business of remodeling homes.
"I don't really like to say we flipped them, because they took a long time," Miriam says. "So they weren't really flipped. They were more like painful extractions."
Somehow, flowers are a good fit for Miriam and Taylor.
"We've been hopping from thing to thing and then somehow landed on flowers," Taylor says. "Because I was doing fashion before this. I was doing styling. And then we started getting into interiors. And now we're doing flowers. And this has weirdly been the best fit thus far."
"And by far the most fun," Miram adds.
So much of starting a business relies on good timing and coordination.
"We found the truck at the same time we were flying to LA to do some training with a flower specialist out there. And she was going to do a full day of private training. We found the truck, went and test drove it. And that all happened in one 38 hour trip to LA," Miriam says.
"Yeah, and it's all kind of been strangely organic," Taylor remarks.
Starting Flower Gals was an unexpectedly smooth process, which Taylor and Miriam know from prior experience isn't always the case with starting businesses. Taylor says they'd been very fortunate.
Working with West Village was a matter of good timing, too. West Village needed a florist, and the Gals needed a place to park.
"They tried to have a deal with a florist before, with an actual brick-and-mortar store, and it fell through," Taylor says. "So the timing just worked out really well."
The flower truck is their full-time, all-week business. Besides selling from the truck, the Gals do events and deliveries to events like weddings and anniversaries.
The business has a lot of logistical challenges. The Gals sometimes have to store flowers at Miriam's house with low temperature AC because they don't have a storage unit yet. They're trying to raise the capital to grow and develop their business while keeping it true to their personal vision. The first thing they intend to do is to invest in a fridge for the flowers.
Because of heat and humidity, the Gals have to carry really tough, sturdy flowers.
"We carry a lot of tropicals and a lot of, just, exotic looking things, because they like the heat and they hold up better," Miriam says.
They take pride in the fact they have flowers you wouldn't ordinarily see in a grocery store.
https://www.instagram.com/p/BnMT971Bp8-/?hl=en&taken-by=flowergalsco
"It's kind of more fun," Miriam muses about their business challenges. "It forces you to be a little bit more creative."
As mother and daughter, Miram and Taylor have a good balance when it comes to running a business.
"We're very fortunate in that we have a very good dynamic and a really good relationship," Taylor says. "We don't argue a lot. We have a lot of respect for each other."
Miriam is in charge of the numbers' side of the business, as well as picking out the plants, wrapping, and driving the manual transmission VW. Taylor runs the branding side, including marketing, photography, branding, and the artistry of the arrangements.
Their favorite flower changes every week, and they're always learning new things from their wholesaler and customers. They even have regular visitors.
A flower truck is quite different from what the Gals wanted to be when they grew up. Taylor wanted to be a fashion designer, while Miriam, passionate about words, wanted to be a political speech writer.
Still, they have found a line of work that suits them well.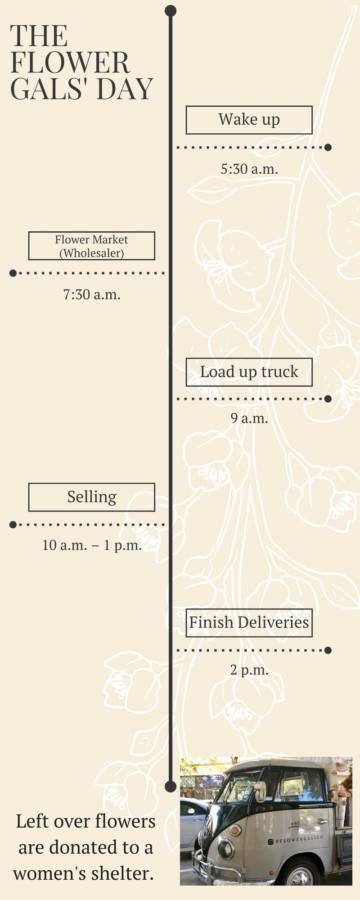 A group of girls leave the West Village Starbucks and stop a little way from the Flower Gals truck in admiration.
"Look how cute this truck is!" one confides in the other.
"I know! I've seen it before–it's adorable!" the other girl responds. "Such a cute little truck."
Charmed, the girls continue on their way, past the truck and down the street.
Miriam and Taylor are with a customer. They continue to work, unaware their business has enchanted yet another heart.