When Schuyler Grey and Will Ammons moved from Denver to Dallas to attend Southern Methodist University, they noticed the neighborhood around campus was missing a go-to neighborhood ice cream shop. The friends grew up grabbing scoops from the ice cream parlor down the block.
When they graduated in 2016, they teamed up with their friend Tyler Kleinert to do something about it. Their new Scoop Shop Café, Baldo's, opens soon on Hillcrest Avenue. What started as a popular Dallas food cart with the help of local artist and chef, Aldo Sandoval, is now turning into a brick-and-mortar store in the old Goff's space. It's a convenient location for SMU students wanting a treat on a hot Dallas afternoon.
https://www.instagram.com/p/BiZtDNmBCDW/?taken-by=baldosicecream
"After graduation, we started a company called the Tritex Group, with the goal of starting new businesses," Grey said. "Baldo's is our first shot at starting a business under the umbrella of the Tritex Group."
The friends struggled with an idea first and wanted Baldo's to be more than just ice cream.
"The idea was originally a cookie dough shop, modeled after some of the popular cookie dough shops in New York City and LA," Kleinert said. "It has since evolved into what we call a 'scoop shop café'—a hybrid ice cream shop and coffee shop."
The three friends took their seedling of an idea and borrowed the best parts of other restaurant concepts, including quality coffee, European style pastry displays, homemade teas, and, of course, cookie dough to create Baldo's. All of the ice cream is made from scratch in-store by Aldo. That homemade quality is just one of the things that makes their shop unique.
"We encourage people to get out of their dessert comfort zone with flights of mini cones," Ammons said. "Our flavors are too unique to settle for just one, so we're encouraging our customers to get flights of three or six to try something new."
The idea of ice cream flights and Baldo's flavors, like Sticky Toffee Pudding and Maple Bacon, came from their "Anything But Vanilla" philosophy the SMU grads apply not only to the shop's ice cream but also their daily lives.
"The most obvious way that 'Anything But Vanilla' manifests in our day-to-day lives would be an unconventional career path," Grey said. "Vanilla is not a bad thing. It's safe. You know you can't go wrong with vanilla."
"But its safety is exactly what makes vanilla so dangerous," Ammons chimed in. "Vanilla doesn't push you to try new things or provide you with 'wow' experiences. In life, the most rewarding experiences come from a certain level of uneasiness, which only presents itself when you're open to new flavors, experiences, and perspectives."
Kleinert, Grey and Ammons have a great support system and countless people have helped them along the way. From their ice cream maker Aldo, to SMU professors, personal mentors, and more generally, their SMU network.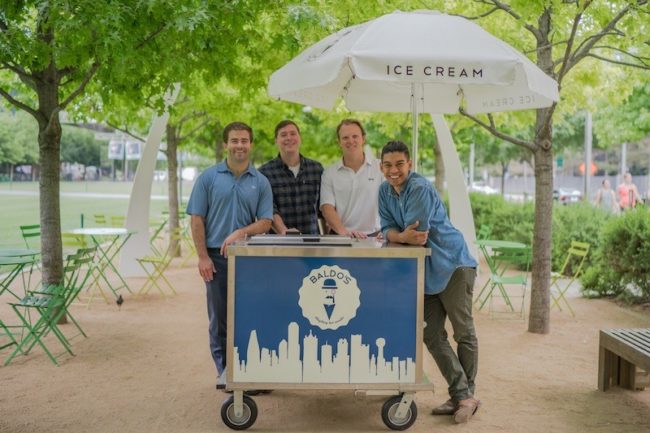 "We have to be willing to admit we're wrong sometimes and lean on that network of advisers to guide us towards the right solutions," Kleinert said.
TJ Kleinert, Tyler Kleinert's younger brother and also a recent SMU grad, is very proud of what Tyler and his business partners have accomplished so far.
"It's been great to see them take this idea and run with it all on their own," TJ said. "They have been involved in every aspect of the process and have been making every decision big or small."
The three business partners have some advice for anyone wanting to start a company and live by their own "Anything But Vanilla" philosophy.
"Build a team of reliable partners and advisors and share your idea with others," Grey said. "Get feedback, improve on your idea, and repeat this process until you have the best iteration possible. Then don't look back."