It is May 2011. SMU's campus is buzzing with pre-graduation excitement and seniors are restless to begin the next chapters of their lives. Sarah Bennett, now the managing editor for D Home and D Weddings, is among these students. She is happy to complete her degree in Creative Writing finally, but as with many graduating seniors, some anxieties are beginning to grow in the back of her mind. Will she land her dream job? Will she have to settle for a different position? Will she find a job at all? Though these questions are like persistent flies buzzing around her brain, there is one choice she has never questioned: her major in Creative Writing.
"I knew I wanted to be a writer from age 7, so I kind of never questioned that that was what I wanted to do, and I specifically wanted to specialize in creative writing. I really loved writing and knew that I didn't want to do anything else," Bennett said.
"Oh, so you want to be a teacher!"
"…you don't want to teach?"
"I guess money is not a big deal for you then, right?"
"Will you edit this for me?"
English majors are likely painfully familiar with this conversation. Though people would generally acknowledge the advantages of having a strong understanding of language and critical thinking, a mildly debasing subtext remains in discourse concerning the "practicality" of an English degree.
Besides feeling passionate towards her degree, Bennett was also fortunate enough to have parents who did not force her into a field of study, particularly business.
"I, thankfully, have very supportive parents who were not pushing me into business. They knew that I was very academically minded and that was what I loved doing, and they were supportive of that," Bennett said. "I have friends whose parents told them that if they picked one liberal arts/humanities/creative degree, they also had to have another minor or double major to offset it. Thankfully, mine were not like that."
This idea of "offsetting" a liberal arts degree with some other major is not surprising. Usually, when parents are contemplating the value of an English degree, they are speaking in terms of monetary value. Especially at a private school such as SMU where tuition is steep, parents are thinking about how much money they spend on their child's education and then compare that to the annual earnings for degrees with which graduates are more likely to land high-paying jobs. The idea is to break even.
Though this is an acutely pecuniary way to regard education, there is some truth to the argument. SMU Department of English Chair and Professor Darryl Dickson-Carr provides his thoughts on this particular perspective.
"If parents believe that the main goal for their children is to earn a lot of money, then they're right. You can say objectively that finance majors make more than English majors on average over any time in their careers. That's just objectively true," Dickson-Carr said.
The salary data Dickson-Carr is referring to is supported by a variety of research, one being the 2015 study conducted by Georgetown University on The Economic Value of College Majors.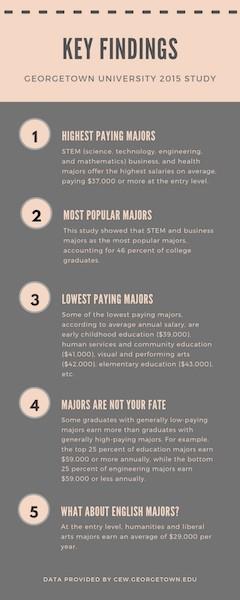 So there is an apparent monetary advantage to majoring in fields such as engineering, business, finance, etc. Just because this is the trend that we see in the data, that does not necessarily mean that the English major has no value. Defenders of the English major and humanities majors, in general, will point out that the degree disciplines students in a variety of skills that broaden their potential job prospects, rather than narrow them.
"The English majors might not make as much money as finance majors on average, but English leaves you open to many different career paths," Dickson-Carr continued. "There are English majors who go on to make quite a bit of money. Mitt Romney comes to mind. I think he's fairly wealthy, and he majored in English. There are many corporate executives who majored in English who are billionaires."
English majors outside of the SMU community recognize the versatility of the degree as well. Take UNT senior Lyndsey Batchelor. She will graduate in May 2019 with a degree in English and will then go on to pursue a career in secondary education. Even though she has decided to follow the stereotypical job for English majors, she fervently believes that the degree can offer a mixed bag of opportunities.
"I don't believe English is valued [by others] unless you go the teaching route. It's because people are uncreative and do not understand how much an English major can apply their knowledge in the professional world," Batchelor said.
Some examples of these professional skills that go into the English major are the ability to communicate well, interact effectively with others, and, mainly, extract the human element from data being studied. These skills are referred to as soft skills, and though the name implies a subjacent state of being, they are just as essential in a variety of work environments including STEM, according to The Washington Post.
Though she is not involved in these fields of technical study, Bennett has found these statements to be true herself as someone who deals with a large number of interns D Magazine receives every semester.
"It's a cliche answer because I feel like it's always the defense you hear, but it's true that an English major gives you a versatile skill set that you can then apply to a lot of different things," Bennett said. "You can be a teacher if you want to, go to grad school if you want to. I did three internships in book publishing, magazine publishing, and PR. There are so many different things you can do with it."
This is a comforting thought for English majors to hear, though that is not to say that studying humanities and liberal arts will be four years of academic and creative bliss. No matter what your major is, you have to be proactive in seeking out experience to use towards job opportunities. Bennett did struggle to find work after graduating, but she does not blame that on her major.
The summer after she graduated, Bennett interned for a book publishing company. She discovered she liked publishing, though not necessarily books because she wanted something faster paced. Then she took a contract job in corporate communications, which she hated since it lacked all forms of creative writing virtually. Eventually, she applied for an internship at D Magazine and, with a stroke of luck, landed a job on one of the teams. She has been with D Magazine in some form since 2012.
"I'm not going to lie, my first year out was a mess," Bennett said. "I think we're kind of sold this lie that you have to 'graduate to your perfect job,' which is not true. Like most people have to take a first job that's shitty and you don't like it, and that's okay because you're learning something and you're getting out in the workforce."
For Dickson-Carr, the degree itself can be a channel to a number of different opportunities.
"English is not a limitation, it doesn't stop you from doing anything," Dickson-Carr said. "It actually opens up worlds for you."