Preppy tunes like "Girls Just Wanna Have Fun" pumped through the packed outdoor performance space of The Wild Detectives café in the Bishop Arts District on a brisk February evening, as audience members eagerly waited for the drag meets drama meets comedy extravaganza, "Clueless." This is the next installation in Brigham Mosley"s "Movies that Should be Musicals" series.
In these productions, Mosley dresses in a larger-than-life drag ensemble, and with the help of a live band, small dance ensemble, and perfectly timed projections, turns some of his favorite movies into mini musical productions.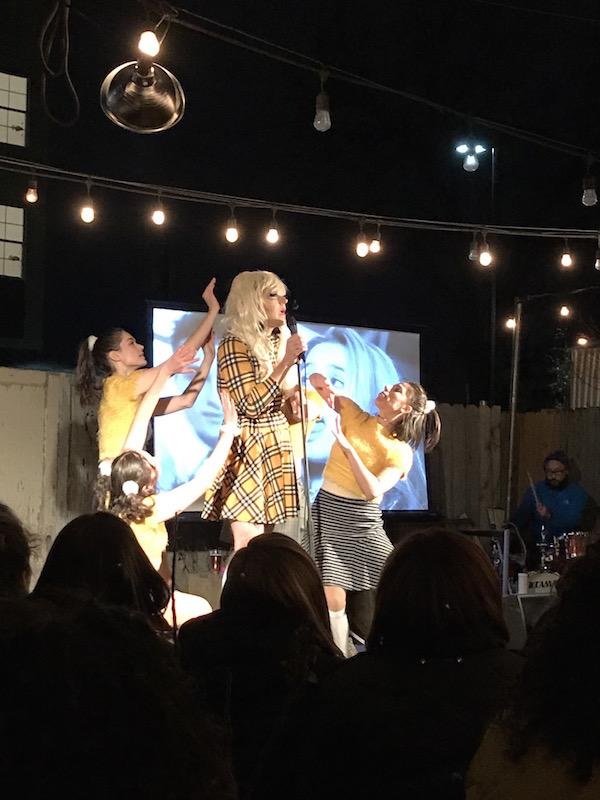 Mosley encourages audience members to, "Come in, tuck in, and kind of know the movie if you want to, because we're breaking this thing down to the nitty gritty."
Mosley earned his B.F.A. in 2010 from the SMU Division of Theatre. Mosley attributes a few specific professors to helping him find the path that has led him to his current work.
Professor Stan Wojewodski introduced Mosley to the work of solo performance artists that would later inspire his work; Professor Rhonda Blair's solo performance class was pivotal for Mosley, helping him evolve into the performer that he is today.
"I was a small-town kid from southwest Oklahoma," Mosley said, as he sat on the couch in his living room, holding his blonde french bulldog, Temple, who he calls Aunt Tee Tee. "And I came to SMU and you know every acting professor was like, 'You need to be a leading man; you need to butch it up. Act straight.' And all these things that I didn't know how to do and wasn't interested in doing, and Rhonda was essentially like, 'Here's this whole other medium within theater."'
https://www.instagram.com/p/Bt7Dx2Mnnfh/
Mosley now imparts his solo performance expertise on the SMU dance majors as a guest speaker in their dance composition classes. Mosley works with SMU dancers in their very first few weeks in a choreography course. In his lectures, Mosley works with the dancers on solo performance and conveying their feelings through spoken word and movement.
He helps dance majors get of their comfort zone. In the case of senior SMU dance major, Lydia Krull, this helped her discover her choreographic voice.
"Brigham's classes really helped me to break out of my shell," Krull said. "This was the first time that I had every taken a choreography class so I was nervous, but Brigham's methods, like having us all draw the way we view our bodies and share with the class, helped me to open up and be more vulnerable, and I think that's really helped my dancing, since dancers don't tend to be that open."
Mosley has a special connection with dancers. His husband, Zac Hammer, was a dance major at SMU and has served as an adjunct professor of jazz dance for the Division of Dance. Hammer now teaches dance at the prestigious Booker T. Washington High School for the Performing and Visual Arts.
Mosley's accomplishments are certainly not limited to his work with SMU. Mosley currently brands himself as a "writer/performer/sometime drag queen." He is a founding member of Dallas's The Tribe, which won the 2016 Dallas Observer Mastermind Award. Mosley was also named a 2016 Queer Local of the Year by The Dallas Voice. His work has been produced by prestigious institutions such as PS122, La MaMa, Dixon Place and The New Museum.
https://www.instagram.com/p/BuCC7ZOHeg6/
In New York, Mosley incorporated themes from movies into his solo performance work in his 2015 play, "Scarlett O'Hara and the War on Tara." During this time, Mosley was an emerging artist that was struggling to make it financially in the Big Apple. Even though he was forging the connections necessary to find his niche in smaller theatre circles, Mosley still felt trapped in what he felt was an unsustainable course.
Mosley felt a connection to the character of Scarlett O'Hara in the classic film "Gone with the Wind." In this movie, Scarlett is a Civil War-era plantation owner's daughter who becomes trapped in the burning South after the war, with seemingly no way out as her life crumbles around her. Mosley connected with her struggles attempting to adapt to continued adversity, and also to her generally abrasive personality. Scarlett is a strong woman navigating a flawed, patriarchal world. Mosley saw direct connections with building a career in the face of discrimination against the gay community, which was happening immediately around him.
Mosley's latest work includes playwriting, his day job as a podcast producer, and, of course, his drag-musical series, "Movies That Should Be Musicals." In these performances, Mosley unpacks a movie that he feels should be made into a musical and does it himself. He comments on the idiosyncrasies, themes and actors involved in the movie, and offers illumination on details and nuances that audience members may not have seen at first.
Mosley also uses clips from the movie, which he displays on a projector screen intermittently throughout the performance, along with his own musical numbers inspired from the film. The show is accessible, even to those who have never watched the featured film before attending the show.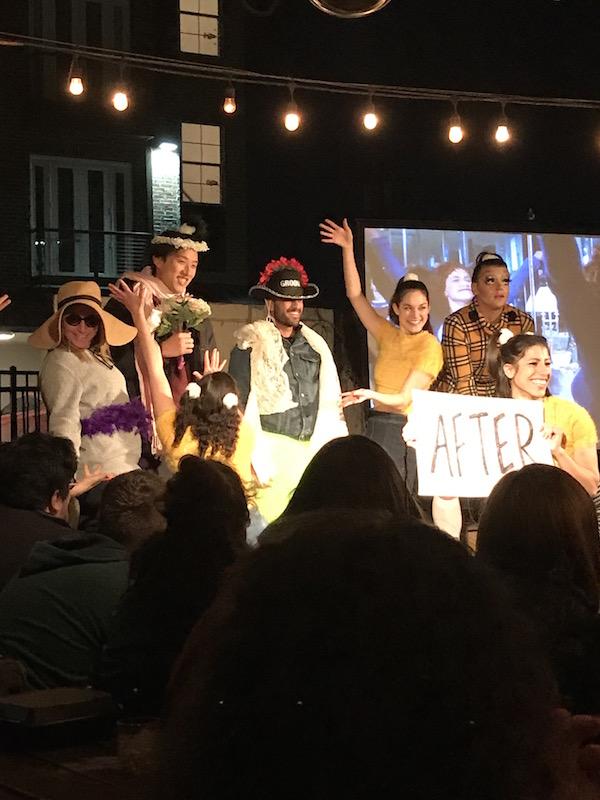 The idea for the "Movies that Should be Musicals" series came to Mosley when The Wild Detectives, in conjunction with the Ritz Carlton Dallas, approached him and his team and asked them for ideas about interesting programming surrounding either movies or musicals. Mosley, being a performer that does not shy away from an ambitious task, decided to explore both proposals, taking his favorite films and adapting them into a standup comedy meets musical mash-up.
While Mosley writes the script for his performances himself, he notes that he is able to make this ambitious task come to fruition with the help of his team of musicians, production managers and troupe of backup dancers, who pull the entire production together.
"I'm not a musician, I don't play an instrument, I'm not a singer, but everyone around me is excellent, and then I'm sort of this busted queen in the middle," Mosley joked.
Mosley begins the process for creating the scripts for this series by pulling themes from the film, portions that particularly resonate with him, elements of the movies that may now be considered dated, and aspects of the movie that he finds particularly funny that he feels like the audience may have missed while casually watching the film. He transforms all of these aspects into a rough script, including lyrics to original songs, and then collaborates with musicians, dancers and choreographers to create the full production.
https://www.instagram.com/p/Bt37NvVn_b8/
When asked why he chose "Clueless" for this installation of "Movies that Should be Musicals," Mosley explained that the larger than life aesthetic of the film, which he notes is one of the hallmarks of 90s cinematography, was one of the major aspects that drew him to select this film.
"There was this moment especially in the 90s where everything was so earnest, and big-hearted, and bright, and colorful, and loud and campy," Mosley said. "And it was just sort of that moment in the world. If you look at the Spice Girls, and the fashion with the platform shoes and girl power, and heart on your sleeve, and in the Top 40 was Jewel bearing her soul and Alanis Morissette was here for us."
Mosley also explained that he chose to harken back to a movie from his childhood specifically, because of the dichotomy between the more vivacious films of the late 20th century and films that were produced post 9/11. Mosley asserts that the stark differences between films that were produced before and after this tragedy reflect the significant disparity between older and younger millennials. Through his use of mainly 90s films in his "Movies that Should be Musicals" series, Mosley can both allow his older millennial peers to reflect on a simpler time, and reveal to younger millennials another perspective on an era of movies that they have only been able to enjoy through a lens far different from when the movies were released.
"I have found that there's a weird shift that happened after 9/11," Mosley said, conceding the fact that most people look at him like he is crazy when he shares this observation. "It was a time of big feeling, and then after 9/11 everything got small and ironic again because we were hurting."
Mosley continued, "Those 90s movies, they just lend themselves to musicals, because the whole musical concept is that the emotion gets too big and we have to sing about it, we can't just talk about it anymore, and so "Clueless" really lends itself well to that time period of movies."
https://www.instagram.com/p/Btl60XGHgyJ/
For this show, Mosley focused on many elements in "Clueless," including the props used in the movie and the iconic 90s wardrobe that the cast flaunts throughout the film. He also touches on the mildly suggestive situations that the movie got away with during its time, which he comments his generation may have missed in their adolescent years when the movie first came out.
As far as the props are concerned, overt and unnecessary product placement constitutes particularly amusing Easter eggs that are scattered throughout the movie, which Mosley enjoys revealing to the audience.
"In "Clueless" there's this running trope of products. There's a weird Snickers moment that could act as an ad, the same thing for Mentos, the same this for Snackwells," Mosley said. "And then there's always a few people in the audience who are like, 'Wait yeah I've noticed those and they annoy me too,' or they're like 'Wow I've never noticed that but that's really odd, how cheap and wonderful!"'
This overt product placement may seem a bit out of place and gimmicky in the context of a movie scene, but it can also be interpreted as an early predecessor to the current social media feed, which is replete with unapologetic product placement, with influencers using a platform that was originally intended to share one's personal experiences with friends to instead advertise products to millions of followers, most of whom they have never met.
But Mosley overall wants these shows to feel conversational and casual, and his constant heckling with the audience makes that intention hilariously clear.
https://www.instagram.com/p/BtTxwC1n33m/
"I want it to feel like a blown-out version of a friend coming over, sitting on the couch, and you two talking about this movie," Mosley said. "And then you get this sudden shift to these full-scale production numbers, where the band is just exquisite and the dancers are amazing, and then I'm just like beat bopping my way through."
Mosley also feels like his selection of movies, which are widely enjoyed by the gay community, help to start conversations with members outside of the community, who may not be familiar with the underlying themes of the films.
"Movies that are especially near and dear to the queer community or the gay male community. These are the ones that I have been working in, and so it's fun, I get to share this with you know straight dudes, who have probably never seen movies like "Practical Magic" and the like, it's a good time," Mosley said.
In the show, Mosley brings to life a specific queer character that he feels is a very important cinematic representation of a gay man, especially in the 90s. He highlights Christian, who is leading lady Cher's initial love interest, by creating a musical within a musical, where Christian's questioned sexuality by the other characters and dodging of Cher's advances come to the forefront.
"Christian has always been really important to me, especially when I was young and figuring out that I was gay, I always appreciated Christian because he wasn't a joke, and he wasn't a sidekick. He was the desirable man in the movie, and that was really sort of unheard of," Mosley said.
https://www.instagram.com/p/BtWtsk-n7xn/
"In the 90s, gay suffering was in the media at that point, "RENT" had just premiered on Broadway in 1994, every gay story was about, 'I have AIDS and I'm dying,' or 'I'm just this clown fool for the female protagonist,' there weren't a ton of stories that had a confident in his bones gay man, and Christian was that, he was beautiful and funny, and he had such an iconic look," Mosley said.
Helping to highlight Christian is a sequence of six original songs back-to-back that Mosley performs along with his dance ensemble. Emily Bernet, an SMU Division of Dance alum and past student of Mosley's, was one of the dancers who performed in the show and helped bring the Christian character into the spotlight.
Bernet says Mosley's infectious energy on the stage helps her to assume the dramatic flare necessary to get this show to resonate.
"Brigham has such a strong energy, he's so funny, I have never felt like I'm that funny of a person, but when I get on stage with Brigham, his energy is so contagious and it helps me to find that comedic energy," Bernet said. "And it's such a fun group of people, and it's such a low-stakes environment, and I think that's what makes it really fun for the audience."
Mosley and his ensemble will be performing "Clueless" again in April. For more information, visit his website for details and to see what movie Mosley chooses to give a musical makeover to next.