Brenda Rivera rushes into Fondren Library and puts her textbooks and laptop on the table in front of her. She peels off her coat and prepares for another long night of studying. She just completed her last midterm, submitted all her job applications, and now it is time for her to work on a project. She spent hours editing videos over the weekend in the hope that they will help her get an advertising internship somewhere in the United States this summer.
Rivera, an international student from Mexico City, is studying with an F1 student visa. She is in her senior year and completing a major in strategic brand management at SMU. She spent her first year of college in Mexico City, but she decided to transfer after she visited her older brother, a former SMU student, and fell in love with the campus and the people in Dallas.
She applied to various colleges around the world. With several options, she could have gone to Canada or Germany, but she chose the United States because of the prestigious reputation U.S. universities have around the world, and because of its closer proximity to home.
"I was already enrolled in a university back home that was a very good university, but I was drawn to the campus and the culture of SMU," Rivera said. "There are also so many job opportunities in America."
Rivera is one of 2,210 international students on campus who has chosen to study in the U.S., despite the increasing number of her peers who are electing to study in other countries. For the second year in a row, the U.S. is experiencing a decrease in the number of international students enrolling in American universities. International enrollment fell by 6.6. percent in the 2017-2018 school year, according to an Open Doors report. Students and administrators point to various social, political and economic factors that are driving this exodus.
SMU is not exempt from the national decline. "The number of international students entering the United States to attend college has declined. SMU has also experienced a decline in applications from undergraduate and graduate international students," said Wes Waggoner, SMU associate vice president for enrollment management.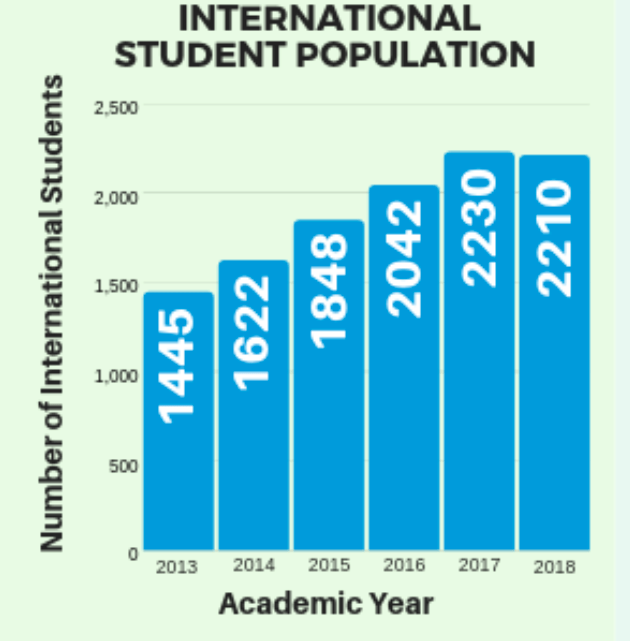 Statistics from SMU's International Student and Scholar Services website, show how international enrollment dramatically increased between 2013 and 2016. International enrollment reached its peak in 2017, with 2,230 students. In 2018, the number of international students decreased for the first time in five years.
Some experts believe there is a clear connection between when President Trump was elected in 2016 and when international enrollment declined. The president has proposed stricter student visa policies, which would change the way unlawful presence is calculated, and impose harsher punishments for those who overstay their visas, according to the New York Times.
Jennifer Cook, an expert in Texas-Mexico public policy, believes proposed policies influence the public dialogue in the U.S. "We know from various social science studies that proposed policies also affect the way individuals behave," she said. "So just because it is not a policy yet doesn't mean it is not necessarily influencing the way people make their decisions."
Many experts have theorized that the current political climate in the United States can be perceived as unwelcoming for foreign students and will deter them from studying abroad.
"People who are interested in studying in the U.S. are linked into social media, news reports and maybe even have family or personal connections that tune them into what is going on in this country," Cook said. "I think it is not just policies that are perceived as anti-immigrant, but also the public discourse that goes along with the perpetuation of those kinds of policies."
Many universities across the United States are trying to reverse the trend of declining international enrollment by taking a public stance against policies that could be perceived as anti-immigrant.
SMU has taken initiatives to ensure it is a welcoming campus for students from all over the world. According to Waggoner, SMU has plans to increase its recruitment efforts in countries from where it has seen both significant student enrollment, and where it sees potential growth in those wishing to do so.
"I hope we will reach a time when everyone values international students' contributions to our community," Waggoner said. "They bring academic excellence and cultural perspective that many U.S. citizens have never had in a classroom setting. In a global society and marketplace, that perspective will benefit all SMU graduates."
International students not only make a significant contribution in the classroom, but they also make a significant contribution to the economy. By studying in the United States, they are contributing to a $39 billion industry. Education has become one of America's most vital exports. Because less American students study abroad, the United States runs a surplus in education.
International students contribute to the U.S. economy in more ways than most people realize. Most international students do not have financial aid, are paying full tuition, and are also paying for housing, food, and other everyday items. According to a 2018 Open Doors report, "about 67 percent of all international students receive the majority of their funds from sources outside of the United States." In 2018, Texas itself received $2.2 billion from international students.
As negative political rhetoric continues in the United States, and other countries like Canada, Germany and China continue to strengthen their educational systems, the $39 billion industry is at risk. The promise of a United States degree may no longer be enough to lure the most talented students away from other countries.
Despite Rivera's overwhelmingly positive experience at SMU, her younger sister will be following the trend of looking for education outside of the U.S. She will be studying in Germany instead of the United States next year. She made her decision after being admitted into a prestigious electrical engineering program. She believed it was an opportunity she could not pass up.
With senior year coming to an end, Rivera has been thinking a lot about her plans for the future. Like her younger sister, she is going to go where there is the most opportunity—that place may no longer be America. "I'll go anywhere I can get a job," she said. "I have friends in the U.S. and I'm applying for another visa, but I might end up working in Europe."
Photo credit: Alvin Lee [CC BY-SA 4.0 (https://creativecommons.org/licenses/by-sa/4.0)]