The attacks on September 11, 2001 stunned the country. Now, the commemoration of the attacks unites communities across the United States to remember the tragedy from 18 years ago.
The 9/11 Commemoration Ceremony brought together SMU police officers, first responders from Highland and University Park, and residents of the area Wednesday morning on September 11th, at the Southern Methodist University Flagpole.
"I had an 8 a.m. class this morning, so I was already on campus, and when I finished the class I saw the ceremony, so I stayed and watched for a while," Blake Miller said. "I was surprised to see there was not a huge turnout."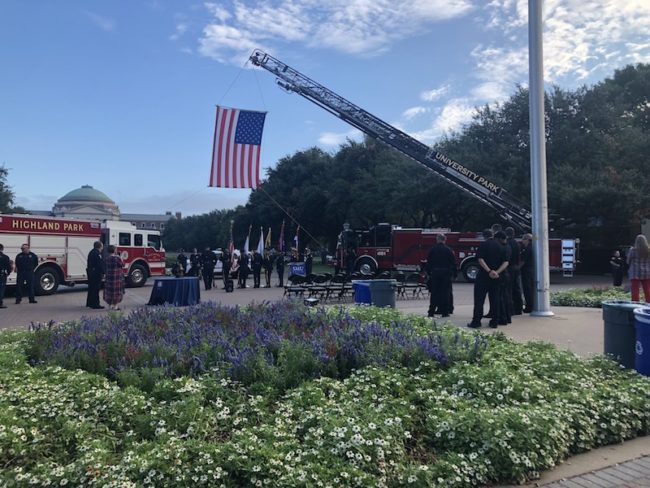 The ceremony did not draw a huge crowd. It took place at 8:46 a.m., the time of the first plane crash. There were more faculty members than students, and a few families who lived in the area came in support although there were many police officers and first responders, dressed in their uniforms.
SMU police officers along with first responders from Highland and University Park organized the event. There were two fire trucks at the ceremony, their ladders were out, and the ladders hung an American Flag. There were other flags on display like the SMU flag. The first responders did a march with the flags before the ceremony began. Along with the large American Flag, there were thousands of little American flags on the lawn in front of Dallas Hall, one for each of the 2,996 people who died in the September 11 attacks. There was also an officer who played the bagpipes.
President of SMU R. Gerald Turner emphasized how important it is for the university to commemorate this day. September the 11th should never be overlooked, and each year SMU continues to remember this harrowing day. Many people were affected by this tragic event, including people who are apart of this university.
"We have 154 veteran students on our campus including grad students, undergraduate students and we have students who are dependents of veterans," President Turner said. "And so in their experience of serving our country directly I know today is particularly meaningful to them."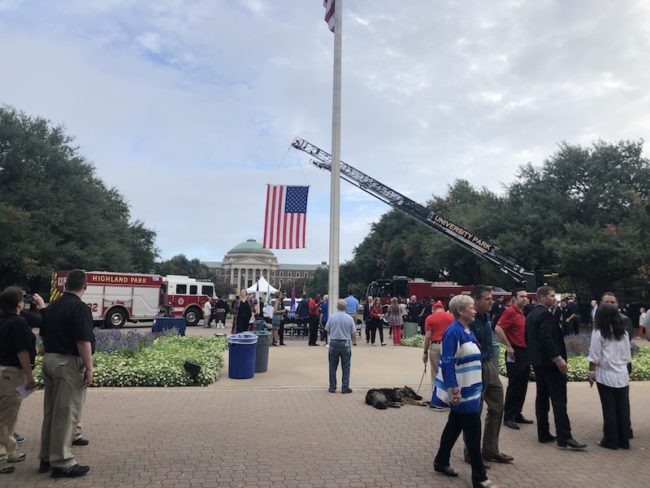 The Director of George W. Bush Presidential Library and Museum understands first-hand the impact of the September 11th attacks. General Patrick X. Mordente is a 29-year veteran of the US Air Force. On this day 18 years ago he learned that his friend from the US Air Force had been a pilot of one of the planes that were overtaken and crashed into the Twin Towers. General Mordente looks up to and honors all the first responders who risked their lives to save those in need of help.
"Where were you on 9/11? not uncommon question especially today and for those of us that were old enough to remember it will be forever etched in our memory," General Mordente said. "We watched in horror as our nation's enemies carried out a cowardly attack on our homeland we watched in horror, but we saw the heroic actions of our first responders."