The Senior Director of Global Brand Communications for Nike told the audience that the key to success is a sense of purpose at his lecture last Wednesday evening at the Angelika Film Center.
"You've got to have some type of belief. It's the feeling that you have that's firmly implanted in your heart and mind," Marc Patrick said.
Patrick is also a member of the SMU Class of 1993. Patrick was a part of the men's track and field team on top of his studies at SMU's Temerlin Advertising Institute.
"He looked around and he took advantage of the opportunities that SMU had to offer," SMU advertising professor Dr. Alice Kendrick said.
Dr. Kendrick said Patrick's diligence in the classroom and in his sport set him apart from other students. This drive led him to his 20+ year career at Nike which he said wouldn't be possible without purpose.
"We obsess about the meaning behind 'Just Do It'," Patrick said.
Patrick has been a part of many Nike campaigns including the "Dream Crazy" campaign featuring Colin Kaepernick. Patrick said that this campaign was a risk for the company, but Nike believed in making a change.
"It really is about action and empowerment," Patrick said.
Patrick said that it was important to him that the brand stay true to their purpose in fighting for social justice.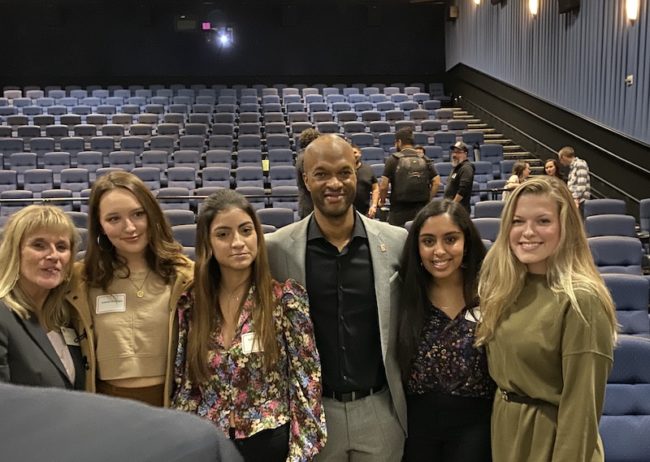 Many undergraduate and graduate students attended the lecture to gain some wisdom about the industry.
"You can really see how his background and how his family influence how he comes to his work," SMU junior Isabella Montague said.
It was evident that SMU influenced Patrick's purpose. He referred to Dallas as his "home" even though he is not native to this city.
His continued relationship with SMU and strong relationship with his family was inspiring for students.
"My favorite part was when he actually gave a shout out to the people that influenced him the most, so the people like his family and his school," SMU Master's Program graduate Joél Garza said. "That means you don't get to where you're at alone."
Montague believes that the reason alumnus like Patrick are still invested in SMU years after graduation is because of the relationships students form with their professors.
"You can tell how much they care about you. They want to know where you're going to go," Montague said. "You got to come back and tell them all of the amazing things you've done and to thank them for all of their hard work and investment into you."
Patrick is continuing to chase the purpose he began to develop at SMU. He will soon begin working for Beyond Meat, a plant-based meat substitute company. He sees a great opportunity to make a global impact on climate change and animal welfare.