As 2020 approaches, something you can look forward to is the largest Italian retail and dining experience in the world. Eataly will be opening its first Texas location in Dallas at NorthPark Center.
The Italian mecca adds a boost to Dallas' menu of cuisines by providing a variety of restaurants and cafes along with numerous markets from fresh meats and seafood to an array of desserts and coffee. Eataly has 39 stores worldwide making Eataly Dallas its eighth North American location adding to 2 locations in New York, Chicago, Boston, Los Angeles, Las Vegas and Toronto.
In a May press release, CEO of Eataly North America Nicola Farinetti said, "We are so ecstatic to have signed the lease with NorthPark Center, which will allow us to bring the ultimate authentic Italian experience to Dallas…We believe NorthPark Center is the perfect Dallas location for us because they are also dedicated to quality and an unparalleled customer experience, what we, as a brand, value above all."
Eataly was founded in Turin, Italy in 2007 and has since provided a foodie's dream with pizza, pasta, bread, fruits, meats, chocolate, pastries, coffee, wines, gelato, canned goods, packaged goods, aprons and cooking utensils. Eataly Dallas plans to provide educational opportunities about Italian food and culture in addition to being a place to eat and shop.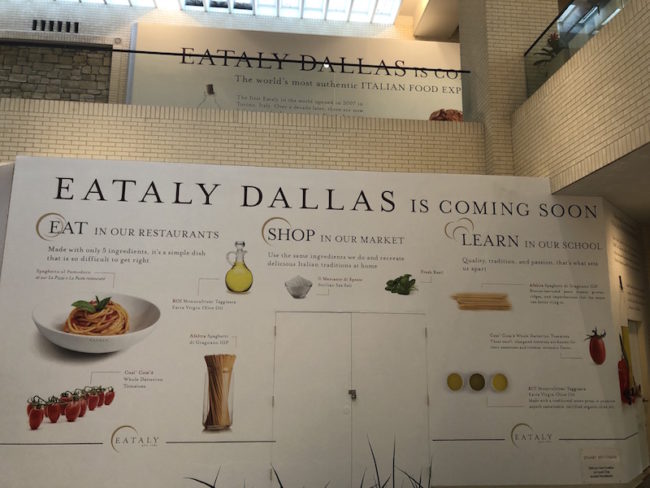 Nancy Nasher, President and co-owner of NorthPark Center with her husband, David Haemisegger said in a May press release, "From delicious restaurant options with made-to-order Italian fare to interactive grocery displays that encourage at-home chefs to discover the art of Italian cuisine and culture, Eataly is 'destination dining' at its finest. We look forward to welcoming Eataly to NorthPark and know it will be met with great enthusiasm here in Texas."
Honoring the company's values, Italian products will line the shelves along with Texas produce partnerships creating an authentic and sustainable culinary experience.
Eataly Dallas will open in between Neiman Marcus and Nordstrom replacing the appliance store Pirch that closed in 2017 covering both the 1st and 2nd floors.
Dallas' Eataly appetite grows larger as it awaits the grand opening in 2020!