DOWNTOWN DALLAS — Several SMU students joined demonstrations in Dallas this weekend to rally against police brutality and racial injustice following the police-involved killing of George Floyd in Minneapolis early last week.
A video depicting the killing of George Floyd is the latest of its kind to go viral on social media, prompting demonstrations in cities across the country to demand police accountability in cases where black Americans are killed by officers.
"It is really overwhelming and emotional to be bombarded with the images that we're seeing right now," said Tyne Dickson, a rising junior at SMU.
Dickson had concerns about the spread of coronavirus and potential violence breaking out. Despite the uncertainty, she made an effort to be at all the demonstrations she could attend this weekend.
"I felt like I had to do something. It's too important," Dickson said.
Hi all.
I made a suggested list of demands to remind protestors and others that we must KEEP GOING until change occurs. If you agree with this list, please RT 🧡. #BlackLivesMatter#protests2020 #GeorgeFloydProtests pic.twitter.com/MPnZoYTGgk

— T (@clairehxtable) May 31, 2020
Large demonstrations in Dallas began Friday and continued throughout the weekend. Tensions escalated when police began using tear gas and rubber bullets, while some looters at the protest began damaging property and businesses.
"I think I was a bit naive," said rising SMU junior Julia Daniel, "I expected things to stay peaceful, at least during the day."
Daniel had never been to a protest. While she wasn't exactly sure what to expect, she was still passionate about showing up for the cause.
"You have to go out there and be loud. Support what you believe in," she said.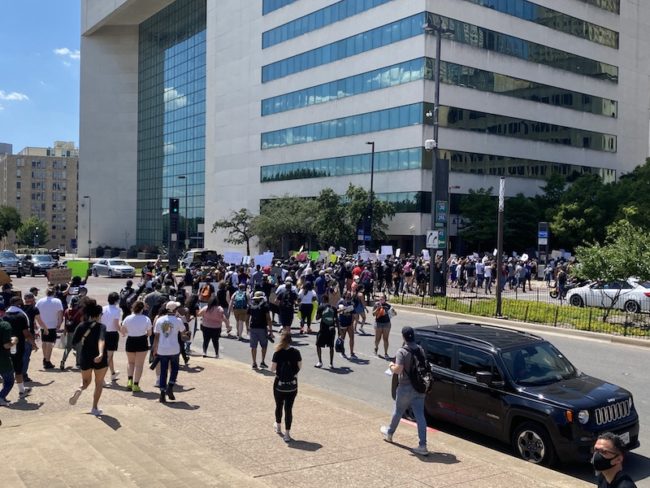 From Daniel's perspective, the protests on Saturday were peaceful until the police suddenly started escalating things.
"There were no warnings, they just fired the tear gas," she said. While she was relatively far from it, Daniel says it was painful to breathe in the gas even from a distance. She left the protest soon afterwards.
Gordon Gianadda, a human rights and international studies major at SMU, has a similar account of how things began to escalate on Saturday.
"The police show up and start tear gassing and throwing flashbangs into groups of peaceful protesters, and that immediately set off a lot of people," said Gianadda. "There were no calls to clear the area, none of that."
People came to the demonstration prepared to help each other in the event that tear gas was used. Protestors carried around milk and baking soda solution, which they quickly poured on those in need of relief after being sprayed by the gas.
"All of my senses were completely warped," said Gianadda, describing the first time tear gas went off near him. "I couldn't see anything at all. Saying it felt like my eyes were on fire doesn't even do it justice," he said.
Dallas Police Chief Renee Hall approved the use of tear gas, and defended its use after she says some protestors began vandalizing property and throwing things at officers.
Gianadda remained at the protest until late Saturday, braving the tear gas and rubber bullets where, fortunately, he wasn't hurt very badly. However, Gianadda knew a few people who got hurt worse than him.
"I was there to support a movement," said Gianadda. He considers it his duty to show up — and thought what happened to George Floyd and others like him are violations of the most basic human rights.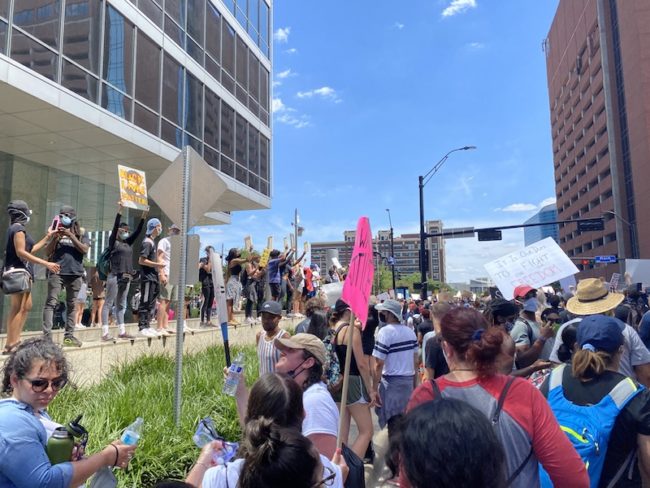 "This is a painful time for our country again as we grapple with the virulent and continuing threat of racism, as well as the violence that often mars legitimate mass public protest," said President Turner in a statement released Saturday.
"I think the statement disappointed a lot of people," said Tyne Dickson.
Dickson feels the terminology used – and avoided – was particularly disappointing for black students. She points to the use of the term "legitimate" and the ambiguity when alluding to the black community as just a couple of the weaknesses in the letter.
Dickson says that to her, it didn't seem like the statement was made with black students in mind.
"What I really wanted from the administration was for them to reaffirm the promises they made during the Black at SMU incident, rather than say what they did," said Lexxi Clinton, President of the Association of Black Students at SMU. She is also involved with the student senate, and sits on the board of the university's cultural intelligence initiative, CIQ.
As a heavily involved student leader at SMU, Clinton spent the weekend on the phone, speaking with different student organizations about how best to approach the issue.
"I don't know how to solve racism, I'm 21," said Clinton. "But I want to do what I can for my community."
Dickson is also working on ways to support the black community on campus. She started a GoFundMe titled "SMUBlackLivesMatter" to raise money for Black Lives Matter apparel that students will wear on campus.
"The fund is specifically to ensure that the black community at SMU feels better about coming back to school in that environment," she said, "Because the emotions don't fade away. The tensions don't fade away."
https://twitter.com/EInyang_/status/1266922237254402049?s=20
SMU's diversity and cultural intelligence programs, including CIQ, have received some criticism from students of color who say the administration does not go far enough to acknowledge the issues that exist on campus.
"Our faculty sweeps it under the rug," said Dickson. She says the undeniably small size of the black community at SMU, and the unwelcome reaction to minority issues presented on campus create a difficult environment for students of color.
"I really am excited to return in the fall and see if we can unite as a school for issues that are human rights issues, not just black issues," Dickson said.