You may have seen them around campus or heard their coined catchphrase: "they flip they flop but they never drop." The Mustang Mavericks are Southern Methodist University's first and only country-western stunt dancing team.
The Mustang Mavericks have been spotted at various events both on and off campus including talent shows, pep rallies, and charity events since their establishment in 2008 by Philip Hughes, Aaron Rose, Haley Gatewood, and Ali Gatewood,.
Currently led by captains Cara Hanshew and Kyle Mistele, the Mustang Mavericks have grown exponentially this past school year and plan to branch out this next year with performances in Dallas, San Antonio, and Washington D.C.
The 2019-2020 school year started off strong for the Mavericks with their performance at the SMU Health Jam. This was the first performance for the newest members of the team.
https://www.instagram.com/p/B24xGskglFD/
The Mavericks then broke in their boots some more at The Great Crumpkin, an annual event hosted by Crum Commons.
https://www.instagram.com/p/B3zouS5Jf-d/
What is Homecoming at SMU without the Mustang Band's annual Pigskin Review? The Mavericks performed to "She's Country" at this show.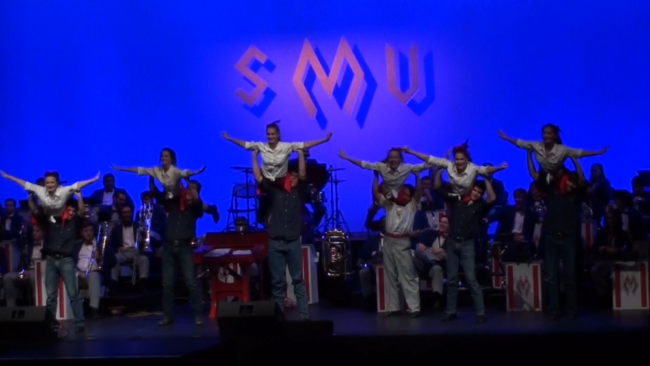 The Mavericks also performed at a few SMU Basketball games at half time and cheered on our Mustangs.
https://www.instagram.com/p/B5QbrHCAfeB/
They then helped Dallas get into the Christmas spirit with their performance at Northpark Mall, which included a free-stunting performance to a Christmas remix.
https://www.instagram.com/p/B5Suzp9gPXg/
The Mustang Mavericks kicked off 2020 with their performance at the National Hockey League Winter Classic at the Cotton Bowl. They formed a tunnel for the Dallas Stars as they entered the stadium and danced next to the ice for the Texas-themed game.
https://www.instagram.com/p/B6zJ2C_psWm/
The Mavericks celebrated Mardi Gras in style at Krewe Du Ware with their performances of "She's Country" and "Sideways."
https://www.instagram.com/p/B89kKHvJlCD/
Their last performances of the school year was at The Dallas Arboretum and Botanical Gardens during the two-day Blooms, Boots and BBQ event.
https://www.instagram.com/p/B9PzPZUJIRZ/
The group had also planned to perform at Crowchella, hosted by Kathy Crow Commons, and a Relay for Life charity event this past spring. Unfortunately, these events were canceled due to COVID-19.
However, they plan to hit the ground running again this fall. The SMU Mustang Mavericks have been invited to perform in San Antonio for the Ford Holiday River Parade. Most notably, they will be performing in Washington D. C. for the 2021 Black Tie & Boots Inaugural Ball, which is considered to be the "hottest ticket in town" during the inauguration weekend.
Mustang Mavericks is a tight-knit group of students who share their passion for western stunt dancing. In between their performances, they practice multiple times a week and have extra bonding activities outside of practice.
If you want to join the family be sure to stop by their open practices this fall. No dancing experience is required. Just come ready to have fun and learn.
Check out the Mustang Maverick's Connect page or Instagram for more information. You can also find them on Youtube, Facebook, and Tiktok.
For performance inquiries email [email protected].