The wall of televisions affixed to the south end of Ozona Bar and Grill played a loop of broadcast news. The glaring chyron, that hazily illuminated open tables and empty billiards sets, was hard to miss: "U.S. Death Toll Swells to Deadliest Day Yet."
For people who have never entered the Dallas area bar, the scene looks apropos for a time like this. For the regulars, as manager Isaac Scott calls those who have continued to trickle into the bar the last four months, it is almost jarring.
For 30 years, those monitors have comforted bartenders and visitors alike with the reliable soundtrack of the Dallas sports scene. The immutable background murmur became a part of the architecture of the place, punctuated only by the city's most iconic moments spanning all the way back to Nolan Ryan's 1991 no-hitter. If the Rangers weren't on, the Mavericks were. Weekends were always a conglomeration of SMU and Cowboy football games.
The televisions never stopped, until sports did.
In truth, the televisions are only one reminder of the pandemic raging on in Dallas County. The podium greeting patrons has the words "Stand Six Feet Apart" plastered in bold letters. The seating chart features large, red "X's" where nobody is allowed to sit. It is all hard to miss, by design.
"We are trying to get back to 'normal,'" Scott said, watching customers double back to the car to retrieve their forgotten masks. That normal, which he exaggerates with air quotes, is clearly still a work-in-progress.
That "normal" is also about to be rocked once again for Scott's business and for many like his. Fall Saturdays are a lifeblood for his bar, an event unto themselves. Ozona hosts SMU football and basketball coaches for a weekly radio spot. It proudly brands itself as an "SMU Bar." All of that might be another casualty to the coronavirus.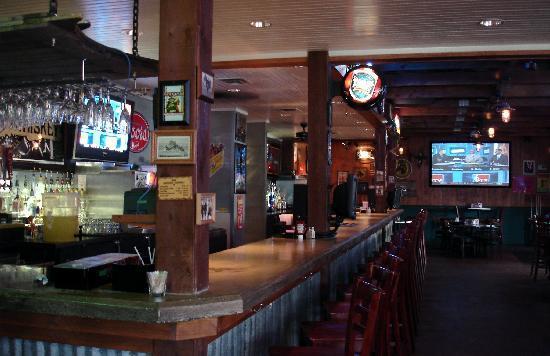 SMU athletics announced last week that at least of portion of home games will have decreased capacity. It is more than likely now the only fans allowed into the stadium, if a season does happen, will be students, season-ticket holders and faculty. The flock of fans coming in for one game, that many businesses rely on, may not be allowed to come.
"We are never quite prepared for a turnout we are going to get for a home game. We think we are, but we are never prepared. It is great because that means money. They hit us first before the tailgate and then they come after the game," Scott said. "… If they don't play that would be of some concern for us."
Scott's assessment is shared by many in the community, he says. It is beyond the money; it is personal.
Scott himself was furloughed in April. A 14-year veteran of the craft, he was worried in the first handful of weeks about his job. His fears worsened as he noticed some of his friends and favorite restaurants simply close for business. He just recently got back to work. The revenue from SMU football games, while it is not everything, goes a long way.
"All those mom and pop stores, they are just gone. Every day we hear about another restaurant closing. It sucks but that is the reality," Scott said. "All the bars I visit are just gone."
This delay also comes at a time when SMU football just began to generate considerable revenue for local businesses. Last season, SMU's first 10-win year since 1984, Scott said he noticed nearly double the foot traffic and revenue from years past. Sonny Dykes' radio show on Monday nights, normally a bleak affair, was packed with standing room only.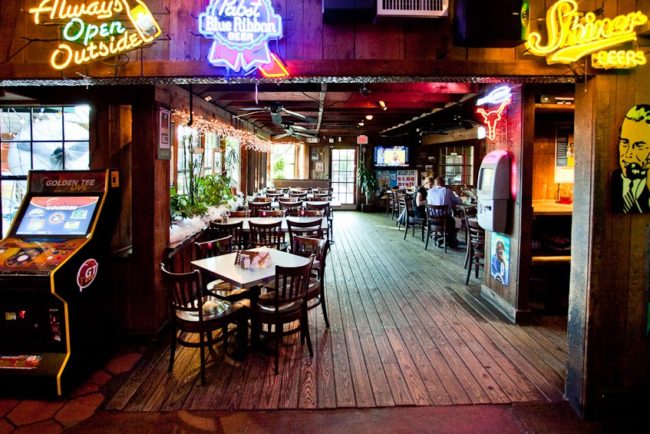 Cic'Clati Sapos, a junior at SMU who works at Pokey O's Ice Cream just a couple of feet away from Gerald J. Ford Stadium, also carries a personal story. She didn't work at all in April by choice. She lives with elderly people and was weighing the risks. Ultimately, her decision was made for her because she needed the money.
Without SMU football, Sapos is confident she will not lose her job. Her hours will likely be cut, though, and shifts will be shortened.
"It is hard to say the number of people that come in here on gameday. There is a line out the door all day," Sapos says, her voice the only sound cutting through the air conditioning of the now empty store.
There is a chance, most people note, that a lack of fans won't entirely take away a needed source of revenue. Scott thinks that while people won't be able to come into the stadium, they could watch the games at the bar.
"We have lots of televisions, plenty of space for people to come and enjoy," Scott says, jokingly doing his best impression of a sales person as he motions to the lifeless patio.
Preparing for no season, however, is a challenge most don't have an answer.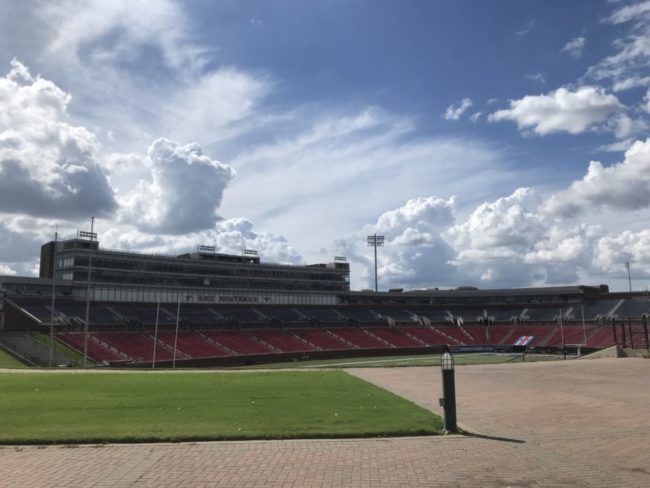 Other businesses, like Shug's Bagels, think they will make it out though. The owner of the three-week-old store, located a walking distance away from the stadium, is an SMU graduate. He was planning all along on shutting early for the game and going himself. There is a way, he says, for business to thrive during this time.
"Our business was designed to be grab-and-go anyway. I would like for students and people to be in here studying and using our Wi-Fi and television. It has been rollercoaster for a million reasons but because we haven't known anything else, this is the atmosphere we were born into. This our normal," he said.
At a small table on the patio at Ozona there is a picture frame of people cheering at the bar as SMU football plays in the background. Above it, an SMU pennant hangs. It is the manifestation of the phrase "if the walls could speak."
This year, if those walls really could talk, nobody knows what they would say.
SMU has left open for the option that some games could be played in front of a full stadium in dates later in the season. The NCAA has also left open the option for there to be no season at all. It is an ever-evolving situation.
"We will be okay if we can stay at 50% to 75% capacity," Scott says. "[I try] not to think about it."