Hundreds from the SMU and nearby community gathered on campus for a Black Lives Matter demonstration organized by Black students on Saturday afternoon. Students, faculty, staff, neighbors, and even members of university leadership marched around campus holding signs in the rain to show their support for the movement. However, some students say that display of unity may not be as genuine as it should be.
Student Tyne Dickson has become the face of the BLM at SMU movement since she kicked-off the SMUBlackLivesMatter GoFundMe in the summer following the start of the national George Floyd protests. At the same time, Dickson and other Black students began planning for demonstrations on campus.
"The fund is specifically to ensure that the Black community at SMU feels better about coming back to school in that environment," Dickson told The Daily Campus in June. "Because the emotions don't fade away. The tensions don't fade away."
Dickson says that while SMU shares the same racial issues that are present across the country, tensions are higher on campus because of the income disparities and political divisions among students.
During the initial national protests, SMU's President Turner released a statement that disappointed many Black students for being weaker than they would have liked to see at the time.
"It felt like pulling teeth to get [President Turner] to even say the word 'Black' in the statement," said Laurence Lundy, one of the BLM at SMU organizers.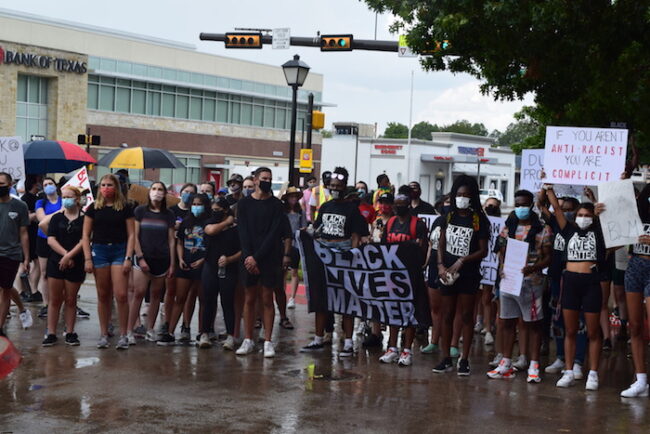 Not long after, #BlackAtSMU began trending on social media as Black students and alumni shared their on campus experiences publicly. Stories about Black students being targeted by SMU PD, failed diversity programs, and greek life harassment did not portray SMU in a good light.
being one of the few black people at smu took such a toll on my mental health. i constantly questioned my self worth, felt invisible, felt i had no support. i'm trying to think back on my experience & my mind has blacked out any memories attached to that school #BlackatSMU

— c ♡ (@sunshinepeach99) June 2, 2020
University administration immediately changed their approach, choosing instead to embrace the push for change and publicize their support for the movement. In campus-wide communications, President Turner made it a point to say "Black Lives Matter," asked to hear directly from Black students about their concerns, and promised changes when students returned in the fall.
Black student organizations on campus like the Association of Black Students (ABS), used the opportunity to start pushing for specific changes that they felt were long over-due on campus, and came up with a list of demands. They are still waiting for a response from President Turner.
https://www.instagram.com/p/CBEDqejp54a/?utm_source=ig_web_copy_link
According to ABS President Lexxi Clinton, the organization has consciously made the decision to focus on reforming policies through talks with the administration as opposed to officially sponsoring or hosting any demonstrations. As an official student organization they have a different set of freedoms and limitations than BLM at SMU, who are not officially affiliated with the university.
"I think all of our demands are reasonable and make sense, I can't see any reason that they wouldn't all be accepted," Clinton said. "Whether the university is inclined to accept either one, policy changes or demonstration, is up to them at this point."
Around the same time ABS published their demands, BLM at SMU began to announce plans for the Saturday march, and according to organizers, were told to keep university officials in the loop.
"As soon as we made the fundraiser back in June, we were contacted constantly about what we were doing," Tyne Dickson said. According to her, some members of the administration began to see themselves as advisors to the group, pushing for a SMU PD presence at the march, and suggesting other changes.
"I made it clear that the only reason I'm coordinating with [SMU administration] is because I don't want an intimidating presence from SMU or the police at the march. I was very clear about that from the beginning," Dickson said.
Despite that, the BLM at SMU organizers say university leadership did overstep their welcome. The day before the protest was scheduled to take place near Highland Park United Methodist Church, Dickson received a call from SMU PD and university leadership to immediately change the starting location of the march to Mockingbird Lane and Bush Avenue due to a wedding that was scheduled to take place on campus.
Organizers say they were casually asked to consider a possible location change earlier in the week, but never agreed to the request and continued to regularly advertise the original location where they could, including their social media pages.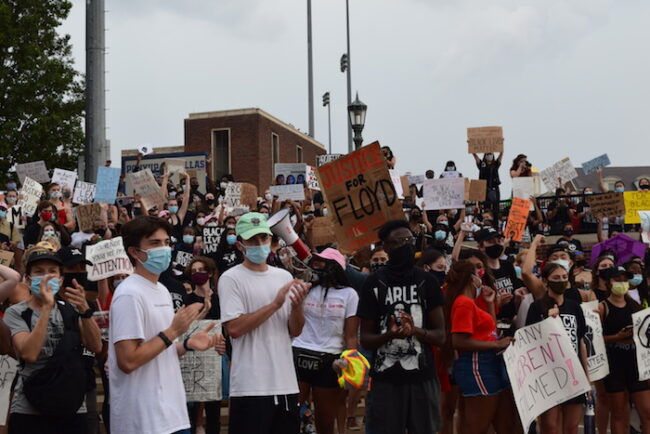 Dickson says it wasn't until Friday, the day before the march, that they were told they had to make the change for safety reasons.
"I said I would get back to them after speaking with the team, but basically I was told that if I didn't [change the location] I would be sent to the student conduct office," Dickson said, "It didn't feel like we had a choice."
According to Dickson, SMU's newly appointed chief diversity officer, Maria Dixon-Hall, sent out an email to faculty with the new location before the BLM at SMU team had even agreed to the change. The email also reminded faculty to follow the BLM at SMU Instagram page for information, despite the contradicting information.
Dickson says that she felt like some members of university leadership and SMU PD were involved to assert control, rather than to express their genuine support and participation.
In a statement, the university said, "SMU officials discussed the alternate launch spot with organizers early in the week in an effort to balance the safety of all involved, ensuring the marchers were able to gather for their event while allowing the wedding party to continue with their plans previously booked at the church. The University appreciates the cooperation of the march organizers and participants in ensuring a safe and successful march."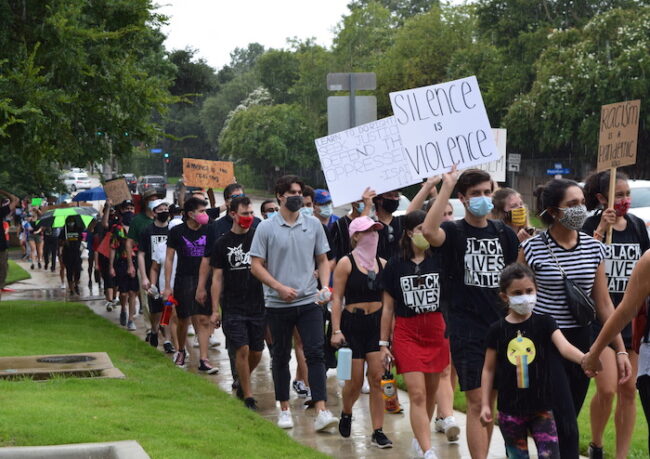 Saturday's turnout, which also marked the 100th day of Black Lives Matter protests in Dallas, appeared to confirm Dickson's assumption in June: tensions didn't just fade away. Hundreds of people were marching, and many were dressed in the Black Lives Matter shirts bought with a small fraction of the $15,000 raised from the GoFundMe.
Senior Mahesh Ramgopal said participation in the march was a way for students to recognize that systematic racism is a problem. "There is racial division on this campus. You can't truly understand what Black students are going through, but you can advocate for them to the best of your ability," he said.
Halfway through the march, a crowd gathered in the rain to hear Tyne Dickson passionately deliver a speech about the reasons for the march.
Hundreds of students, faculty, and staff march on campus today at a #BlackLivesMatter demonstration. Organizer Tyne Dickson speaks to the crowd. pic.twitter.com/DAkMnjTJcX

— The Daily Campus (@thedailycampus) September 5, 2020
"We are fighting for action, and until the people in power and SMU decide to take action, it looks like it will be on us," the Human Rights and Theater major said. "We will be in the streets and we will be loud until action is taken. We will not wait any longer. I will not wait any longer."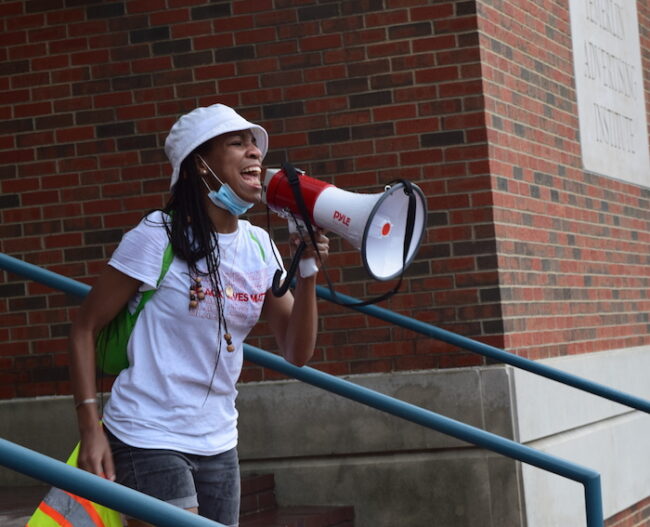 "I hope this motivates student leadership," Ramgopal said, "I think Student Senate is very good at making administration happy, and very bad at making students happy. You're an advocate first. You're job isn't to advocate the administration's plan, its to advocate to the administration on behalf of these students."
Some attendees at the event are proud of the university for how they have responded to movement. They feel as though the university has made a genuine effort to address issues that other institutions may try to sweep under the rug.
Junior Ortiz, a faculty member who works at the Hart Center and attended the demonstration, says he hopes it will help build awareness in the community. "I'm very proud of how we've been handling it here at SMU," he said. "I'm very proud of students for putting this together, and proud of staff for showing their support."
Senior Matt Jackson is an RA at the SMU Service House. He helped organize the event, and says he would like to see the university act more proactively instead of reactively to racial issues on campus.
"This march today was difficult to assemble. Particularly difficult, because of miscommunication on the part of the university," he said. "On our end, we did all of our planning flawlessly."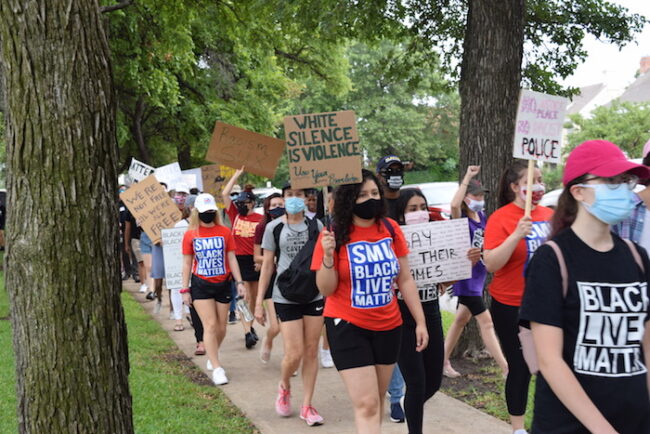 Dickson says she hopes the march was important for Black students, and helped them feel a sense of support that they don't typically get on campus.
"To know that people like me, the rest of my team, and other Black student leaders, are fighting back and resisting racist behavior on campus, I think that was really powerful for some of our Black students," she said.
Dickson says she hopes administration sees the march as a message to the university: "SMU will not be able to hide from the movement we are creating," she said.
Listen: DC Audio- BLM March at SMU