With hot chocolate, candles and Christmas songs, Celebration of Lights has been lighting up the Dallas Hall lawn with holiday festivities for over 40 years.
This long-standing SMU tradition invites students, alumni, and residents from around Dallas to come together as a community. This year, Celebration of Lights will be at 7 p.m. on Nov. 16 at Dallas Hall Lawn. Social distancing and masks are encouraged for those in attendance.
Celebration of Lights, originally called Festival of Lights, began in 1977 as the idea of Student Foundation and Vicki Sterquell, class of 1978, to thank those who supported the SMU community.
At the first Celebration of Lights, a reception was held in the rotunda of Dallas Hall for people who donated at least $100 to SMU, according to the first mention of the event in The Daily Campus in 1977. Sterquell is quoted in the article saying that the students bought colored lights and the lights would be on every night until Jan. 1. At the time, the electricity costs for the nightly lights added up to an extra $20 on the utility bill, the article said.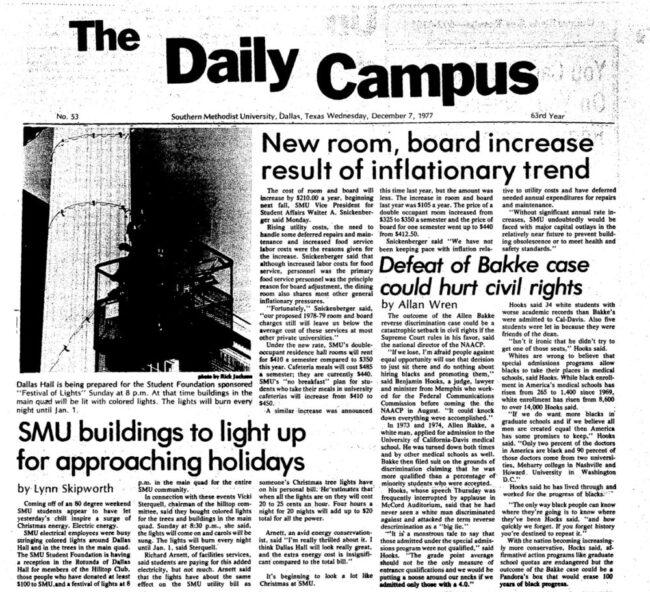 According to SMU Magazine, the lights for the first festival of lights cost $5,000 and no department had money to spare. Sterquell told SMU Magazine in 2015 that she remembers the panic that set in because of the high cost, but she was still determined to make it work. She took it upon herself to raise the funds.
Sterquell contacted her hometown's local newspaper The Amarillo Globe News because the society editor, Carolyn Newbold, was an SMU alumna. Newbold wrote a column to help raise the money and alumni came together to donate the $5,000.
Even after students attained the colored lights, they were forced to replace each bulb with white lights because the maintenance department did not like the look of orange lights. The department ended up buying enough white bulbs and Student Foundation spent hours replacing each one. After all that extra work, Sterquell remembers that night as a success.
"At the close of the ceremony, you could hear people singing carols as they walked back to their cars and dorms," Stequell told SMU Magazine. "It was truly an exciting event, especially for me, my committee and the entire Student Foundation."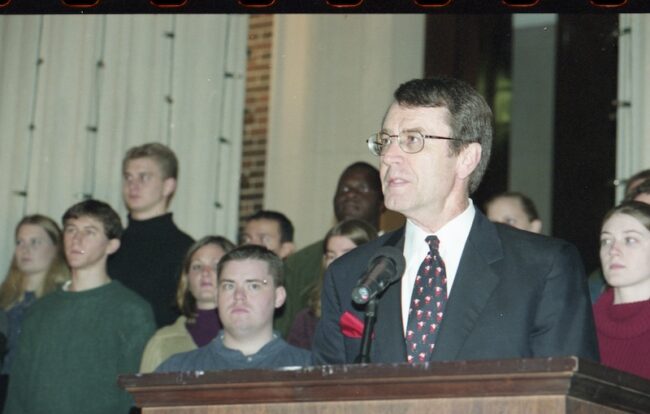 Later that next year, 1978, the event was renamed Celebration of Lights. Ever since, the community has been coming together. on Dallas Hall Lawn year after year to watch students sing with the holiday spirit. SMU President R. Gerald Turner typically speaks at this event and as the university president for 25 years, Turner looks back at this tradition fondly.
"The Celebration of Lights ceremony resonated with me from my first year at SMU and remains among our most beloved campus traditions," said Turner in an email interview. "It will be especially meaningful this year as we celebrate a season of joy and light amid the many challenges of 2020."