Through their biennial exhibition, artist relief fund, and additional programming, they have engaged with both regional and international audiences. In essence, they have been able to help put the Dallas art scene on the map. As you pull up to this parking garage in the middle of downtown Dallas, it really does not look like anything out of the ordinary except for seeing a few signs that say Area 3. However, as you drive inside the garage and go up a few floors, you begin to see some red and blue lights where the installation begins.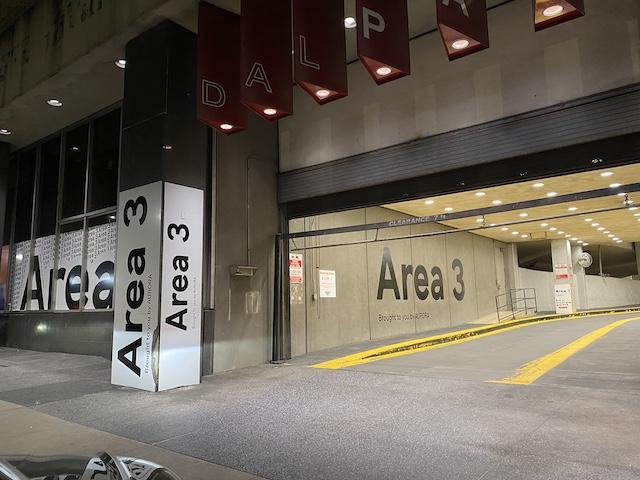 Driving through a car wash of lasers, the galaxy, and more, this art exhibition makes it easy to escape the current world we are living but also staying safe by staying inside of our own car.
When thinking about art and more specifically art cities, Dallas is not typically the first place that comes to mind. According to Bloomberg, New York, Los Angeles, and Chicago often have the largest number of artists because of their population size. However, smaller communities are home to vibrant art communities as well. Aurora is a Dallas-based public arts organization that works at the intersection of art, technology, and the community. Through their biennial exhibition, artist relief fund, and additional programming, they have been able to engage with both regional and international audiences. In essence, they have been able to help put the Dallas art scene on the map.
Aurora was founded in 2010 by artists Shane Pennington and Joshua King, along with a Dallas arts supporter, Veletta Forsythe Lill. Aurora began as a one-night-only public art event featuring light, video, and sound artworks. In its first year, it was a small neighborhood event in the Cedars only featuring local artists. However, over the past 10 years, it has grown into a versatile art initiative that aims to expand the future of art by engaging the creative possibilities within one another.
Monica Salazar, Aurora's Director of Programming, has been with Aurora since 2013. She grew up in Texas but has lived in the art world in Berlin, which allows her to bring in an international perspective as Aurora continues to expand.
"The exponential growth each year with Aurora is exciting, and it shows that the city is hungry for access to this kind of work," Salazar said.
In 2010, the event drew in around 1,400 visitors and exhibited works by 40 artists. In 2011, the event moved to the Dallas Arts District and attracted 14,000 visitors. In 2013 there were 30,000 visitors, and in 2015, the audience continued to grow, and there were 50,000 visitors.
According to Salazar, with each edition, these huge increases in attendance demonstrated that the city was eager for the opportunity to view new media, a public artwork in a free and accessible environment.
In 2018, the biennial exhibition moved to Dallas City Hall. This was a big step for Aurora. From the beginning, the goal was for this biennial public art exhibition to be a city-centric event that attracts a regional audience. Salazar said that having the exhibition grounded in the civic center felt appropriate and meaningful for them and for the event's future.
In 2018, they began the Aurora Expanded program, a series of projects and events in the week leading up to the one-night Aurora Biennial event. They took place in partner art and culture venues in and around downtown Dallas. Aurora Expanded was created to provide support and a spotlight for the talented artists of the DFW region working in new media art. This allowed more intimate artworks to avoid being lost in the larger event. In 2018, they were able to provide eight individual grants to the participating artists, which was an initiative supported by the Dallas Office of Cultural Affairs. These grants marked a shift from being solely a programming organization to an artist support model.
This year's biennial event had to change completely because, in the midst of planning for it, the pandemic began.
"COVID-19 hit, and we were in a position where we needed to quickly evaluate how the biennial could be shifted from a one-night public art exhibition with tens of thousands of visitors to a program that is a centralized, COVID-safe and still engaging and inspiring for our public audience," Salazar said.
As a result, Aurora announced the development of new initiatives to create more opportunities and resources for Dallas's artistic community and the public. Such initiatives included a transition from the presentation of a single large-scale biennial event to a year-round series of site-specific installations, special events, social gatherings, and educational programming, as well as the launch of an emergency artist relief fund.
There's been a change from having the biennial every two years to Aurora becoming a more ongoing organization. As a result of the pandemic, they had to hyper-speed move into that and create ideas for the installations to be decentralized and spread-out overtime to adhere to COVID-19 regulations.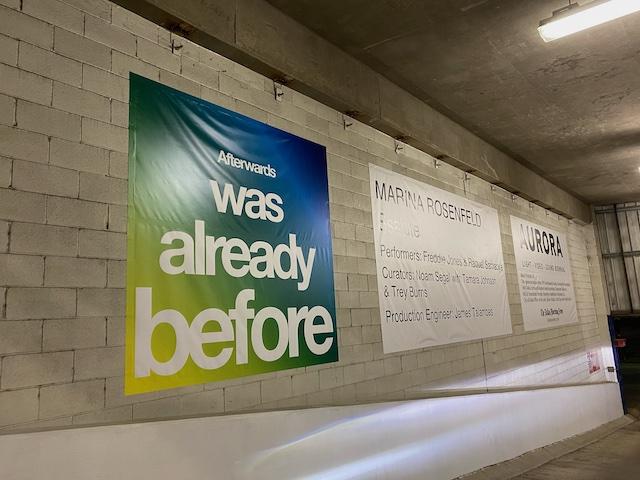 Area 3, Aurora Expanded's most recent event, is an immersive, drive-through exhibition in a parking garage in Downtown Dallas that directly supports regional artists and vendors whose incomes have been directly impacted because of COVID-19.
Melanie Clemmons, SMU Assistant Professor of Digital Hybrid Media, first heard about Aurora when she moved to Dallas in 2017 and she was looking for new media art and technology opportunities. She attended the biennial in 2018, but this year was her first year working with Aurora.
"From my perspective, I think Aurora does a great job of breaking down the exclusivity that prevents some from attending galleries or museums," Clemmons said. "Art Institutions are notorious for gatekeeping, leading a lot of people to not feel welcome, but by bringing the art to public spaces for free, and leaning into the spectacle, I think Aurora has been able to grow and introduce new audiences to digital art."
For Area 3, Clemmons collaborated with long-time partner Zak Loyd, a media artist, and professor at UNT, to create "Laser Wash".
"Our piece in Area 3, is at the largest scale that we have worked in recent years, and trying to create something that is at once maximal, immersive, and beautiful, was a tricky task," Loyd said. "I hope that visitors to Area 3 feel a fraction of what Stendhal experienced and are left wanting more art experiences outside of the, sometimes, insular white cube gallery world."
According to Loyd, Stendhal syndrome is a sort of ecstasy to a point where one encounters celestial sensations, and everything speaks vividly to your soul.
Their piece is one of 11 artworks that visitors encounter in Area 3. Others range from live ratting washing machines to computer monitors displaying videos of what looks like the surface of the sun.
Area 3 was not created to replace the biennial, instead, it was meant to serve as a relief fund for artists. The admission fees, which are $30 per car, are split between the artists and the rental for the parking garage.
"This is ticketed because it is a fundraiser to help bring money to artists, vendors, and free future programming," Salazar said.
As a substitute for this year's biennial, Aurora has planned a series of immersive projects. The first was "Ssalute," by Brooklyn-based composer and artist Marina Rosenfeld. It was a drive-through sound installation and performance at a separate parking garage in Downtown Dallas open for the first two weekends in November.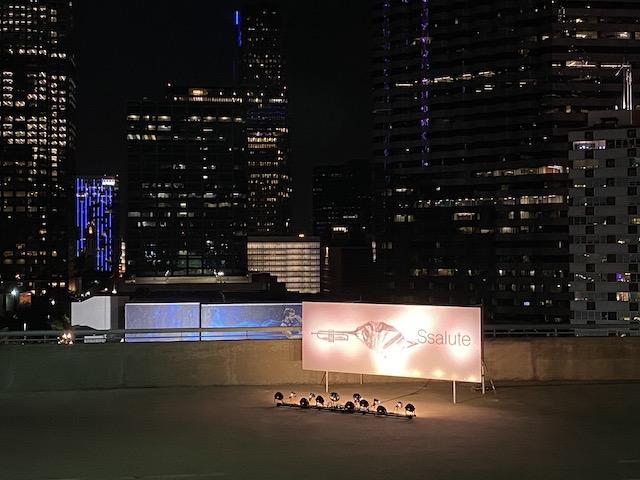 According to Salazar, the next projects are still in progress, but they will continue to be sensitive to the public as the pandemic continues.
Kathryn Crown, a senior at SMU, grew up in the suburbs of Dallas but has never heard of art events like this.
"I wish more art exhibitions would happen in Dallas," Crown said. "I honestly think it is fun being able to drive through it in my car instead of walking around a park or museum."