Roxane Gay spoke at the McCord Auditorium at SMU on Nov. 9 about her career as a writer and educator.
Gay, the founder of Tiny Hardcore Press, is the author of several books, including The New York Times bestsellers Bad Feminist and Hunger: A Memoir of (my) Body as well as the national bestseller Difficult Women. Her writing has appeared in several publications, and she is a contributing opinion writer for the New York Times. Gay has also taught at five universities in the U.S.
"Whether it's non-fiction, short fiction, a novel, an essay collection, a memoir, a comic book, or a TV show, [I think], how do I tell the story as well as possible?" she said.
Gay discussed the process of writing about personal experiences in her memoir, Hunger: A Memoir of (my) Body.

"I didn't want to write the book, but I found that the things that I'm most afraid of and least willing to do tend to be the most intellectually fruitful and the most engaging," she said.
Gay said that her memoir differs from other writings that focus on body image.
"Most of the time, when you read books about fatness, someone finds the answers or has this magical experience, and that wasn't my story," she said. "Women in particular have to contend with a lot of pressure to live in a perfect body, so I did a cultural exploration of how people treat fatness."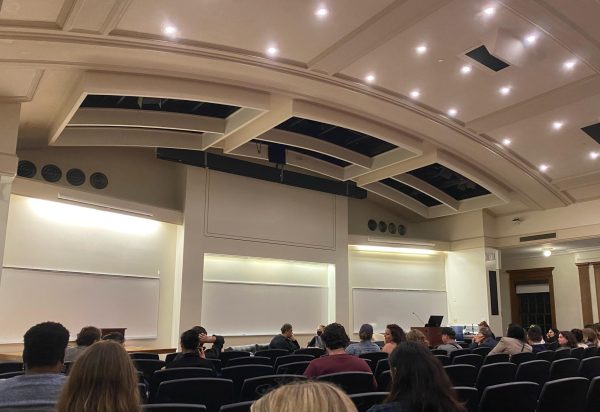 When writing fiction, Gay incorporates magical realism into some of her stories, like "Requiem for a Glass Heart." She said her ideas depend on the story.
"What I love about magical realism is that the world is recognizable, but unrecognizable things are happening in that world," she said. "It's always interesting to see where [the story] goes."
While working on her pieces, Gay teaches students how to find their voice as upcoming writers. She taught a "Writing Trauma" course at Occidental College in the spring and said she taught students the difference between a situation and a story.
"Oftentimes, the first version is just therapeutic," she said. "I teach my students how to take a personal thing and prepare it for public consumption."
Gay also shared how she manages writing and teaching.
"One of the things my teaching does is actually help my writing," she said. "I love looking at the work that [my students] are willing to take on."
To close, Gay gave her thoughts on the state of college campuses with a conflict overseas.
"I hope that college campuses continue to foster open and free exchange, whether we agree with the idea or not, and we [should make] sure that we create environments where people can do that safely," she said.