Two hundred and thirty nine chairs were set up on Dallas Lawn to represent an empty Shabbat table of the Israeli hostages that are currently being held by Hamas.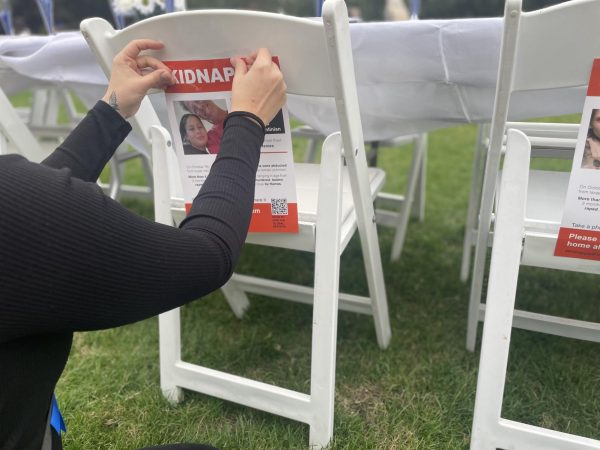 Led by SMU Hillel and local Dallas volunteers, they set up a full table setting with plates, napkins, glasses, candles and posters of each hostage taped onto the backs of the chair. In addition, 1,400 Israeli flags were set up around the tables to represent those who died in Israel on Oct. 7th.
"We want to create awareness and to raise our voices to be an upstander and to say, 'we want them home'," Ali Vogel, a volunteer said.
Shabbat starts every Friday night, after the sun goes down, the Jewish community celebrates the next day of rest with a dinner that night.
Similar installations that bring awareness to the Israeli hostages have been set up around the world and recently in Arbor Hills Nature Reserve in Plano and the Dallas City Hall.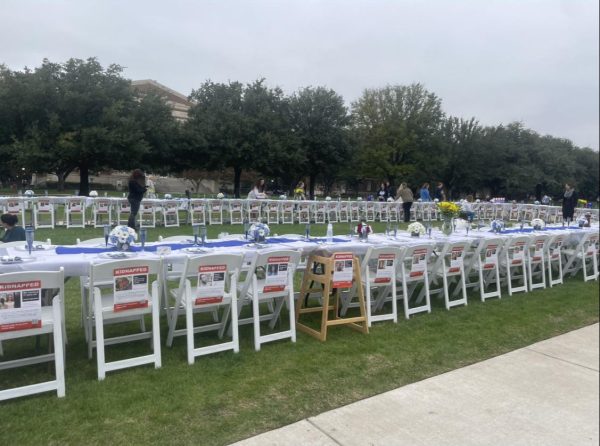 The display will be set up until Sunday and Hillel is inviting people to join them on Dallas Lawn for a Shabbat Blessing today at 5 p.m. and a Havdallah ceremony on Saturday at 6:30 p.m.
"The vast majority of the people volunteering right now are in fact Israelis," said Rabbi Levi Dubrawsky from Chabad of North Texas. "Almost everyone here knows someone who has either been killed or is currently being held in captivity."
There will also be a Shabbat dinner hosted by Alpha Epsilon Pi tonight at 6 p.m.
SMU Police will be present and moderating the installation for its entire duration, Jim Walters, Chief of SMU Police said.