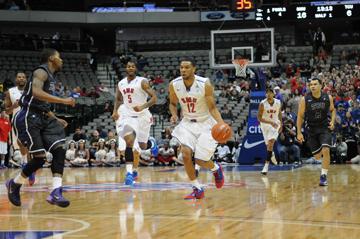 Despite a furious comeback on a 24-8 run in the second half, the SMU men's basketball team dropped their first game of the year on the road against the University of Arkansas Razorbacks 78-89.
The Razorbacks jumped out to a 16-point lead at the half and led by as many as 24 in the game before SMU was able to cut the deficit to six with less than two minutes to play, but it just wasn't enough.
First-year forward Ben Moore was a big reason for the Mustangs getting close, with 13 of his 19 points coming in the second half and grabbing four offensive rebounds as well. Moore, along with Yanick Moreira, who had 15 points, helped SMU dominate inside the paint, holding a 42-16 edge inside over the Razorbacks.
SMU has held the edge inside in each of their first three games and have had 17 or more second-chance points in all three as well.
While Arkansas may not have been able to get much going inside, they shot 50 percent from 3-point range, led by Michael Qualls and Anthlon Bell, who hit three from beyond the arc each.
SMU was able to lock down Arkansas in the second half, holding them to just 37 percent from the field, which allowed SMU to claw its way back into the game, but once SMU had to start fouling, Arkansas converted on enough free throws to put the game out of reach.
SMU did miss first-year Keith Frazier, who was unable to play with an ankle injury and instead, Crandall Head got 20 minutes of action, going just 1-of-7 from the field including numerous missed layups.
The Mustangs have to get their scoring going early even if they are without Frazier again in their future games to avoid falling behind quickly.
The Mustangs host Texas State University today at 7 p.m. at the Curtis Culwell Center in Garland, Texas. The matchup between the 2-1 Mustangs and the 0-3 Bobcats will be televised on ESPN3 as well.