By Chandler Helms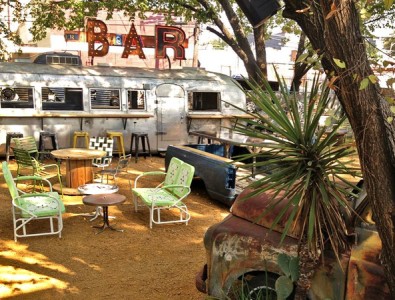 Opening less than six months ago, Truck Yard has already become a must-do on students' agendas.
The Dallas community has responded well to the outdoor bar concept and it now serves thousands of people every Saturday and Sunday. Competition however, has raised a few questions about the best outdoor bar and SMU students seem torn about which is their favorite: Truck Yard, Katy Trail Ice House or The Rustic.
Each bar has earned numerous awards since their openings. All of them are trendy, outdoors, pet-friendly and self acclaimed "beer gardens." Each bar will also allow people under 21 to enter in the afternoons. So how are you supposed to choose your Saturday afternoon hangout?
Let's break down the differences.
Katy Trail Ice House was the first to open of the three, starting the outdoor bar craze. It is filled with picnic tables, and outdoor heaters and misters, so guests can handle the outdoors during any Texas weather. Looking out on the Katy Trail running route is a perfect location, but limited parking has been an issue.
"Katy Trail hosts an older crowd and does not feel as casual as the other two," said sophomore Chip Maloney. It is a popular lunch and after work hangout for downtown businessmen and women to unwind.
"Everyone seems to be making the transition away from Katy Trail. I like The Rustic because, although it's a similar concept, it's more spacious and modernized," SMU sophomore Jessica Jan said.
The Rustic opened in 2013 and is known for its live country music. The décor is urban chic, playing off of its "rustic" theme. The bar is on the corner of Lemmon Avenue and North Central Expressway.
The outdoor area consists of picnic tables and a grassy hill for seating up to 300 people. Inside booths are packed near the kitchen and can hold another 250 people. There is a full menu of local drinks and family-style food, including calf testicles. Customers, however, have criticized the service for long waits.
It was built and opened by country singer Pat Green, Kyle Noonan and Josh Sepkowitz, who developed Bowl & Barrel and Mutts Cantina.
"I'm torn between The Rustic and Truck Yard," sophomore Tim Hettinger said. "The Rustic hosts a family-oriented setting and they utilize the live music better than Truck Yard. However, I think Truck Yard has a younger crowd without the strollers. It's a nice place for 'Young Dallas' to relax on the weekends."
Truck Yard offers a daily rotation of food trucks, three bars, live music, tree house seating and a visual playground of recycled and re-purposed items: truck beds as picnic tables, tires as walls and old kegs as bar stools. The 15,000-square-foot location sits in the heart of Lower Greenville, close to Trader Joes.
The food trucks are also provided with electricity from Truck Yard so they do not use the gas-smelling generators so close to the customers' tables.
Truck yard is a favorite of SMU sophomore Chip Maloney because "it has a homey backyard feel, like you're relaxing by the fire having a couple of drinks." Maloney said. "It's the most casual of the three."
Sophomore Betsy Schwarze also prefers Truck Yard because of "the scenery and the country music. There is definitely a mix of Dallas there, [it's] not just SMU students."
Next time you are looking for weekend activities, consider one of these popular options and see which one you prefer.