Amsterdam represents the world capital of "coffee houses," the Red Light District, and beautiful houses. Sounds like heaven on earth, or hell depending on who you ask. And right when people believed that the city couldn't get better, Amsterdam Airport Schiphol now carries a Lost and Found team consisting of a beagle and his handlers.
Sponsored by Koninklijke Luchtvaart Maatschappij (for the sake of saving time and avoiding headaches we'll call them KLM), the Lost & Found team at Amsterdam Airport Schiphol has been called on a crucial mission to return and reunite misplaced items to their respective owners. From a phone that fell into the dark hole between airplane seats to a wallet wallowing in terminal traffic, this kind of job requires the service of Amsterdam's top agent: a pooch.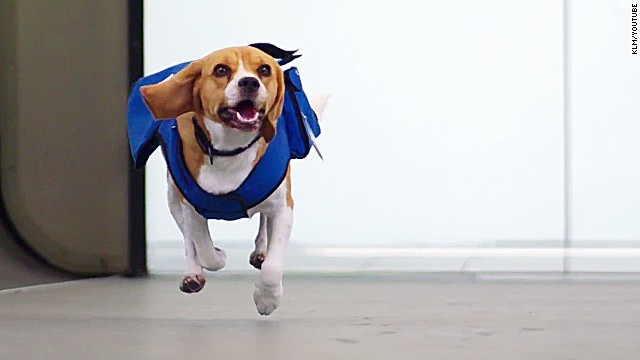 It sounds confusing, so to clear things up simply YouTube search, "KLM Lost and Found service." After you've done that, please adore the beagle with me, "AWHHH." Looks at his ears flop during the slow motion scenes!
Appropriately named Sherlock the dog, the adorable investigative beagle picks up and delivers valuable items, hunting the legitimate owners with his super-sniffer. The energetic beagle can be found trotting through the airport with lost stuffed animals or headphones snuggly tucked in his blue KLM vest.
Sherlock's Watson and handler Dirk van Driel said, "We train for muscle strength, endurance, and of course socialization."
The video shows the cute pooch taking selfies with flyers, getting hugs from equally cute kids, and crowds exhaling, "Dawhh."
Chantal Kremer of Ground Services said, "I think he is a real asset to the company." I think we can agree that Sherlock is an asset to frequent fliers, dog lovers, and anybody that ever lost something at an airport.
Watching the video of him jumping around, with his ears flying all over the place made my day. When I visit Amsterdam, I may misplace my phone on purpose so I can witness little Sherlock in action.
In a fake interview with the beagle he assured, "I don't know who you are. But what I do have is a very particular set of skills, skills I have acquired over training with Dirk van Driel. I will look for you. And I will find you."
Well, I'm simply taken away by his droopy ears.
I move that Congress and President Obama drop everything on their plate and amend the Constitution to implement an army of beagles at every airport. Adjust the budget to include at least 90 percent of taxes to be used on Sherlocks in every terminal. It's what this country needs.
Sherlock the dog, the long awaited Messiah, the savior of our lost belongings, the hero we all need.