Color blocking. Ombré. Snakeskin.
These trends aren't a glimpse of what to expect during this year's Spring/Summer 2016 ready-to-wear fashion shows, but rather a list of trends that have been making the rounds on center court in New York for the past week and a half at the United States Open tennis tournament.
The annual sporting competition, which used to signify the informal end of summer (and wearing white!), is now being viewed as the curtain raiser for fashion month.
Not so much of a coincidence considering the closeness of the two occasions – the U.S. Open Championships are on Sept. 13 while New York Fashion Week, the kick-starter of a round of international collections, begins Sept. 10. Or that tennis happens to be Anna Wintour's, the editor-in-chief of American Vogue and artistic director for Condé Nast, favorite sport – a fact made known by Wintour's tendency to feature famous tennis players in her magazine and to even skip shows in favor of final matches.
Blame this merger of the worlds of sports and fashion on the increasing attendance of athletes (of all varieties, not only tennis) at haute couture fashion shows and consumers' current obsession with brand names.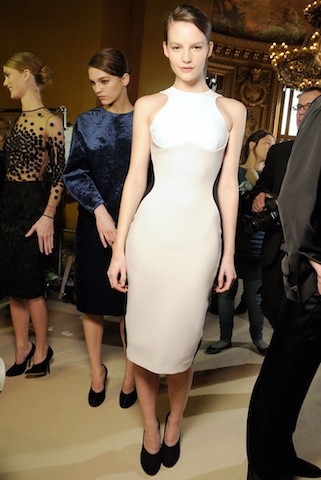 What better example than the color-blocked navy, white and nude Stella McCartney for Adidas tennis dress that Caroline Wozniacki wore (modeled?) for her first round of Open matches? The custom and sporty ensemble seemed to be inspired by McCartney's most iconic runway series of color blocked dresses from Fall/Winter 2011.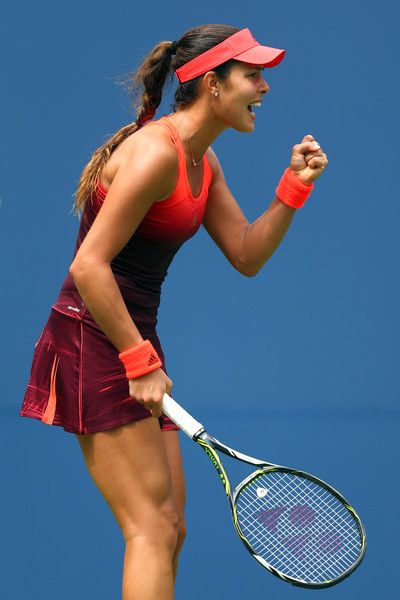 Ana Ivanovic's hand-painted red Adidas racer-back tennis dress complete with an ombré effect into a darker marsala hue, Pantone's 2015 color of the year, also drew eyes.
Louis Vuitton's Fall 2015 ad campaign features Swedish actress Alicia Vikander adorned in a seamless tank top and miniskirt that appear extremely tennis-like in silhouette, due to the outfit's body-hugging lines and shortened skirt.
The increasingly blurred lines between athletic and ready-to-wear looks can lend thanks to the ever-popular hybrid known as athleisure wear. Like major fashion houses, athletic brands are now unveiling their seasonal collections weeks in advance, so fans too can wear "the look."
Though fashion's presence hardly goes unnoticed at any sporting tournament today (except, maybe, Wimbledon with its traditional white-only limits), it seems to win a grand slam at the U.S. Open. Possibly due to the boundary-pushing attitude of New York City as well as the abundance of non-tennis media coverage that is always included, meaning a greater potential audience reach.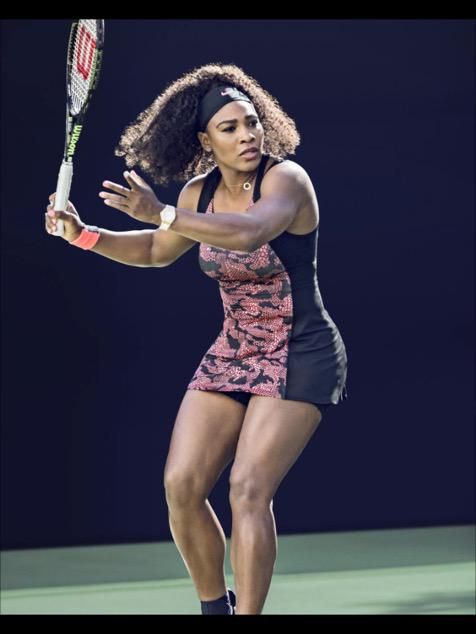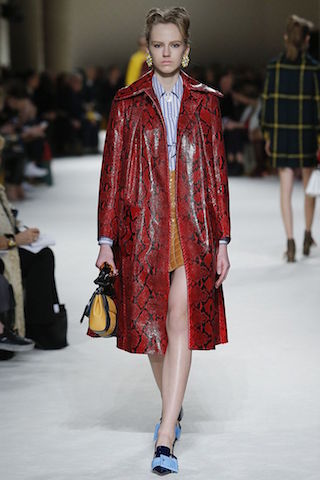 Plus, the tournament features matches all day, and what other sporting event involves day and eveningwear? Take, for instance, Serena Williams's peach-toned snakeskin day and night dresses, which are both part of her Serena Greatness collection in collaboration with Nike. Snakeskin, of course, showed up on the Fall/Winter 2015 runways of Chloé and Miu Miu.
What does all of this mean? Ms. Wintour might not be skipping fashion shows in favor of tennis matches after all.