By Sabrina Goodman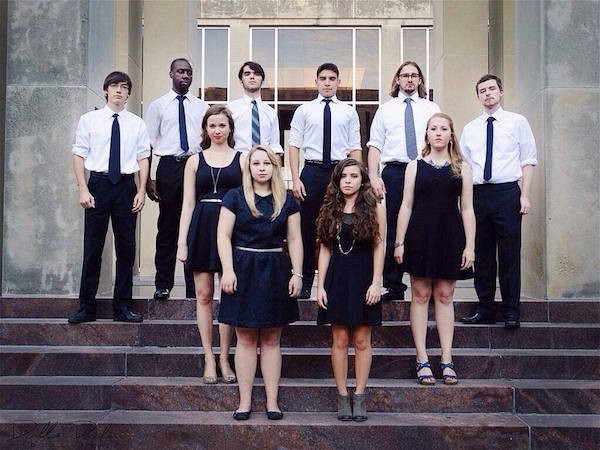 Stampede, SMU's co-ed a cappella group, will incorporate choreographed handheld lighting in their upcoming spring concert.
The group recently performed one song that incorporated flashlight choreography and decided to add it to their show because they thought it would be more cohesive to work flashlights into the entire set, according to Madison Rice, co-founder and manager of Stampede.
This group sings not only pop and rock music, but also classical and musical theater selections.
"We are taking several instrumental classical arrangements like the overture to 'The Magic Flute' and are now singing it vocally in four parts," Rice said.
Stampede's concert this May will include "Seasons of Love" from the Broadway musical "Rent," the overture to Mozart's opera "The Magic Flute," Johnny Cash's "Ring of Fire" and Taylor Swift's "Bad Blood" along with several other pieces. Presenting a wide variety of composers and genres is exactly what Stampede wants to be its signature style.
Stampede was founded in 2014 by 10 undergraduate music students who were brought together by a love of vocal music and a desire to start the first mixed a cappella group on the SMU campus.
"I wanted to be able to make music with other musicians, people who were also majoring in it," Rice said.
At the first official rehearsal, the members voted on several ideas for names, unanimously agreeing to call it Stampede.
Most collegiate a cappella groups take songs from the Top 40 list and arrange them into four-part harmonies because they know that the audience mainly wants to hear hit singles. Stampede's purpose is not to show their audience what they can do with contemporary songs on the radio, but to demonstrate what they can do with all types of music.
Collegiate a cappella culture has evolved into a big dance show, Matthew Morón said, an original member of Stampede. He explained that flashlight choreography is a good fit for Stampede because it incorporates visuals into its performance without requiring the group to dance or focus too much on movement.
"As a group we think that it should be more about the music, that choreography takes away from the ability to stay blended and just distracts from the actual sound of the group," Rice said.
Stampede has performed for a wide variety of audiences including the George W. Bush Presidential Center, the Dallas Women's Club, Swiss Avenue Historic Society and the annual Acappellooza Fest at Texas A&M. Performances at SMU events include Celebration of Lights, the SMU Awards Ceremony, PigSkin Revue, SMU Catholic Banquet and Auction and the Family Weekend Talent Show.
At the 39th Annual Family Weekend Talent Show, Stampede made their debut with a performance of "Say Something" by A Great Big World, using an arrangement by Pentatonix.
Rice said this talent show was the first performance Stampede began working toward and they were unsure they would even make the cut to compete. They ended up taking home $750 in prize money from winning awards for "Best Ensemble" and "Audience Choice."
"I think something that's really cool about Stampede that people should know is that we are very much a democratic group," Rice said. "We conduct ourselves as an ensemble; we lead music rehearsals as an ensemble; we pick the music together; we design the shows together. There's not one person calling all the shots."
Stampede will host its second annual Spring Concert April 24, which is open to the public, in O'Donnell Auditorium. It will feature their flashlight choreography and new arrangements by Sam Henderson, the group's beatboxer.