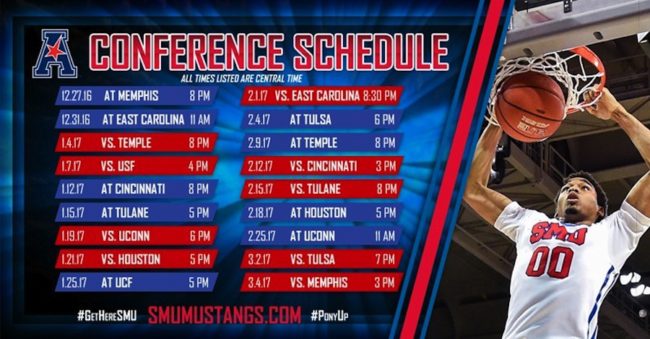 The American Athletic Conference released schedules for the 2016-2017 men's basketball season Thursday afternoon, and SMU is set to face a gauntlet of the AAC's best.
The Mustangs open their conference slate on the road with games at Memphis (Dec. 27) and East Carolina (Dec. 31) before returning to Moody Coliseum for back-to-back home games against Temple (Jan. 4) and South Florida (Jan. 7).
SMU hits the road again the following week for games at Cincinnati (Jan. 12) and Tulane (Jan. 15). The Mustangs come home to play Connecticut (Jan. 19) and Houston (Jan. 21) before a quick trip to Central Florida (Jan. 25). Following a six-day layoff, SMU will host East Carolina (Feb. 1) before traveling to Tulsa (Feb. 4) and Temple (Feb. 9).
The Mustangs wrap-up February with a homestand against Cincinnati (Feb. 12) and Tulane (Feb. 15) as well as a roadtrip to Houston (Feb. 18) and Connecticut (Feb. 25). SMU will finish the regular season at home with games against Tulsa (Mar. 2) and Memphis (Mar. 4).
Though the Mustangs will play each team in the AAC at least once, this season's schedule pairings leave SMU with one of the more difficult schedules for conference play.
The Mustangs play Central Florida and South Florida only once, who finished last season 6th and tied for 7th in the AAC standings respectively. The Knights (8th, .4061) and Bulls (11th, .3312) also finished near the bottom of the 11 team conference in the KenPom ratings.
While Tulsa's pairing gives the Golden Hurricane the luxury of playing defending AAC Tournament champion Connecticut and defending regular season champion Temple once, SMU is forced to play the conference's six best teams from last season, twice.
SMU's conference schedule includes a couple of tough stretches. The Mustangs begin a difficult mid-January stretch when they travel to Fifth Third Arena in Cincinnati, an arena the Mustangs have gone winless in since Cincinnati and SMU joined the AAC in 2013.
The Mustangs then travel to Devlin Fieldhouse in New Orleans, where a game Tulane team came close to pulling off a shocking upset against No. 10 SMU last season. The team then returns to Moody to play conference rivals Connecticut and Houston within a span of 72 hours. It's also important to note that the Mustangs may not have their typical home court advantage for these games as they take place on the weekend before students return to school from winter break.
SMU also finishes the regular season with four difficult games against Houston, Connecticut, Tulsa, and Memphis.
Since SMU was left out of the NCAA Tournament by a narrow margin following the 2013-2014 season, the program has made building a strong schedule a priority, and this year is no different. Including conference play, SMU currently has 10 games scheduled against top-65 KenPom teams from last year's final rankings. If the Mustangs play Michigan in the final round of the 2K Classic, the Wolverines would make an eleventh top-65 opponent.
The Mustangs will receive plenty of national coverage this season with at least 24 games scheduled to air on the ESPN family of networks. CBS Sports Network will provide additional coverage. Notable televised games include the final rounds of the 2K Classic vs. Pittsburgh and Michigan/Marquette (ESPN2 or ESPNU), road matchups at Southern California (Pac-12 Network), Cincinnati (ESPN or ESPN2), Temple/Houston (ESPN2), Connecticut (CBS), and home contests against TCU (ESPNEWS), Stanford (ESPN2), Memphis/Connecticut (ESPN or ESPN2) and Cincinnati (ESPN).
SMU opens the 2016-2017 season on Friday, November 11, against Gardner-Webb in the first host round of the 2K Classic. Tipoff is scheduled for 7 p.m., and the game will be televised on ESPN3.