With 15:49 left in the second, Sterling Brown drove the ball into the paint from the left side and was met with three East Carolina defenders under the basket. All four went up with the ball, with ECU's Elijah Hughes coming away with the block. Fortunately for the Mustangs, Hughes swatted the ball right back to SMU's Ben Moore, who trailed Brown to the hoop for the score on the putback slam.
On what started out as a poor shooting day for SMU, Moore was getting it done everywhere, recording a double-double by early in the second half. The senior forward served as the catalyst on offense for a Mustangs attack that gradually overwhelmed the Pirates. SMU's 75-44 win over East Carolina was the Mustangs' second straight road win, moving them to 2-0 in American Athletic Conference play.
East Carolina entered the game known for being defensively tenacious. The Pirates found success in slowing SMU in the first half, holding the Mustangs to only 33 percent shooting from the field. ECU came out of the locker room within 10 points of SMU before the flood gates opened. SMU went on to shoot 52 percent in the second en route to a 31 point victory.
Rebounding was the key difference maker in the game. SMU, who entered as one of the top offensive rebounding teams in college basketball, out-rebounded East Carolina 20-8 on the offensive glass and 52-24 overall. SMU scored 27 second chance points to ECU's eight.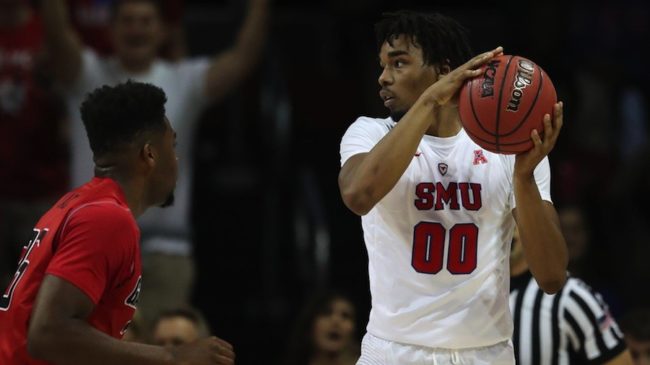 Ben Moore led SMU in scoring and on the boards, finishing with 18 points, 11 rebounds, three assists and a block. It was Moore's third double-double of the season and 10th of his career.
Forward Semi Ojeleye struggled from the field versus ECU, but was a major force crashing the boards, grabbing five of SMU's 20 offensive rebounds. Ojeleye shot perfect from the free throw line (8-for-8), finishing with 12 points, nine rebounds and three assists.
Senior guard Sterling Brown surged late for SMU, doing most of his scoring with four fouls. Brown recorded SMU's second double-double of the game, finishing with 13 points and 11 rebounds. Shake Milton scored 14 points and Jarrey Foster added 12 while recording a career high three blocks. Ben Emelogu scored SMU's only points off the bench, finishing with six points on perfect shooting from three-point range (2-for-2).
The Mustangs will return home to host Temple on Jan. 4 in SMU's AAC home opener. Tipoff is scheduled for 8 p.m. CT and the game will be televised on CBS Sports Network.