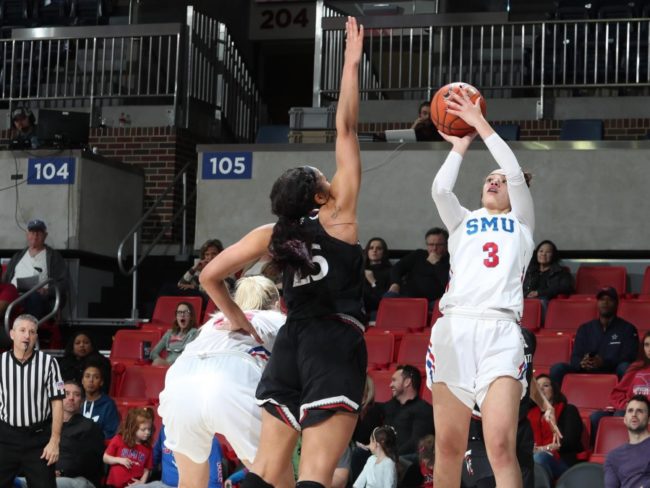 On Saturday afternoon, the SMU women's basketball team prevailed over UCF 63-58 after dominating the second half in Moody Coliseum.
Although the Mustangs had a slow start, trailing the Knights 18-9 in the first quarter, they rebounded tremendously. The Mustangs held the Knights completely scoreless for the first half of the second quarter.
Senior guard Amaura Brandt's first three-pointer of the game, near the end of the first half, pushed the Mustangs ahead 19-18. Then Brandt's consistent triples, in combination with McKenzie Adams' 7 points before half time, diminished the 11 point deficit and expanded the Mustangs' lead. Adams, a junior guard from Frisco, TX, finished the game with team-high of 15 points.
Later in the fourth quarter, the Knights reduced the Mustang lead to only two. Following a UCF foul, senior guard Morgan Bolton nailed both her free throws and further increased the Mustang lead.
Bolton led the Mustangs to their previous conference win against Memphis with her career high 15 points. Bolton finished on Saturday with 12 points.
This game was a part of SMU's National Girls and Women in Sports Day celebration. This event included a special halftime presentation honoring Jan and Marc Peterson for their support of women's athletics at SMU and a clinic for children following the game.
After beating Memphis on January 31, the Mustangs have cumulated two consecutive conference wins at home. The Mustangs hope to continue this streak with their next conference game on the road. The Mustangs face No. 1 Connecticut this Saturday, Feb. 11, at 2 p.m.