By Grant Wolf
This week, SMU's Mustangs for Life set up 2500 crosses on Dallas Hall Lawn in a display entitled "Memorial of Innocents." Each cross represents a woman who makes the decision to choose an abortion every day.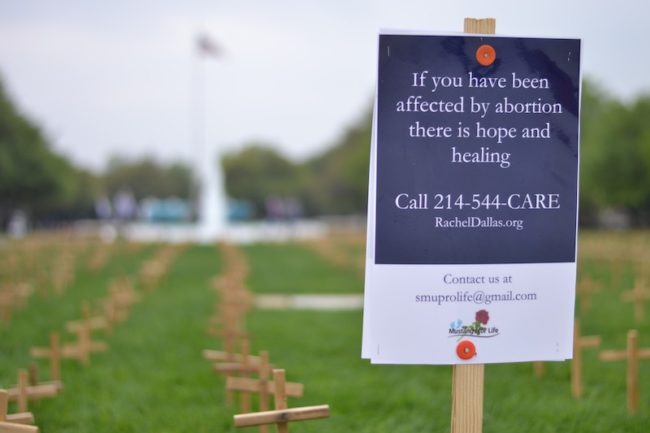 More than 50 million women have chosen abortion in the United States since the Roe v. Wade decision in 1973 – in which the Supreme Court ruled that women have the right to choose and abortion.
Why is this significant? Why should this matter to university students?
This means 2500 children every day, and more than 50 million since 1973, never have the chance to live a life. More than 50 million fellow Americans are missing from our society today; more than 50 million mothers live with the emotional, psychological and sometimes physical repercussions of making the decision to abort their child.
Abortion definitively ends one human life and has the potential to scar another. That's why it matters.
The consensus of biological science confirms that a human being comes into existence at fertilization. Numerous textbooks teach that at this point, a new living organism is formed and the embryonic stage of human development begins. Many professors and researchers agree. Dr. Jerome DeLejeune, Professor of Genetics at the University of Descartes in Paris, offered a summation of the findings of medical and scientific professionals when he testified as follows before the United States Senate Judiciary Subcommittee: "After fertilization has taken place a new human being has come into being. [This] is no longer a matter of taste or opinion. [It] is not a metaphysical contention, it is plain experimental evidence. Each individual has a very neat beginning, at conception."
An abortion ends the life of the new human being that is created at conception.
Studies in behavioral sciences provide evidence that many mothers who have made the difficult decision to choose abortion suffer significantly higher rates of emotional and psychological distress. According to a 2011 study by Britain's Royal College of Psychiatrists, women with a history of abortion are more likely to suffer from anxiety (34 percent higher than average), depression (37 percent higher), heavier alcohol use (110 percent higher), substance abuse (230 percent higher) and higher rates of suicidal behavior (155 percent higher).
Most saliently, a 2010 Canadian Journal of Psychiatry study of a representative sample of U.S. women found 98 percent of mothers who chose abortion in the instance of an unplanned pregnancy to be at higher risk of mental illness than mothers who chose to carry similar pregnancies to term.
These are the statistics. What they tell us is that abortion isn't empowering. It doesn't respect choice or freedom. In fact, it robs the most innocent among us of their freedom by taking away their life. And it isn't compassionate. By and large, in return, it brings greater harm to a mother who already faces a very difficult situation. If we honestly value life, liberty and the pursuit of happiness, our society must offer young women and their children a better alternative. Since when is it choice to have a single option? And since when has our national moral conscience become so seared that we disregard life, both of mother and child, for the sake of temporary convenience, despite the obvious consequences?
Mustangs for Life's display this week brings these facts to the forefront of discussion on our campus. They have highlighted for us all the need to have meaningful conversations about the emotional and physical consequences of abortion, the availability and possibility of truly compassionate alternatives, and the support, care, love and hope offered to young women in crisis pregnancies by local health organizations, charities and churches. There is no doubt that unplanned pregnancies are difficult, emotionally trying situations. But the solution to one trauma is not another.
I applaud Mustangs for Life for courageously telling the truth to our campus and facilitating conversation. Mothers and children are too precious for us not to care about this issue which in our nation has so poignantly affected millions of them both.
"I've noticed that everybody who is for abortion has already been born." – President Ronald Reagan.
Grant Wolf is the president of SMU Young Americans for Freedom.