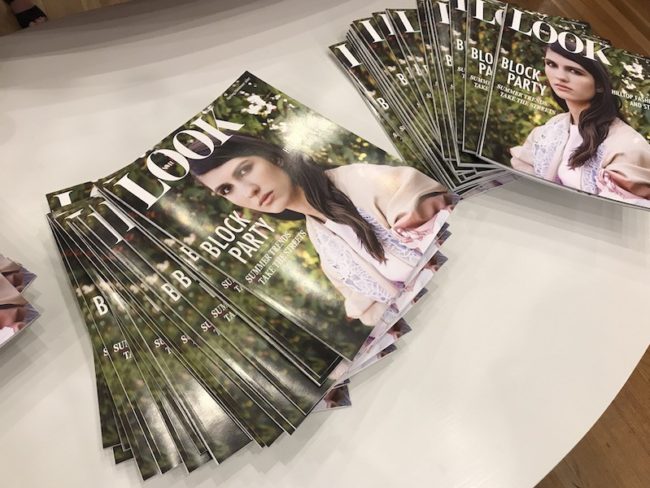 Fashion culture has hit the Hilltop once again with SMU LOOK. Staff members of the magazine had a launch party Thursday evening, April 20 the Impeccable Pig boutique.
SMU students and the Dallas community were filing in throughout the night to get a glimpse and this semester's edition. India Pougher is the Editor-in-Chief for the magazine and is a senior at SMU. Pougher said she is excited to finally share a long anticipated wait for the Spring/Summer issue of SMU LOOK.
"I am excited for out fashion article and our trend stories. My goal for this semester was to make the magazine more shopable," said Pougher.
The magazine covers stories detailing the future of shopping to SMU alumnae in the art world. Photographs sprinkled throughout the publication have captions highlighting what the models are wearing, the prices and where these pieces are available for purchase.
Eileen Barrett staff writer and senior at SMU, is enrolled in a fashion magazine course where she had the opportunity to contribute to the magazine.
"My favorite article I wrote was about home remedies of facial masks," said Barrett. "It was interesting to learn what everyday items I have at home can help my skin"
Barrett said the difference between the current edition and the Fall's is the higher quality photographs and a cleaner layout as well as more in depth articles compared to the previous edition.
Camile Kraeplin is a journalism professor at SMU and took on this project last semester. She said for this edition she did not do as much because the students have taken it on for themselves.
"I think they did an amazing job,' Kraeplin said. "Everything went more smooth this semester and it was easier for everyone with the deadlines and it was much more manageable."
Kraeplin said last semester her writing class contributed to the magazine but that this semester SMU LOOK has separate editors to oversee the photoshoots and the content being provided.
In May, Pougher will be graduating and another student will take her position as Editor-in-Chief. She hopes SMU LOOK will continue with the same format and she believes the magazines and the staff members will get better and better.
The SMU LOOK magazine is now available and you can pick up the Spring/Summer edition at stands around the SMU campus.
The impeccable pig is also offering a 20% discount off merchandise for SMU students until May 25th.