By Blake Rainey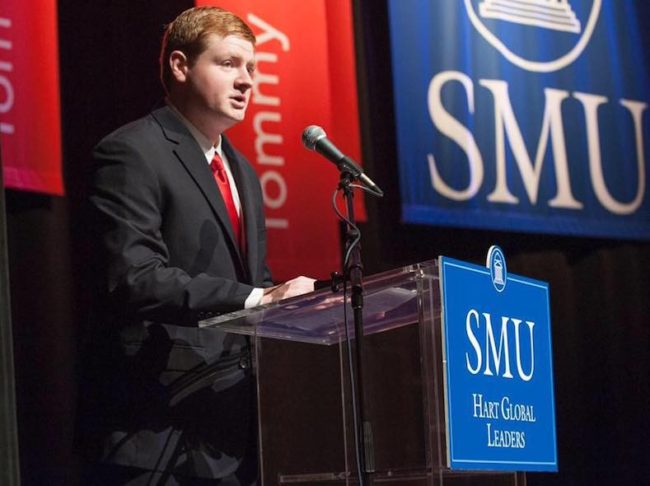 My fellow Mustangs,
I'd like to address you one last time before the end of my tenure as your Student Body President. Over a one year period, Student Senate has accomplished so much by working closely in conjunction with the Department of Student Affairs and so many other branches of the SMU administration. When I was elected last year, I ran on a platform of "Reform – Empower – Deliver." I'd like to share with you some highlights of the accomplishments Student Senate had this year:
Reform
Dining:
– Built a strong relationship with campus services through monthly dining meetings
– Negotiated down the price of some of the more expensive goods at Mac's Place (e.g. a case of water bottles from $22 to less than $10)
– Pushed for more advertising of the food options available in the dining halls during the slow hours of 2-5 p.m. and for more dining locations open during university breaks
Parking:
– Worked with the Office of Parking and ID Services to allow student workers (instead of just administrators) to oversee the parking ticket appeals process
– Pushed for the implementation of automated hands-free entry into parking garages
– Represented the student voice in upcoming plans for the Hillcrest Parking Center
Construction:
– Worked with the university architect to ensure future construction projects are undertaken in a common-sense manner to lessen the impact of students' travel times to classes
Library hours:
– Worked with the dean of Fondren Library to bring back the 24 hour/five-day-a-week policy and allow students to present digital copies of their student IDs (in addition to physical copies) when checked by security guards in the late evening hours
Residential Commons:
– Strengthened Student Senate's relationship with the Assembly of Residential Commons through the creation of two liaison positions
– Worked with the Assembly and RLSH to increase students' and RAs' awareness of the options to improve the quality of washers and dryers in their residence halls
– Worked with the heads of RLSH and facilities services to ensure that better quality of consumable items like toilet paper will be one of the priorities in choosing the custodial contractor to replace Aramark
– Started a Commons liaison program with the Hegi Career Center
Diversity:
– Unanimously passed a resolution to create an institutionalized ad hoc committee on campus inclusion to ensure Student Senate is in the best position to respond to incidents on campus where any minority is targeted
– Granted the Organization Committee the ability to issue temporary suspension ("freezes") of organizations chartered through Student Senate if found by the conduct office to have violated SMU's non-discrimination policy
– Added three new special interest Student Senator seats: one each for the Queer, MILVET and Student Athlete communities
Safety:
– Partnered with the Office of Risk Management and Facilities Services to host a "Light Walk" in the fall and "Awareness Walk" in the spring
– Added a feature on the SMU Mobile app for students to report safety or lighting concerns straight from their phones
– Pushed for reform of Giddy Up and the introduction of its new "Tap Ride" app
– Partnered with Not On My Campus to have a picture campaign against sexual assault
– Passed bicycle policy reform which saw the installation of new bicycle racks by the Fondren Science Building and the option for students to store their bicycles inside residence halls over winter break to deter theft
Empower
– Worked with OIT to set up an online appointment system for students to use to meet with their Student Senators
– Charged the Speaker of Student Senate with sending out letters to students and student organizations, inviting them to address their Senators each week at Speaker's Podium
– Charged the Organizations and Finance Committees with sending out easy-to-read graphics and materials about chartering privileges in letters to chartered organizations
– Finance Committee held several workshops to make students and organizations more aware of Student Senate funding opportunities
Deliver
– Authored an entirely new article to Student Senate By-Laws that overhauled the current office hour system and led to the creation of collaboration groups – committees of Senators who meet on a weekly basis to work on specific campus issues that need addressing
– Sent out quarterly update emails to the student body for increased transparency on what Student Senate is working on
– Passed a bill to allocate $750,000 over the next three years to the Student Center renovation project which has been matched by the Department of Student Affairs (with renovations expected to begin by summer 2018)
– Submitted a comprehensive list of recommendations of what students and student organizations want to see in a modern and innovative student center to the Vice President of Student Affairs
– Revamped the DFW Senate Scholarship program to grant one incoming first year student from the DFW area a full-tuition scholarship to SMU each year
– Held receptions to increase Student Senate's connections with the Faculty Senate, key administrators and SMU alumni
– After years and years of pushing for it, finally saw the Provost approve the extension of the number of days to drop a course without academic record from five to ten class days after the beginning of a term to go into effect this fall!
I want to thank all of my fellow officers, Senators, and Chairs for their incredibly hard work and sacrifice this year that contributed to the all of the great accomplishments we achieved. It is because of the efforts of all of us coming together that we were able to have such a huge, tangible impact on our campus this year.
It has been one of the greatest honors of my life to serve as your Student Body President and lead the 103rd Student Senate. I look forward to continuing to serve the SMU community, and in particular SMU graduate students, in my position as Graduate Affairs Officer in the 104th Student Senate. I wish the best of luck to my successor, David Shirzad, and his administration in having a very successful and productive year ahead. The state of our University will continue to grow stronger as long as SMU remembers to put the interests of the students first.
Respectfully,
Blake Alan Rainey
102nd Student Body President
Southern Methodist University
P.S. PONY UP!